Are you looking for the greatest Bible app with the most translations and the most features? For iOS and Android devices, we've compiled a list of the top 10 Bible applications and greatest Bible applications. Having a bible application on your phone or tablet makes it easy to carry God's Word with you everywhere you go, thanks to the convenience of mobile devices.
YouVersion – Bible Application for IOS & Android

People are reading, listening to, watching, and sharing the Bible using the #1 ranked Bible App, which is available for free on over 86 million smartphones across the world. Hundreds of Bible translations, hundreds of reading programs, and dozens of languages are available with YouVersion. You may make public or private notes, as well as add your own highlights and bookmarks.
You may also like: 5 free fitness app, for your IOS and Android devices.
Bible.Is – Bible App for iOS & Android

Bible.is has more languages and Bible translations available on mobile than any other Bible app, as well as dramatic Bible audio and The JESUS Film Project. You can READ, LISTEN, and SEE the Bible like you've never seen it before.
NIV Bible – for IOS and Android

The NIV Bible App for Android is a 2011 version of the NIV Bible. What happens when you put a group of Silicon Valley engineers together with the NIV Bible? You receive the NIV Bible by Tecarta, which is a really nice and speedy Android software for Bible study, navigation, and note keeping. No other Bible software comes close to the aesthetic and usefulness of this one.
Daily Bible – Only for Android

The Daily Bible is the most popular Bible app on Android, including daily Bible verses. Also Bible reading programs, and a simple and quick search for any Bible passage or topic. Many translations of the Bible are supported by the Daily Bible ( NIV, KJV, ESV, etc.)
Bible Quiz 3D App– for IOS and Android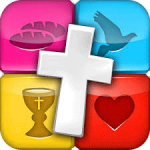 Download this entertaining quiz game and answer questions from the Holy Bible to assist followers in accepting God's love and become real believers! Compete against other missionaries to see who can complete all of the baptisms first!