What Are Cancer Signs And Personalities?
Cancer is a cardinal water sign.
Represented by the crab, this oceanic crustacean seamlessly weaves between the sea and shore, representing Cancer's ability to exist in both emotional and material realms.
Cancers are highly intuitive and their psychic abilities manifest in tangible spaces.
For instance, Cancers can effortlessly pick up the energies in a room.
These crabs are highly sensitive to their environments, as well as extremely self-protective.
Much like their celestial spirit animal, Cancers are shielded by hard, external shells.
At first, these crabs may be perceived as cold or distant.
With time, though, Cancers reveal their gentle nature, genuine compassion, and mystical capabilities.
Just don't be surprised if it takes a while to get to know them.
Cancer is ruled by the moon, the celestial body that represents comfort, self-care, and maternal energies.
Accordingly, Cancers tend to be domestically oriented.
They love to create cozy, safe spaces that serve as their personal sanctuaries, then spend lots of time in them.
Cancers care deeply about their families and are quick to adopt caregiver roles.
When Cancers invest in someone emotionally, they risk blurring the line between attentive nurturing and controlling behavior.
Cancers attract friends and lovers through their loyalty, commitment, and emotional depth.
These crustaceans make excellent hosts and enjoy entertaining with comfort food and free-flowing libations. (Cancer rules the stomach, so there's nothing these crabs love more than a home-cooked meal.)
If you're not a fan of Cancer's attachment to the home, that may be a bit of a problem.
Though these celestial crabs avoid direct conflict by walking at an angle, they can inflict a harsh pinch with their distinctive brand of passive-aggressiveness.
It may be difficult to convince a Cancer to talk openly about what's bothering them, but if you can do it without making them feel threatened, you'll build long-lasting trust.
What Is Cancer Zodiac Dates?
In astrology, Cancer is the fourth sign of the zodiac, considered as governing the period from about June 22 to July 22.
Its representation as a crab (or lobster or crayfish) is related to the crab in Greek mythology that pinched Heracles while he was fighting the Lernaen hydra.
What Is Cancer's Daily Horoscope For Today?
Today is a great day for Cancers to stay focused and use their resources wisely.
There is power in strategic thinking and the Cancerian Horoscope is encouraging the use of practical thinking to drive towards greater success and fulfillment.
What Is Cancer Love Horoscope?
For Cancers, love is all about commitment and trusting one another, so make sure you remain consistent in your words and actions when dealing with matters of the heart.
You will need to dig deep into yourself to find a true connection with someone.
What Are The Most Compatible Signs For Cancer To Love?
Generally, the most compatible signs for Cancer friendships and romantic relationships are fellow water signs, Pisces and Scorpio, as they will just 'get it' with regards to the emotional language that Cancer speaks.
Which Signs Are Best To Be A Cancer's Soulmate?
Cancers can get along well with someone who can match their desire for a passionate romance.
Thus, zodiac signs Taurus, Virgo, Pisces and Scorpio are believed to be the best Cancer soulmates out of all the sins.
What Are The Bad Traits Of Cancers?
These are negative traits a Cancer should be aware of.
They Are The Kings And Queens Of Overthinking
Cancers enjoy thinking too much and like to be left alone with their thoughts.
They'll pore over mistakes they've made in the past all the time and let those torment them relentlessly.
They overthink so much that they even irritate their pals.
Sleeping is the only thing that can quiet it down for them, but even that only works for a short time.
They Are Too Self-reliant
Very independent cancers prefer to handle things on their own, even when they truly need assistance.
They would prefer to exhaust all of their options before requesting help or support of any kind.
This is a result of their high levels of independence and inherent dislike of bothering others.
They Are Obsessive People Pleasers
Cancers strive to please others.
They like ensuring the happiness of those in their immediate vicinity.
Hence, they often forego their own emotional needs in an effort to satisfy those of others around them.
They consequently try to forget about their own needs in an unhealthy drive to satisfy everyone.
They Bottle Up Their Emotions
They could come off as cold and distant suddenly because they bottle up their emotions.
They frequently desire to cut off relationships and retreat inside their cocoons.
Without any real justification, they may seem to enjoy being impersonal and uncommitted.
This gradually manifests as a lack of disinterest, and, in the worst cases, as narcissistic traits.
Additionally, cancers may be reluctant to reciprocate physical intimacy and may react negatively to any kind of physical advancement before they truly develop trust.
They Berate Themselves
They frequently succumb to their own criticizing behavior because they feel neglected and lacking.
A weak sense of self could give rise to a persistent depressive mood in those born under the Cancer zodiac sign since they are sensitive to other people's opinions.
They take rejection personally and berate themselves viciously in the process.
Some unevolved Cancerians could blame their limitations on those they encounter on a daily basis.
They Wallow in Misunderstandings
The Cancer man has trouble putting into words how he really feels about someone.
This greatly exacerbates miscommunication between the partners.
They are terrified of developing a deeper connection with someone, which gradually contributes in varying degrees to their main personality attributes.
More alone time may be requested by a Cancer man or woman in order to decompress from stress and overwork.
This means that they tend to retreat in their shell and need patience from their co-workers, which may not always be easily given.
Their Hurts Are Both Real And Imagined
When things don't go according to plan, they could develop a victim mentality.
Instead of accepting responsibility for their conduct, they could hunt for justifications and point the finger at others.
For instance, when they are hurt by a friend's words, they often exaggerate the issue in their own minds.
Hence, their negative mindset prevents individuals from fully recovering from their trauma or injury.
This lack of belief in one's own value may feed irritation and contempt in their social circle.
They Can Be Moody
Cancerians frequently experience emotional ups and downs.
Although they repress a lot of their feelings and emotions, they may appear strong and composed.
However, Cancerians become the most susceptible and temperamental at the same time when things go out of their hands and they are unable to control their emotions any longer.
What Are Cancers' Favourite Foods?
Cancers' palate centers on mild, soothing foods including coconut, figs, crab, pine nuts, and eggs.
What Are The Best Career Options For Cancers?
Cancer will usually make their career in fields involving caregiving and nurturing such as human resources, nursing, housekeeping, teaching, child care, journaling, and gardening.
They are traditional and patriotic which makes them eligible for politics as well.
They can be excellent artists, writers, composers, actors, and psychics due to strong instincts and thoughts.
They can be good administrators, orators, and preachers.
They excel well in professions related to water, airlines, navy, shipping, and travel.
They can make a career as a corporate executive, editor, writer, gallery owner, art director, interior designer, women's rights lawyer, urban planner, family therapist, computer systems analyst or programmer, home-based business, or organizational strategist.
What Are The Worst Career Options For Cancers?
Since Cancer natives are highly emotional, they might tend to lack a logical and practical approach.
Therefore, they must not go into marketing jobs.
Also, they are not much of risk-takers.
They should avoid working in the stock exchange, insurance, or political fields.
What Does The Cancer Zodiac Sign Look Like?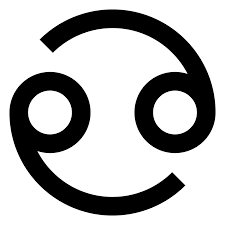 Cancer Zodiac Sign: Image Source
What Are The Lucky Days For Cancers?
The lucky days for Cancers are Tuesdays, Fridays, Thursdays and Sundays.
What Is A Cancer's Love Language?
Cancers love deep.
Their devotion is second only to the omnipresent fear their beloved will suddenly stop loving them back.
To combat this, they need heavy petting and serious reinforcement of their hotness, worthiness and safety within the relationship.
At What Age Are Cancers Likely To Get Married?
Cancerians love the idea of marriage and family dynamics and thus, they tend to marry young.
However, this decision sometimes ends up in the marriage falling apart in no time.
Thus, to avoid such a situation, the best time to get into marriage is in their late 20s or early 30s.
What Is The Cancer Sign Known For?
Cancerians are primarily known for being emotional, nurturing and highly intuitive, as well as being sensitive and sometimes insecure.
Their elemental sign is water, which makes sense when you consider the emotional depths associated with this sign.
Conclusion
From all stated above, it is seen that Cancers are really interesting people.
If you are a Cancer-born reading this article, work on the things you need to work on and improve on the things you need to improve.
I hope you find this article educational.