Don't know how to track your order on Jumia?
Properly you are not the only person that finds difficulty in doing this on the popular e-commerce website called Jumia.
However, Jumia is the popular online store in Nigeria that you can place an order on any product and got it delivered to your home or pick up point.
Jumia started in 2012 and now, the online store is available in over 20 African Countries including Nigeria.
However, the online retail store has over 20 million unique visitor month which helps them to rank as the 7th most visited website in Nigeria.
You can place an order in the store and stay guaranteed for your delivery.
In this article, we will be informing you about how you can place an order on Jumia and how to track your order on Jumia easily.
How to Place Order on Jumia
To place an order on Jumia
You first need to utilize the Jumia app on the Google play store or visit the Jumia.com.ng website.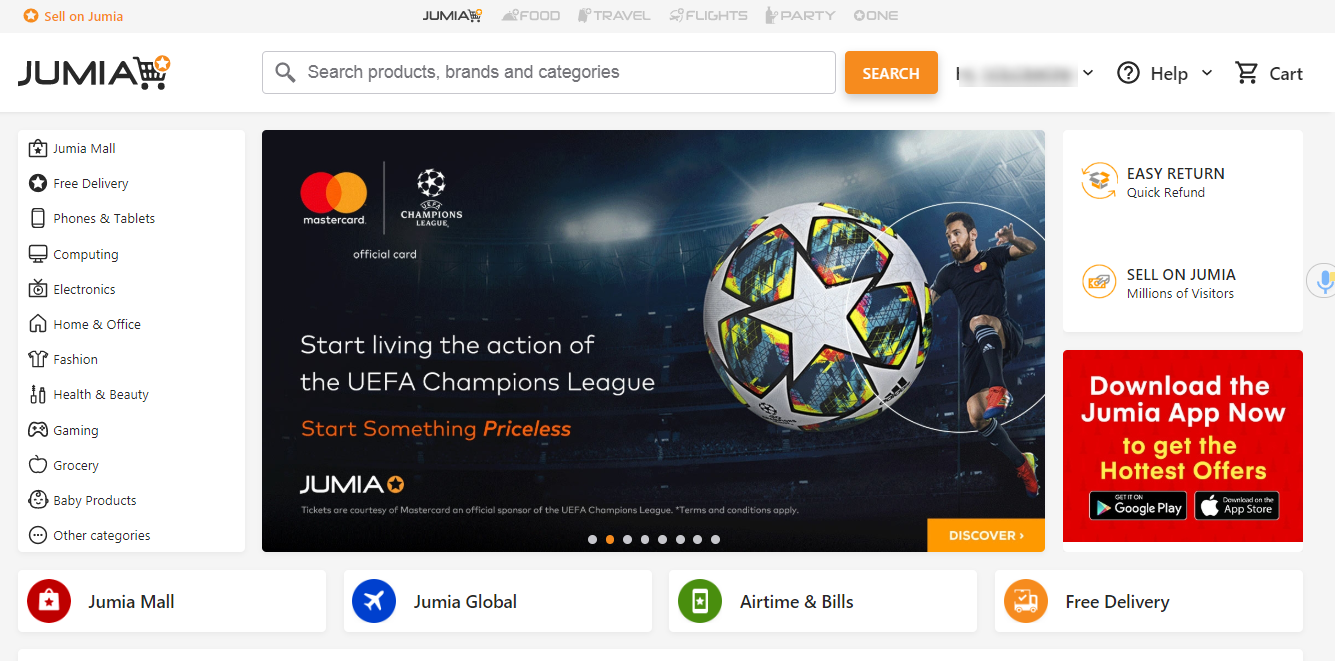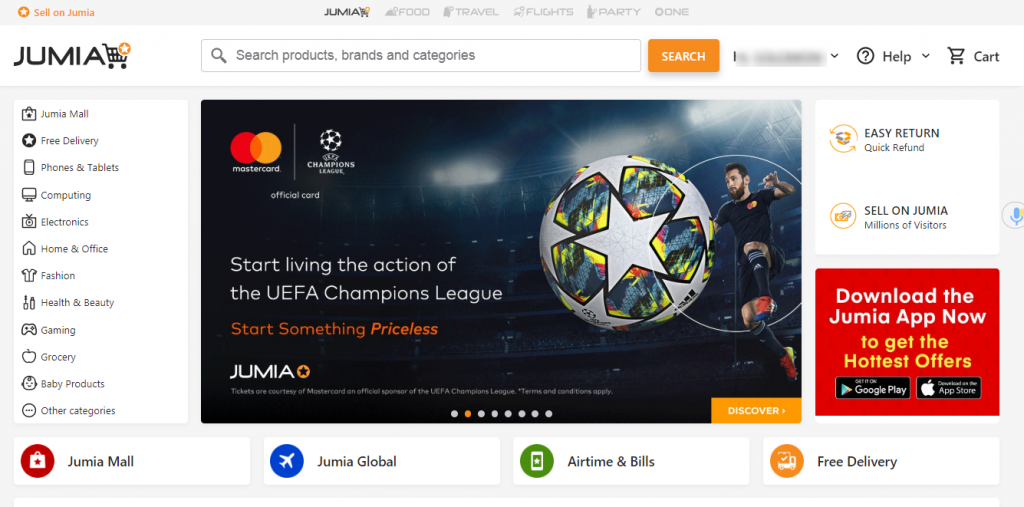 Upon your visit to the website, search for what you want or pick any product that is your desire in the store.


Click to view the product description and see if the specification is what you are looking for.
If you are satisfied with the product description, then you can click on "ADD TO CART"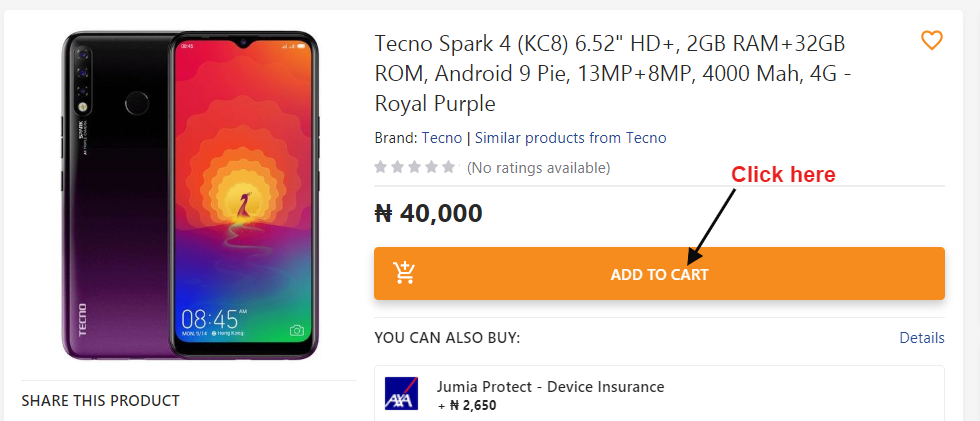 You will be redirected to the cart.
Besides, you will also find the number of products in your cart at the cart button found at the top right corner of the page.
If you still want to continue shopping, then click on "CONTINUE SHOPPING" or you click on "PROCEED TO CHECKOUT".


Upon click on "Proceed to Checkout".
You will have the option to change your address or set up your address if you want the product to be delivered to your home.

But if you decide to pick the product at a pickup station close to you then select "Pickup station".
Note: shipping fees for Pickup station is not the same with door delivery.
For example in my own case, the Pickup station costs just N500 while the door delivers cost N1210.

In your own case, the price will be different base on your location.
Besides, for customers living in Lagos, Abuja and Ibadan are entitled to free delivery to their doorsteps.
However, if the pickup station is your own option, then select "pickup station" and choose the Pickup Station.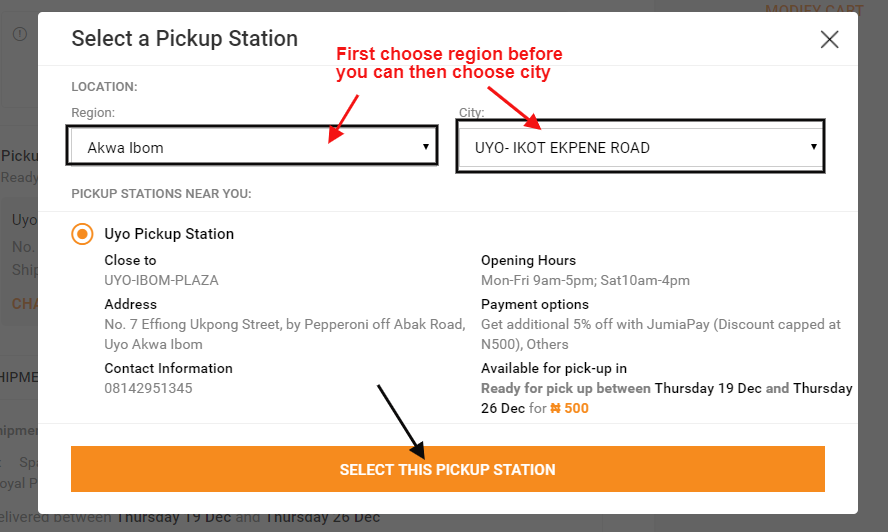 After you have selected the pickup station, scroll down to see the total price and "Proceed to the Next Step" which is a payment method.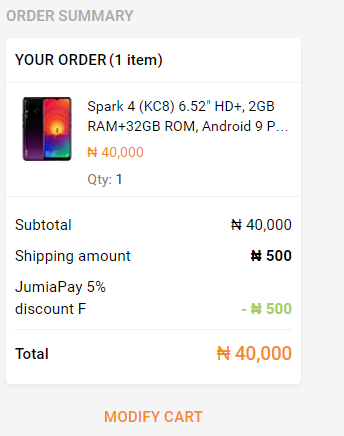 On the Payment method.
You can choose which payment method is best for you depending on your card.
However, Jumia also accepts payment on delivery but not all the locations and not to product shipped from oversea.
This means you need to pay before your product will be shipped to your address or pickup station.
If you have a voucher code also know as discount code then you can insert it on this page and Jumia will give you a discount on your product cost.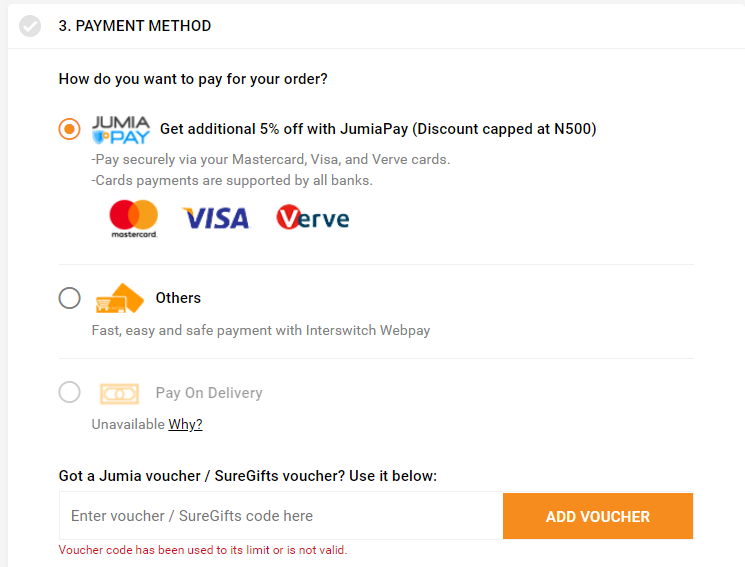 After you have completed everything on this page, click on "Confirmed Order" and Jumia will ship the product to you.


An email will also be sent to the email address you use with your "Order Code" and to your own phone as a message.
How To Track My Order on Jumia?
On September 2nd, Jumia announced the tracking tool that is rolling on its website in Lagos, Nigeria.
To track your order on Jumia, you need to follow any of these simple steps.
#Step-1: Visit Jumia.com.ng and click on your profile at the top right corner
#step-2: Select "Orders" to be redirected to your order page.
#Step-3: Click on "See detail" to view your product order code.
#Step-4: Visit Jumia.com.ng/track
#Step-5: Insert your "Order code" followed by your email address
#Step-6: Click on "Check now"
After you have click on "Check Now", Jumia will show you where is your product and whether it has been shipped to your location.
How to track Jumia order Number
Here are more details on how to track the order number on Jumia.
First, you need to visit Jumia.com.ng and click on your profile at the top right corner to select "Orders".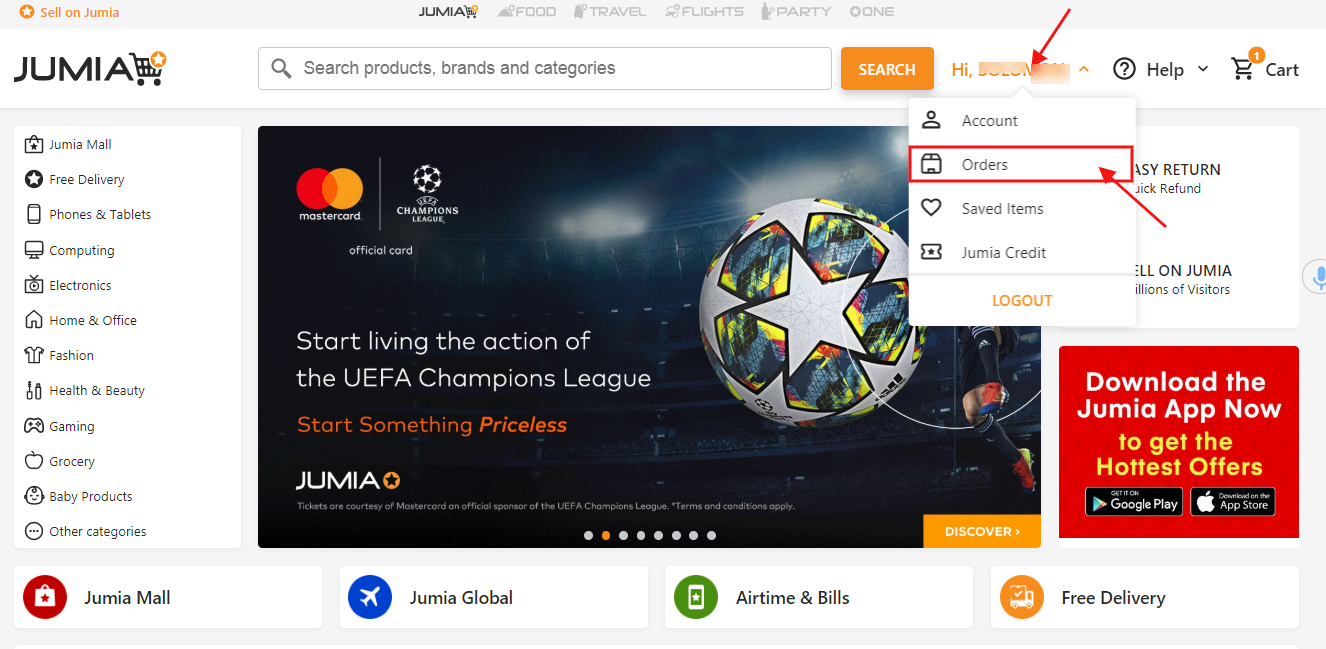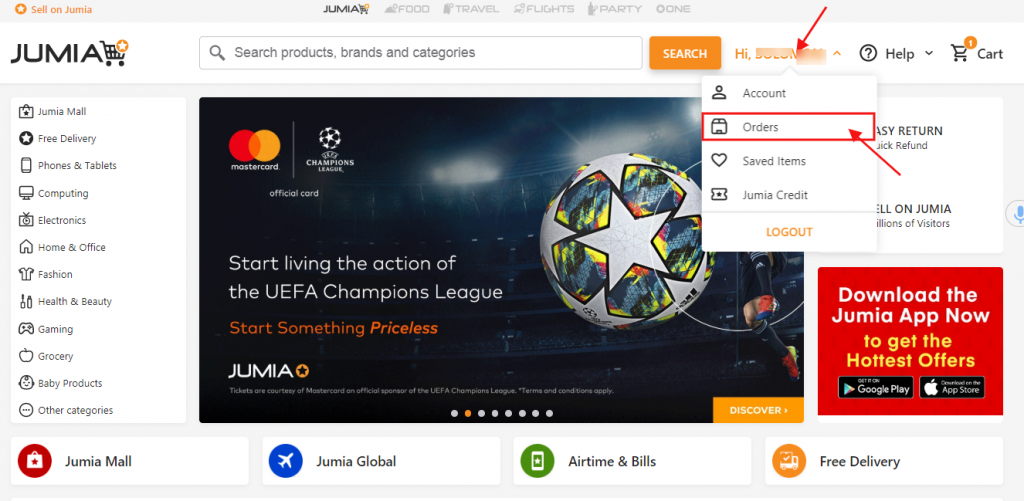 Upon your selection, you will be directed to your order page where all your orders can be view by you.
When you are on that page, select "See Details" of the product you order.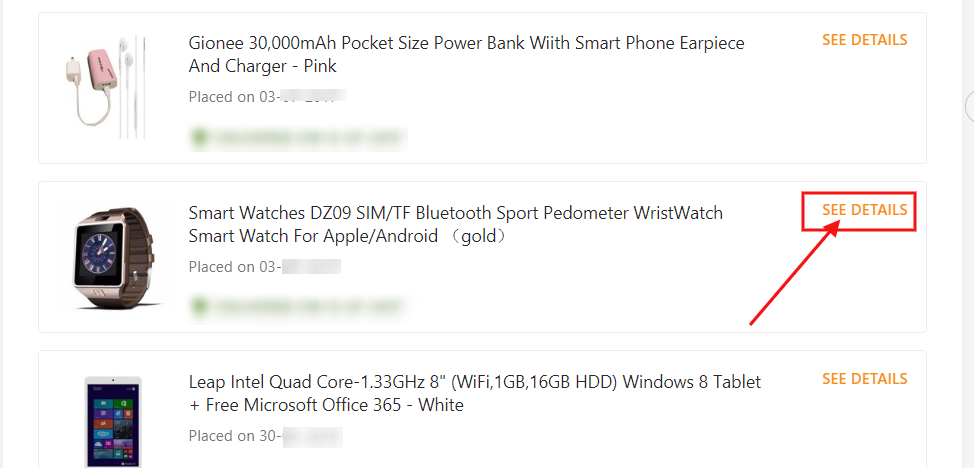 You will be taken to another page where you will see your "Order code" for that product you place an order.
Or you can also view your product order code from the email Jumia sent to your inbox as an order confirmation.

Copy the "Order code" and visit "Jumia.com.ng/track".
On the Jumia tracking tool page. Insert the "Order code" followed by your email address and click on "Check Now".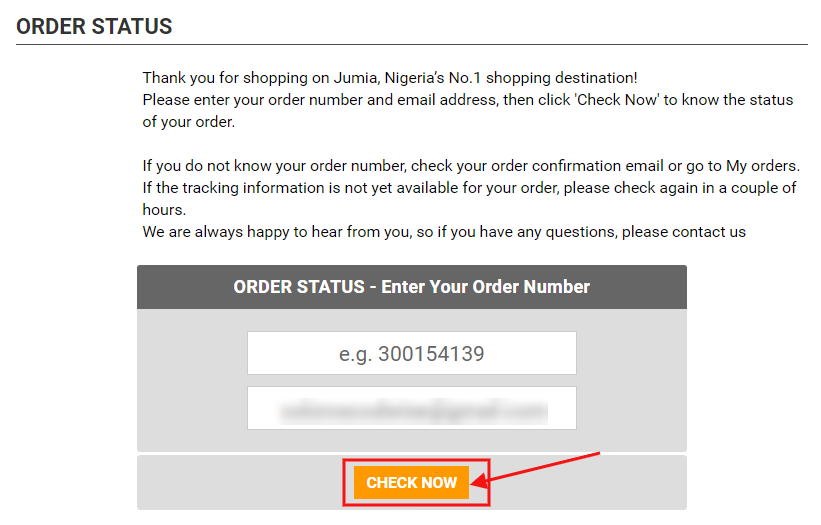 The page will be load and you will see the list of order products with that "Order code".
If it was one product, then only one will show on that your dashboard.
Next, click on "Track your package" or click on ">>see more" to view the status of your order product.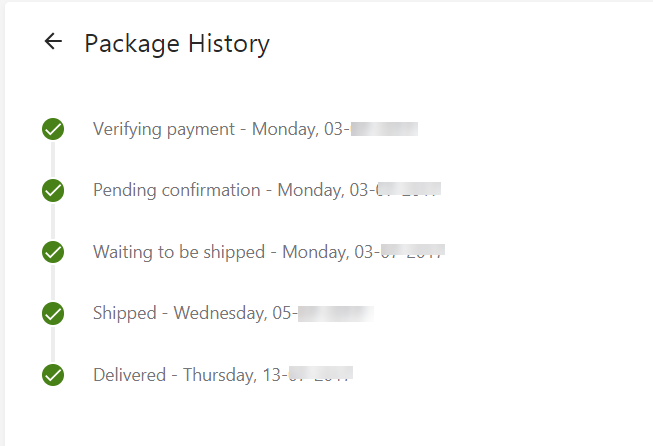 However, the infographic below was provided by Jumia as a detail of how The Jumia tracking tool works.


How To Cancel Order on Jumia
If you place an order on Jumia and wish to cancel the order, you can do that by contacting the Jumia customer service on this page.
However, when you contact the customer service, Jumia will make everything possible to stop the delivery of the product and return it to the office.
Does Jumia offer a Refund on Order cancelation?
Yes! another great thing is that you will not lose anything because Jumia will refund 100% of your money directly to your bank account.
How quickly will my order be delivered?
Depending on your location, Jumia will deliver your product to you between 2 to 14 business days nationwide.
Conclusion
To sum it up.
We believe that the guide on how to cancel your order that was written by ThingsToKnow was much helpful.
However, if your question was untouched or you have any questions about Jumia then you can ask us on the comment.
We will try as much as possible to provide you with the answer.
Please, share this post with your friends on social media.