Jeffree Star is an American model, fashion designer, DJ, singer-songwriter, and makeup artist.
As of this writing, Jeffree Star has a net worth of $200 million.
In addition to being one of the highest-paid YouTube stars on the planet, he oversees a cosmetic empire called Jeffree Star Cosmetics which is the source of the majority of his fortune today.
He is known for his striking hair color which is frequently hot pink, and many tattoos.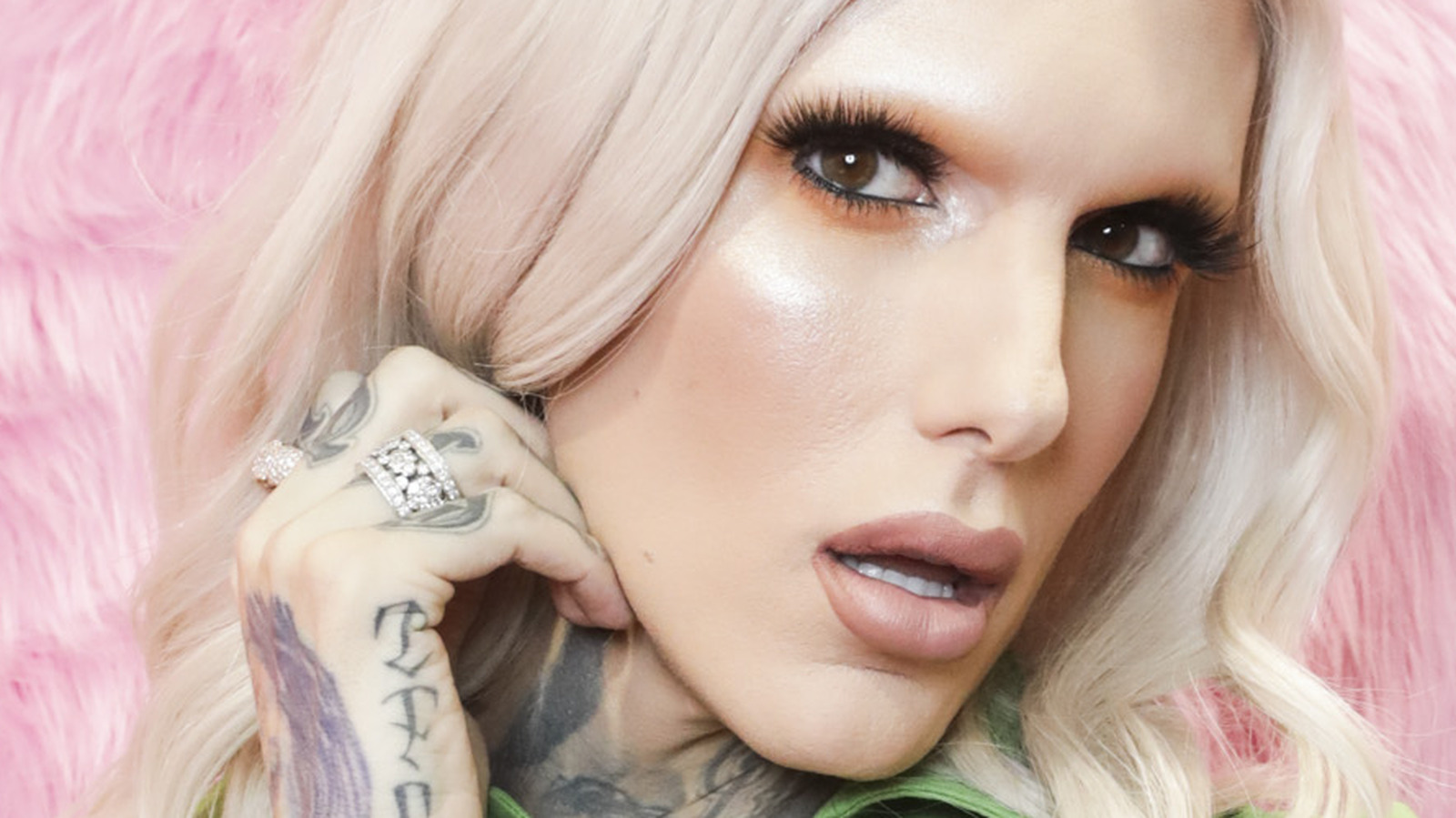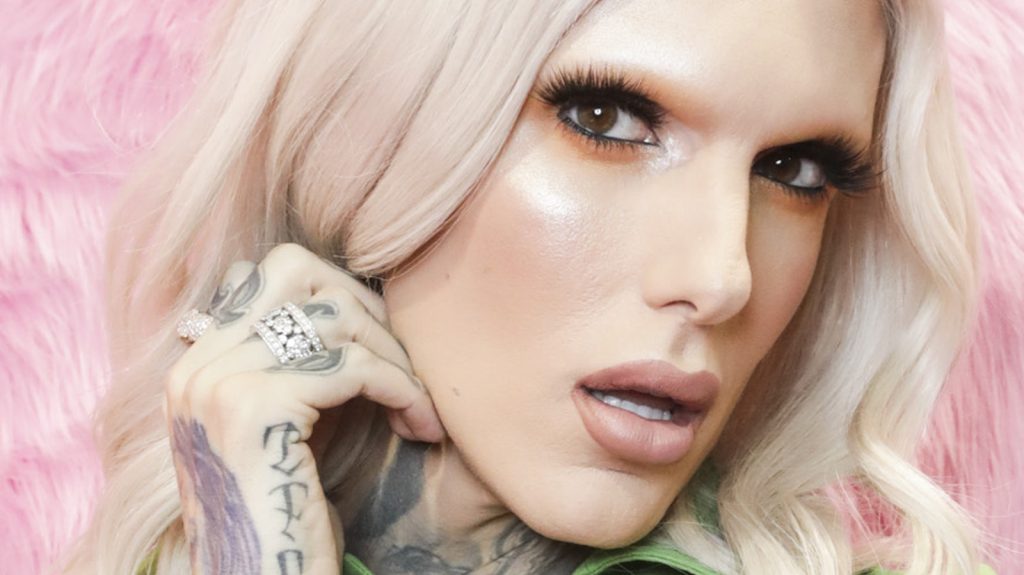 Jeffree Star: Image Source
Where is Jeffree Star's Home in Wyoming?
His house is in Casper, Wyoming.
Jeffree Star lives in Casper, Yaks, Wyoming and owns Wyoming's First Electric Hummer.
Jeffree Star invited K2 Radio News to his ranch to talk about life in Casper, his yak ranch, and his electric hummer – the first of its kind in Wyoming.
Did Jefree Star and Kanye West have a relationship?
Calling the rumor "very untrue," Star explained that "a girl on TikTok" started the chatter, adding: "She made it up and I guess it made sense. I live in Wyoming, I live in Hidden Hills [California]. We both live in the area. It's the way it was mapped out, I guess."
This rumor started because Jeffree Star lives in the same area as Kanye West.
How Many Cars Does Jeffree Star Have?
Jefree Star has 15 cars.
We will take a look at his car collection one after the other.
Pink McLaren 765LT
This fully customized McLaren 765LT is the latest addition to Jeffree Star's car collection as of 2022.
He waited over a year for this car, which he built from the ground up in collaboration with McLaren.
Jeffree describes this collaboration as a 'dream collaboration'.
The car is in color 'Pink Magic' on the outside and light pink on the inside.
It also features crystal carbon-fiber accents in the color 'Wonka Blue', a leather baby pink steering wheel, and a roof scope that, according to him, cost more than his very first car.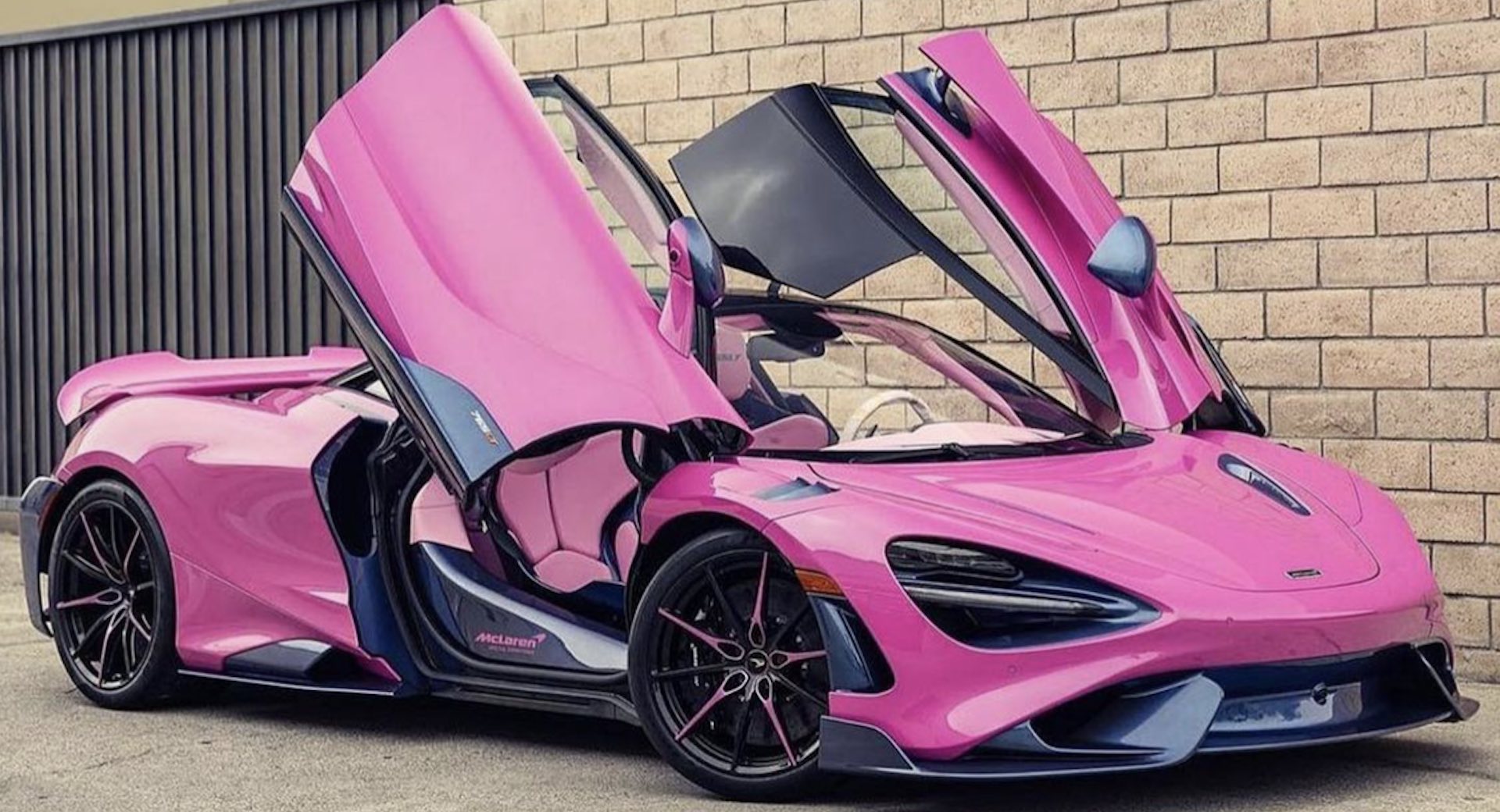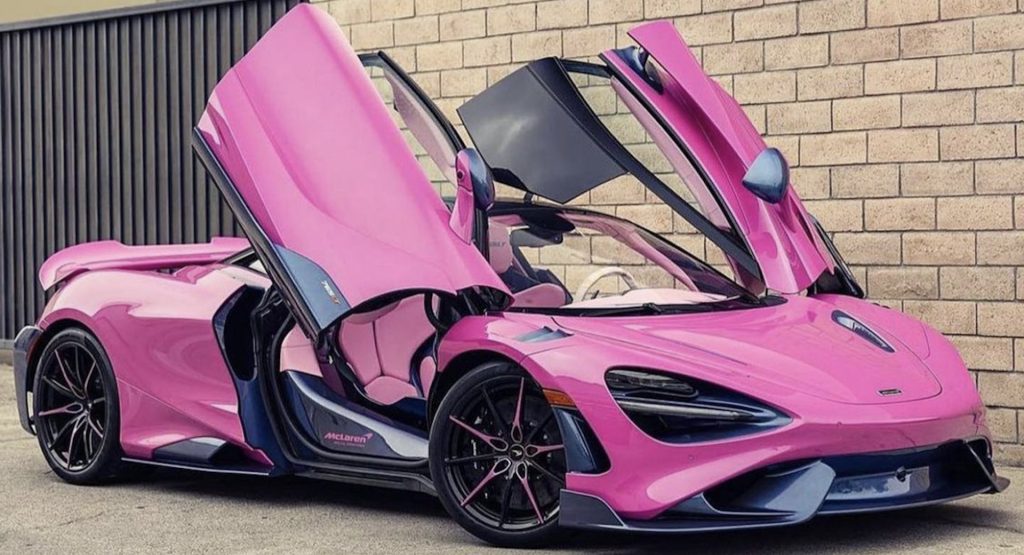 Jeffree Star's Pink McLaren 765LT: Image Source
Star Pink Rolls Royce Cullinan
Jeffree Star had to wait 13 long months to receive this custom Rolls Royce Cullinan in Star Pink.
But, from the custom star headliner in pink LEDs (the first of its kind) to the fancy fridge in the backseat – it was obviously worth the wait.
They're calling this 4-seater the most bespoke Rolls Royce ever built – every single detail is customized to Jeffree's liking.
In his own words: "It's the pinkest Rolls Royce they've ever made."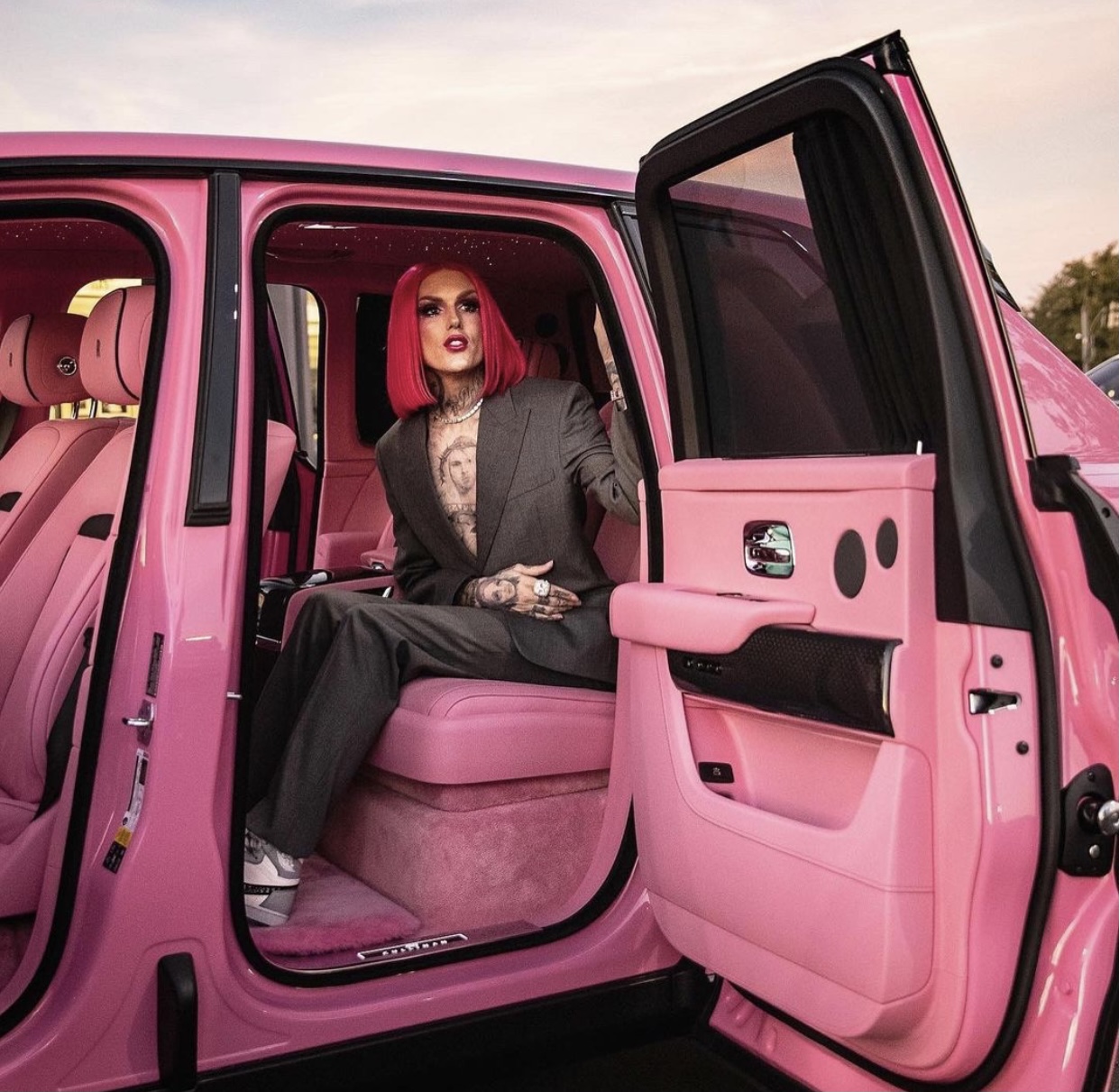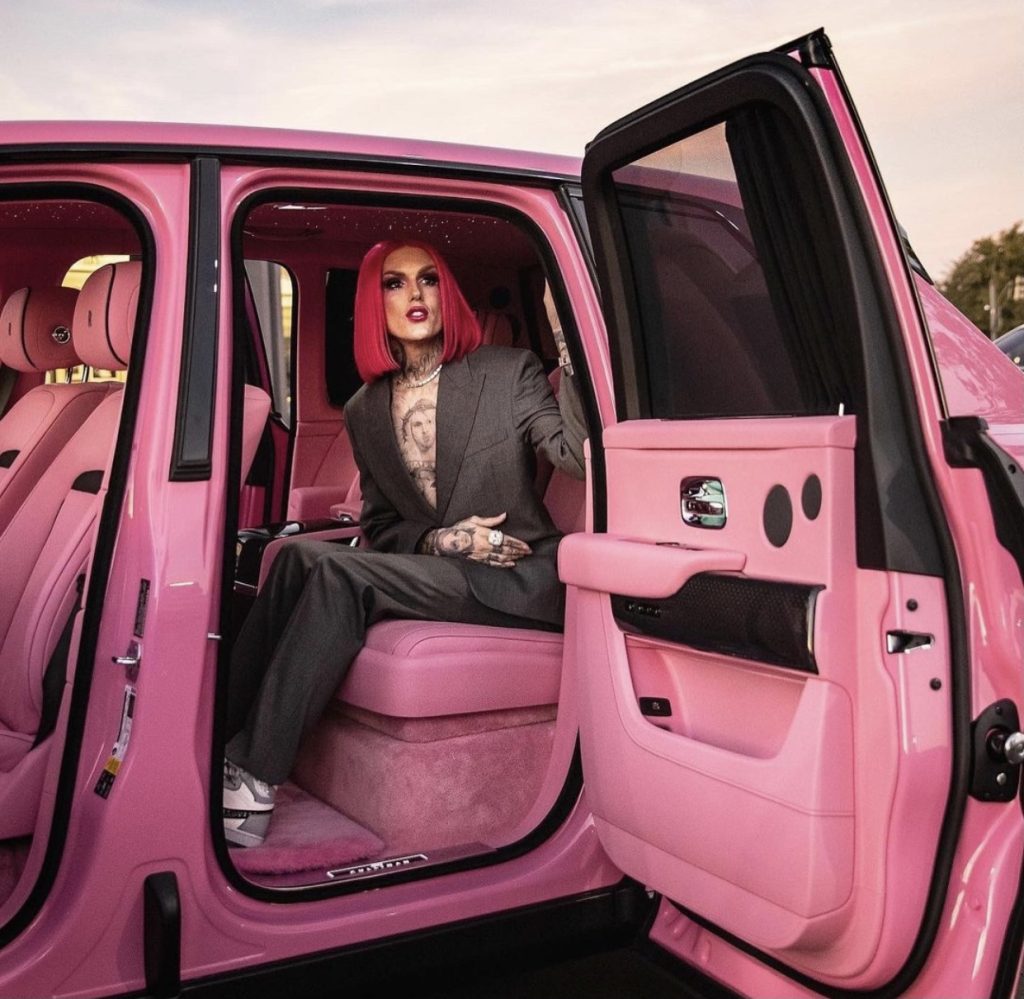 Jeffree Star's Star Pink Rolls Royce Cullinan: Image Source
McLaren 570S
Jeffree Star calls this car 'cute baby' and we understand completely. This was his first-ever McLaren and it's obvious he really adores it.
Originally, the car was volcano orange and the interior was all black with orange stitching.
Now, the interior is fully transformed with a hot pink material that was hand-dyed in Italy.
 On the outside, it's pink with pretty sparkles – his own special customization.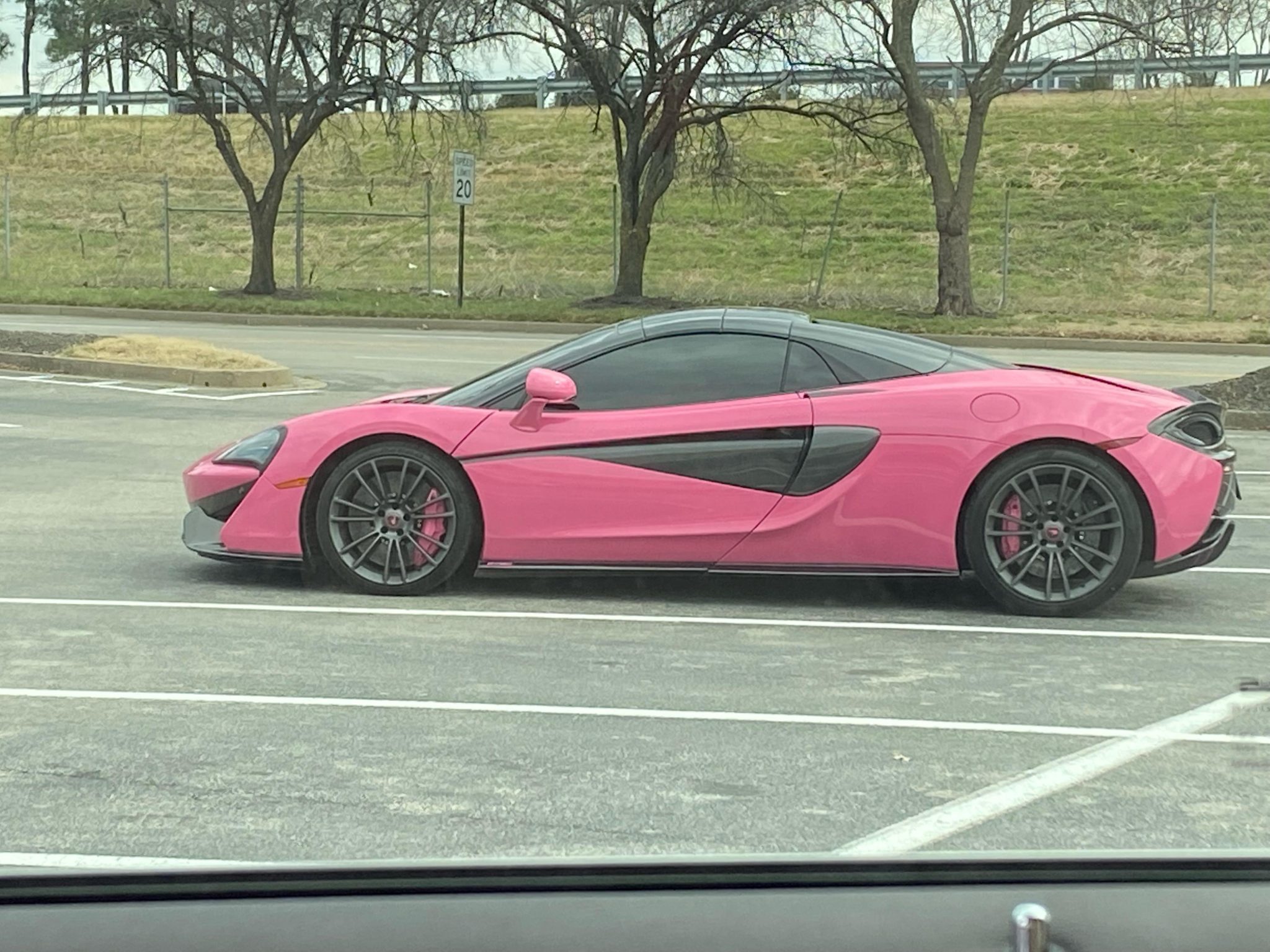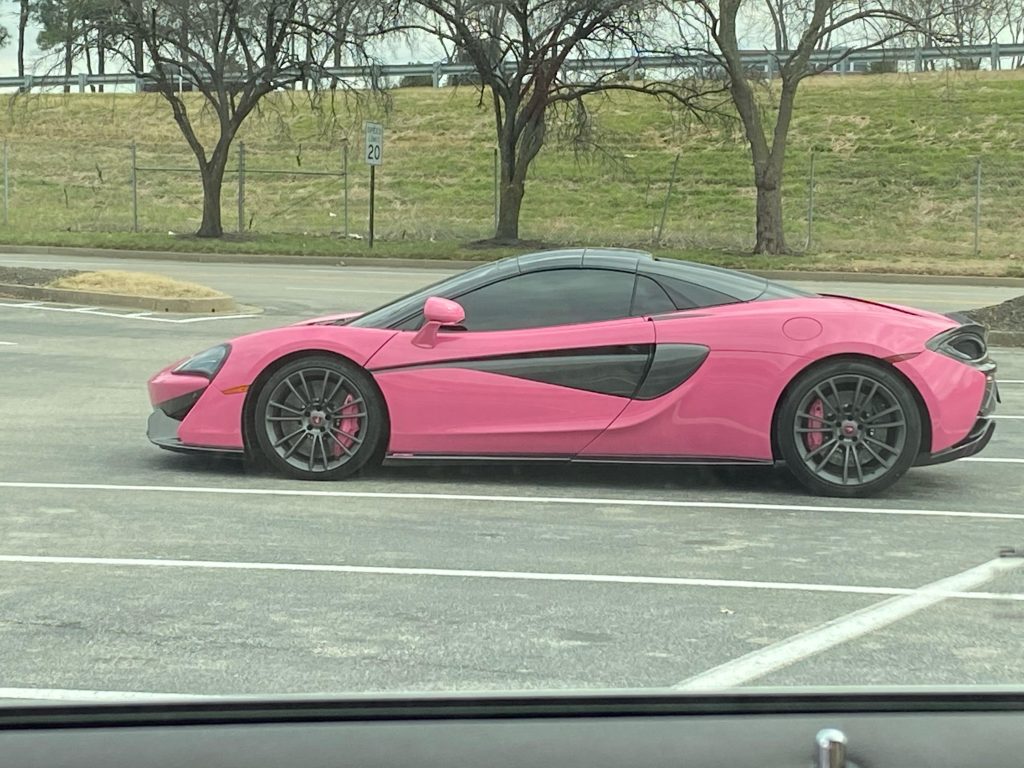 Jeffree Star's McLaren 570S: Image Source
Rolls Royce Dawn
This Rolls Royce is an eye-catcher for more than one reason. It's a stunning lemon yellow on the outside with a factory lemon leather interior.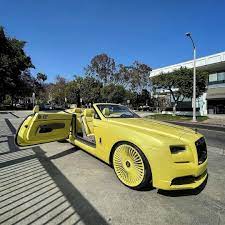 Jeffree Star's Rolls Royce Dawn: Image Source
Chocolate Bronze Rolls Royce Cullinan
Yes, Jeffree has another Rolls-Royce Cullinan in his collection.
It's his replacement for a previous Rolls Royce Cullinan which was wrecked in a serious car crash in April 2021.
This replacement Rolls Royce (matched to one of his eyeshadows) is a beautiful chocolate bronze with an orange and black interior.
He even has a matching orange key.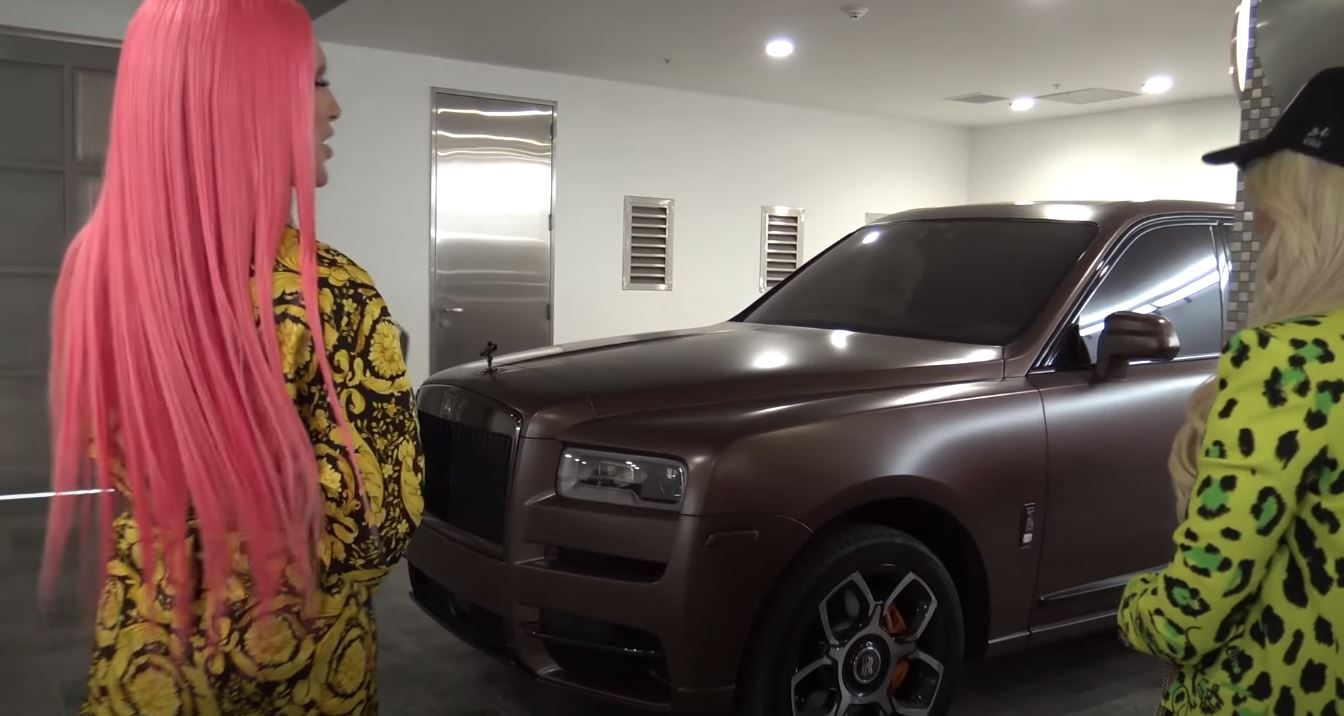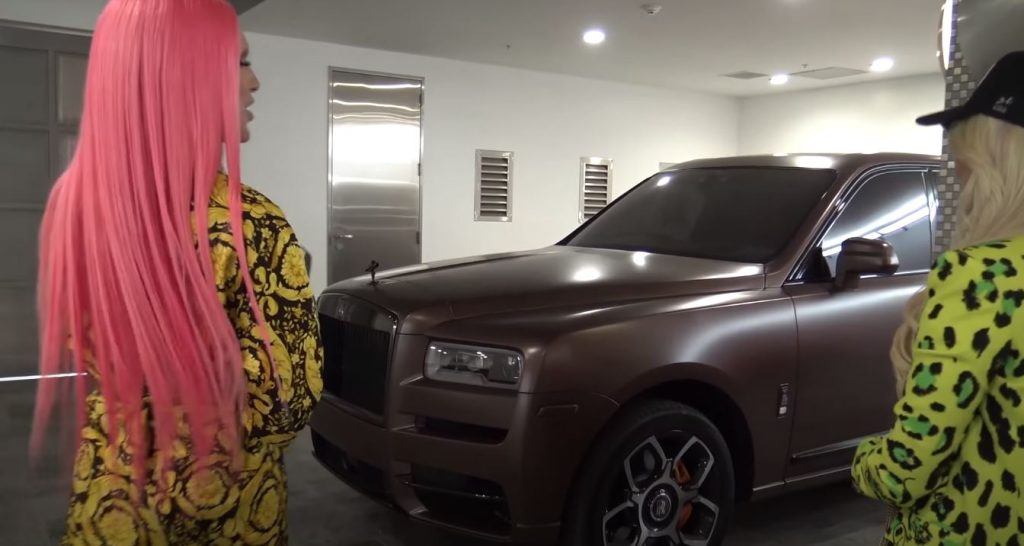 Jeffree Star's Chocolate Bronze Rolls Royce Cullinan: Image Source
1955 Ford Crown Victoria
This classic car made by Ford is yet another pink car that sits in Jeffree's Star Garage.
 In his interview with Supercar Blondie, the star boasts that it's one of just 10 cars that has a glass roof.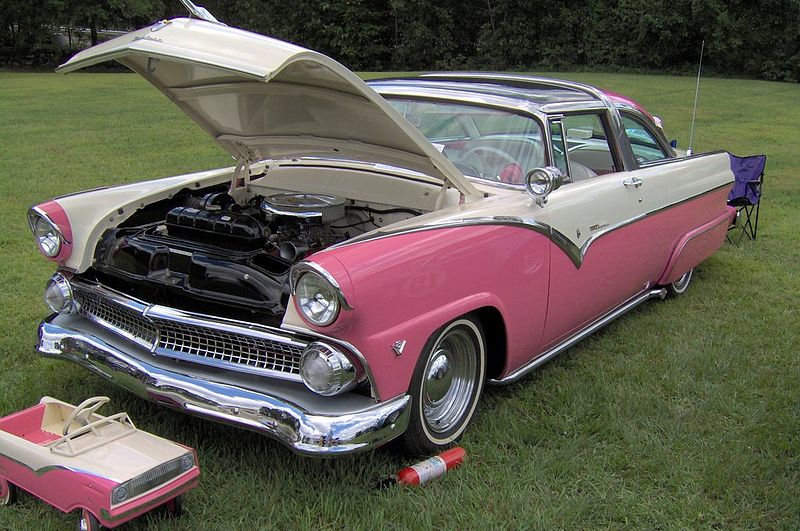 Jeffree Star's 1955 Ford Crown Victoria: Image Source
Lamborghini 610-4 Huracan
This seems to have been Jeff's second car.
It's in the pink of course – Alcantara pink to be specific.
This sexy car is complete with Jeffree's logo on the headrest and his 'Mr. Diva' license plate is on the back.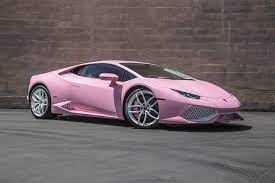 Jeffree Star's Lamborghini 610-4 Huracan: Image Source
McLaren Senna
Jeffree Star's McLaren Senna is no doubt a show-stopper.
It's his most expensive vehicle and comes in an absolutely beautiful blue.
It also has a custom leather interior (which is rare) and is said to be the only one in the world in this color.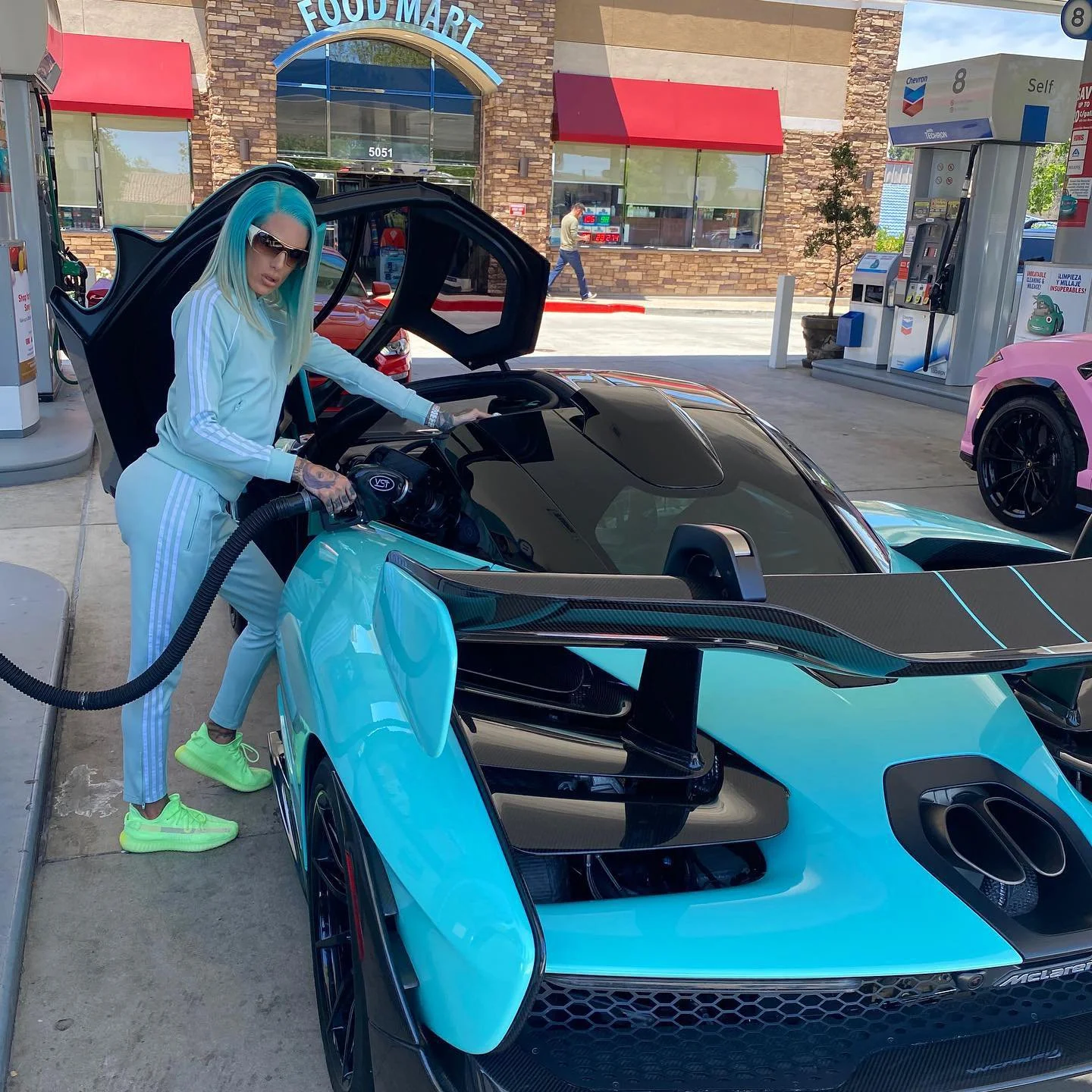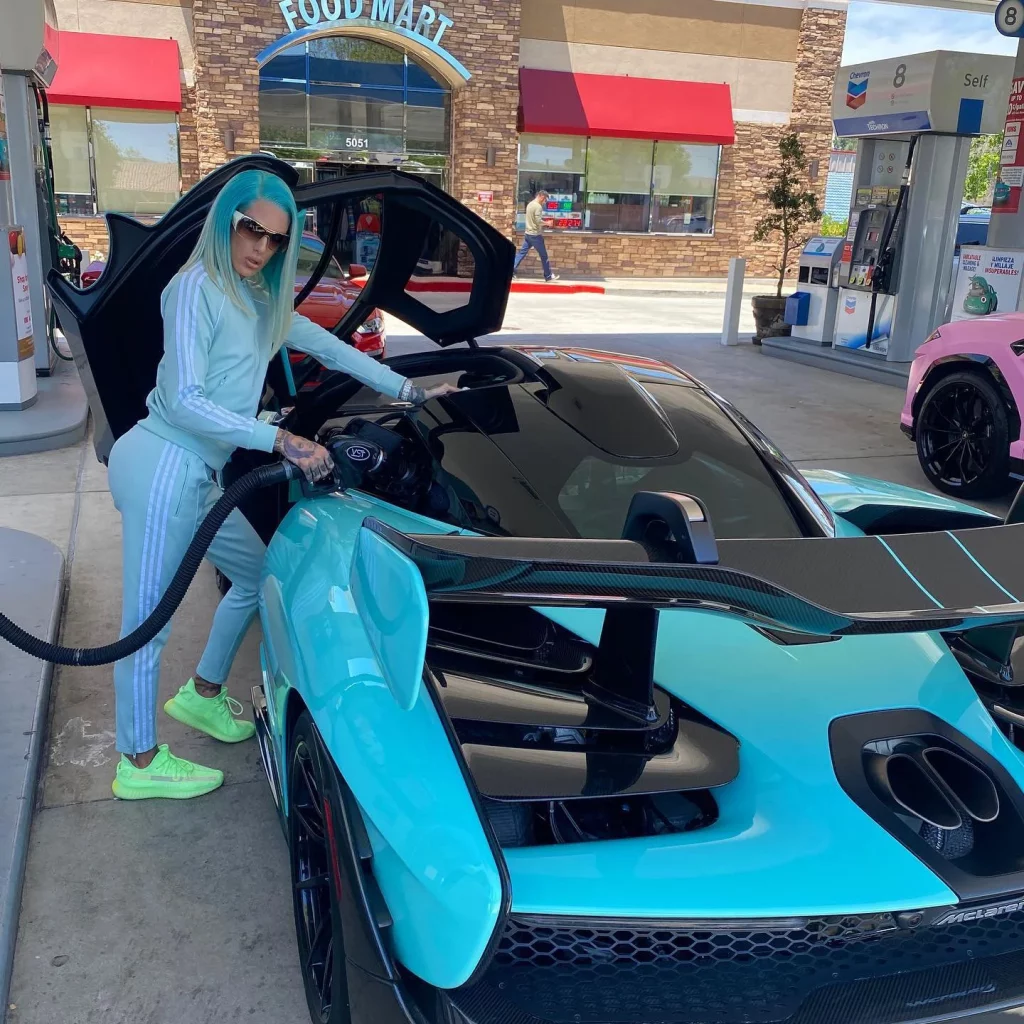 Jeffree Star's McLaren Senna: Image Source
Aston Martin Vantage
Jeffree's Aston Martin is hot pink on the outside, with a black and neon yellow interior.
"Very Harley Quinn – Joker," he says to Supercar Blondie, referring to the unique color combo.
But as cool as it looks, Jeffree admitted that this might be his least favorite car in the Star Garage – no shade to Aston, of course.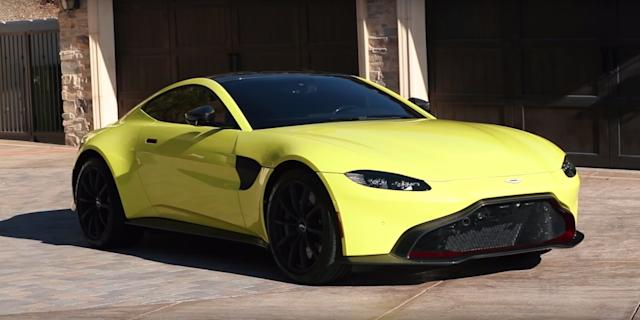 Jeffree Star Aston Martin Vantage: Image Source
Toyota Supra Widebody
This is another car that stands out in the Star Garage.
Jeffree bought this car from James Stradman (TheStradman) which is probably why it isn't in pink (yet).
Instead, it's a stunning deep purple.
Here's what Jeffree Star had to say about it:
"I have a lot of crazy colors in my garage, but this is next level."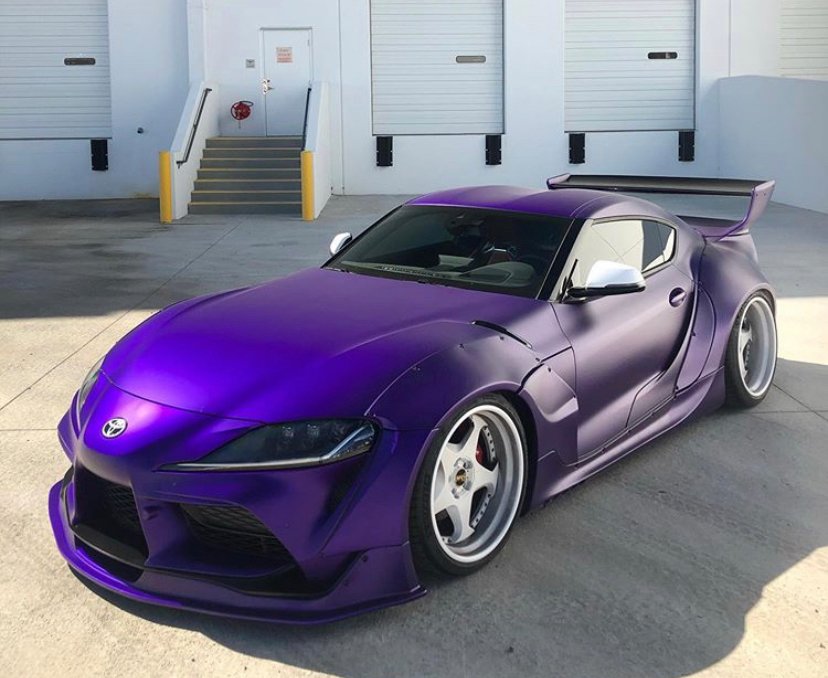 Jeffree Star's Toyota Supra Widebody: Image Source
Baby Ice Pink 1965 Rolls Royce Silver Cloud III
This pink Rolls Royce beauty was fully restored by West Coast Customs.
They gave it a pretty pink interior and exterior, and upgrades including a new engine and new electricity, to name a few.
Just like with his McLaren 765LT, Jeffree added glitter and crushed pearl to the paint to make it a real stunner.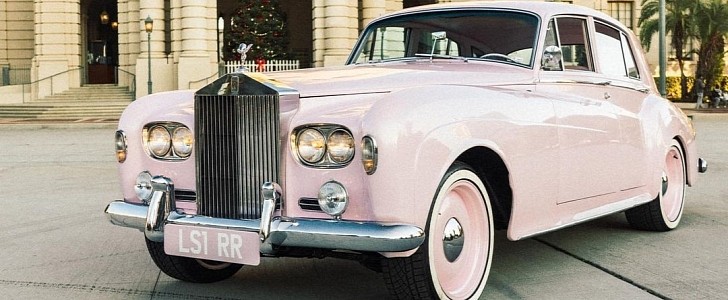 Jeffree Star's Ice Pink 1965 Rolls Royce Silver Cloud III: Image Source
What Business Does Jefree Star Own?
Jeffree Star Cosmetics
Jeffree Star Cosmetics is an American cosmetics company founded by internet personality Jefree Star.
Star claims to have invested his life savings in starting the company's makeup line in 2014 with an initial three liquid lipstick colors.
The company is estimated to sell US$100 million annually.
All products are vegan and cruelty-free.
The company is co-owned by Star and his business partner Jeff Cohen.
The company was conceived by Star in 2013.
 Star terminated his music career and invested fully in the company.
In November 2014, the cosmetics company launched a collection of 3 Velour liquid lipsticks.
The company produces lipsticks, concealers, setting powders, highlighters, lip products, jackets, and mirrors.
The company randomly sells mystery boxes on its website, including a mini box, premium box, and deluxe box.
Seven products—the "Androgyny" palette, the "Magic Star" setting powder and concealer, the "Velour Liquid Lipstick", the "Thirsty" palette, the "Liquid Frost" highlighter, and the "Blood Sugar" palette—were Cosmopolitan's favorite company products.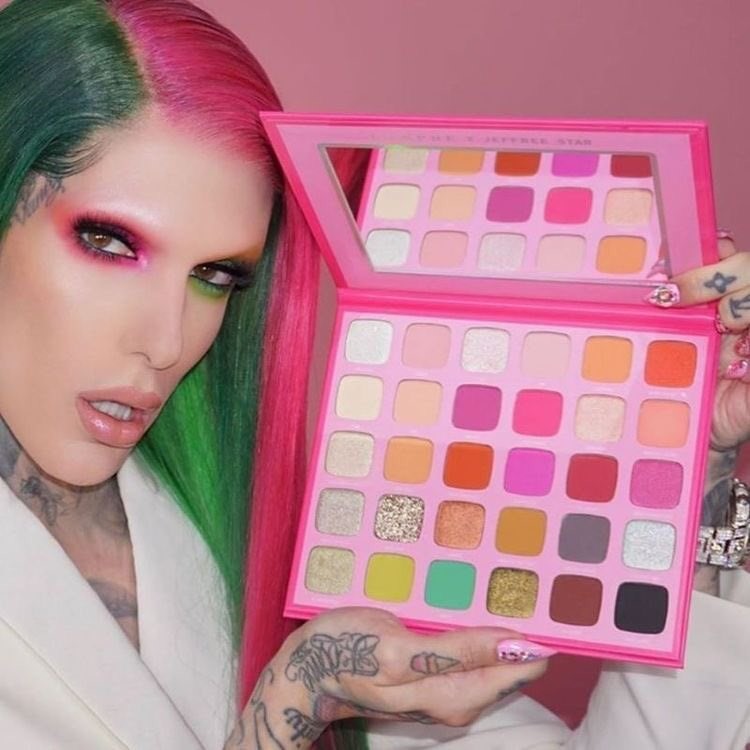 Jeffree Star Cosmetics: Image Source
What is Jeffree Star's Instagram Name?
Jefree Star is on Instagram as @jefreestar.
He has 13.6 million followers.
What Is Jefree Star's Real Name?
His real name is Jeffrey Lynn Steininger Jr.
Is Jeffrey Star Male or Female?
The Youtuber is a guy.
He identifies as male, was born male, and he gender bends his clothes and makeup. He is a cisgender gay male.
A cisgender is a person whose sex was assigned male at birth and identifies as a boy or a man, or someone whose sex was assigned female at birth and identifies as a girl or a woman, is considered cisgender.
Cisgender people may or may not conform to gender norms and stereotypes associated with their gender identity.
How Many Boyfriends Has Jeffrey Star Had?
Jefree has dated 3 men.
We are going to look at each of them one after the other.
Chris Crocker
Jeffree dated Chris (a.k.a. "Leave Britney Alone" guy) from 2005 to 2009.
 At the time, they were two of the most popular people on social media.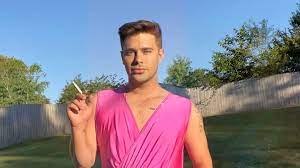 Chris Crocker: Image Source
Nathan Schwandt
Over the course of Jeffree and Nathan's five-year relationship, they lived together in the millionaire's California mansion.
Beyond that, they raised a darling brood of Pomeranians together.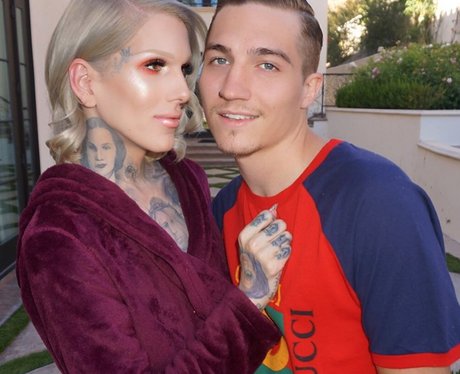 Nathan Schwandt: Image Source
Andre Marhold
Jeffree and Andre first sparked dating rumors in August 2020 after the "Beauty Killer" artist uploaded a photo of himself straddling someone who appeared to be the professional athlete on Instagram.
While Andre's face was covered, fans recognized his tattoos.
By September, Jefree seemingly confirmed the pair's split.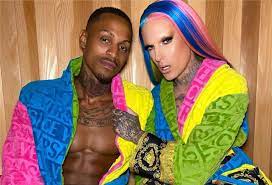 Andre Marhold: Image Source
How Many Dogs Does Jeffrey Star Have?
He has 7 dogs.
We will look at them one after the other.
Drizzle
In March 2022, Jeffree Star added another little Pomeranian pup to the Star family and her name starts with a "D".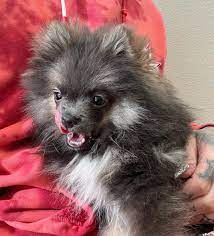 Drizzle: Image Source
Donatella
Jeffree Star picked up his seventh puppy on 16 January 2021 making him a dog mother of seven.
He later revealed that he had named her Donatella.
Donatella: Image Source
Dominatrix
Dominatrix is one of Jeffree's newest dogs which he revealed in a YouTube video in April 2020.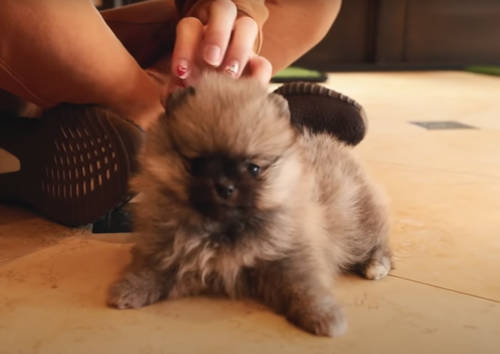 Dominatrix: Image Source
Dessert
Dessert is one of Jeffree's newest dogs which he revealed in a YouTube video in April 2020.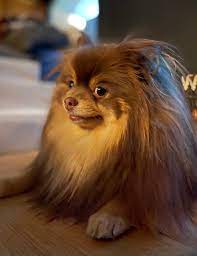 Dessert: Image Source
Diva
Diva is Jeffree's oldest dog and he had her even before meeting Nathan.
The 10-year-old tan Pomeranian will turn 13 in April 2023.
Delicious is Jeffree and Nathan's only pure black Pomeranian and the third dog that Jeffree adopted.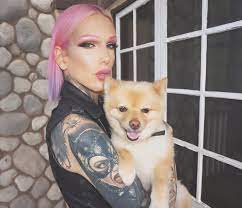 Diva: Image Source
Drama
Jeffree adopted tan Pomeranian Drama with ex-boyfriend Nathan Schwandt in 2017. Drama's birthday is 31 October and she is almost five years old.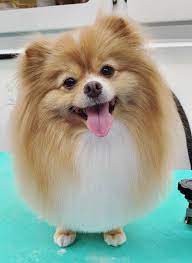 Drama: Image Source
Da Vinci
Da Vinci is another one of Jeffree's adorable Poms and he will turn four in September 2022.
Jeffree announced his arrival on YouTube in his video titled "WE GOT A PUPPY!".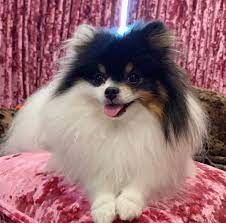 Da Vinci: Image Source
Conclusion
We have seen all about Jeffree Star, his personal life, and his net worth.
He is a controversial Youtuber and loves what he does.
We hope to see more of his activities in the coming years.
I hope you enjoyed reading this article as much as I enjoyed writing it.