So who is the highest paid footballer in history?
Don't know who it is?
Then you are reading the perfect article.
As we all know, the earning rate of footballers is shocking.
As players of the most famous sport on earth, footballers make a whole lot of fortune from transfer deals, endorsement deals, and more.
Unlike in the olden era, the richest footballers today are all billionaires.
In fact, all the footballers who play for elite clubs in major leagues are rich.
That is to tell you how much money this game can bring.
With the help of these highly profitable deals, football stars live their dream lives.
One can hardly talk about rich celebrities without mentioning the names of footballers.
In this article today, we are going to look at the highest-paid footballer in history.
Is it someone you already know?
Or maybe not?
Then let us find out.
Who is The Highest-Paid Footballer in History?
The highest-paid footballer in history is none other than the famous Lionel Messi.
You know him. Right?
Today, there is hardly anyone who hasn't heard of Lionel Messi.
This man is arguably the best football player in the world.
So without wasting time, let us know more about this man, and how much he earns that makes him the highest paid player in history.
Meet The Highest Paid Footballer In History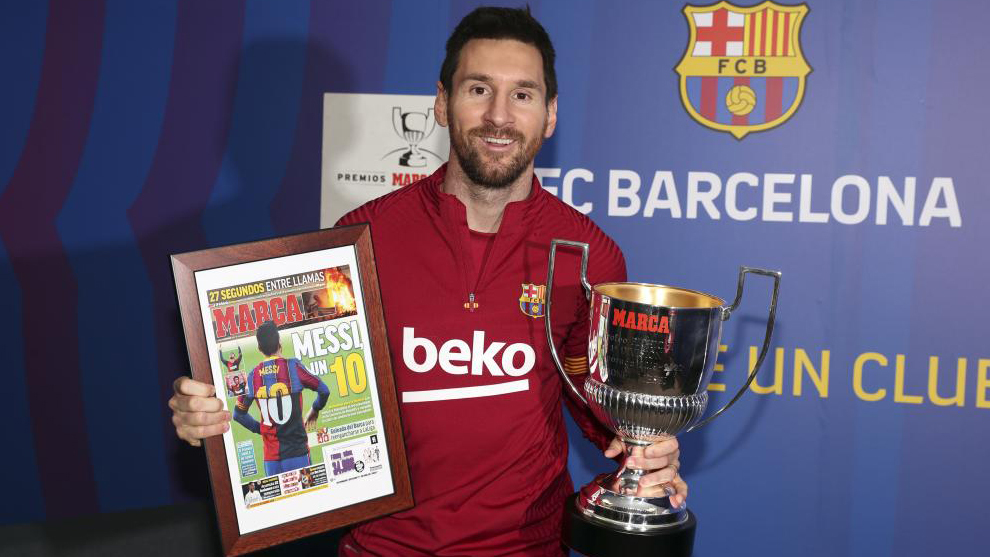 Biography of Lionel Messi
Lionel Messi who was born on the 24th of June 1987 is an Argentine footballer who plays for the Spanish giants 'Barcelona'.
He is currently the captain of the Argentine national team.
Through his career yet, Messi has bagged a record total of 6 Ballon d'Or Awards, six European Golden boots, and many other major trophies.
All through his career as a professional footballer, Messi has remained in Spain with Barcelona FC.
He has won a total of 33+ trophies with Barcelona.
This makes him the player with the most trophies in a single club.
Lionel Messi's trophy collection includes: 4 UEFA Champions League titles, 6 Copa Del Rey Cups, 10 La Liga titles, and many more.
Today, he is also regarded as the most creative player in the history of football.
Being one of the best dribbles and playmakers in the world, Lionel Messi is indeed a delight to watch on the pitch.
With a total of over 450 goals, Lionel Messi is also the highest goal scorer in the history of La Liga.
As we speak, Lionel Messi has netted a total of over 700 career goals.
He is also the holder of the record of most hat-tricks in La Liga.
His goals keep climbing up the scale, and he keeps breaking new records by the day.
Move To Barcelona
Immediately Messi was done with his growth hormone treatment at Barcelona, he became a full part of their youth team.
During this period, the superstar was only 14 years old.
Later on, he enrolled in the Royal Spanish Football Federation (RFEF).
As a result, he could play in all competitions in Spain.
Following an extraordinary performance by Young Lionel Messi, he got an offer from Arsene Wenger of Arsenal.
Pique and Fabregas who were his colleagues all left for England sides.
However, Messi decided to remain with Barcelona.
Pique later returned to Barcelona where he plays today.
Through the years, Messi has signed himself as one of the most creative players on earth.
As a result, he is ranked by many as the greatest footballer of all time.
How much is Messi's salary?
So how much does Lionel Messi receive in a week?
Before now, Lionel Messi used to bag a whopping £336,000 per week.
However, this has since been increased.
Today, Lionel Messi receives well over £500,000 per week.
When he received his salary increase, Lionel Messi became the highest paid player in the world.
He is currently followed by Cristiano Ronaldo who is safely in second place.
Lionel Messi Total Earnings
As you have already discovered, Lionel Messi is the highest earner in the football world today.
He makes a total earning of about $126 Million Pounds per annum.
This includes both his salaries from clubs and bonuses.
It gives Messi a whopping weekly wage of about $626,000 Pounds.
This is actually excluding his endorsement deals with major companies like Pepsi, Adidas, and more.
We can see that with such huge earnings, Lionel Messi is indeed the highest paid footballer in history.
Lionel Messi Endorsement Deals
Messi has signed a long-term deal with Adidas.
The details of this contract is actually unknown to the public.
However, there are a lot of reports that this deal is worth up to a billion dollars, and it will last him through his football career.
Aside from his deal with Adidas, Lionel Messi has also signed several lucrative deals with companies like Pepsi, Gillette, Turkish Airlines, and more.
As a matter of fact, his endorsement deals amount to about $35 Million Dollars+ per annum.
Lionel Messi Cars, Houses, and Other Assets
As the highest paid footballer in history, Messi can afford virtually anything he wants.
In this section of this article, we are going to look at some of the major assets owned by Lionel Messi.
Messi Cars
As a very rich football player, Lionel Messi owns a couple of luxury cars.
These include:
Audi Q7
Maserati GranTurismo
Ferrari 335 S Spider Scaglietti
Aside from these three major luxury cars outlined here, Messi owns a whole lot of other cars.
However, they are not mentioned here due to limitations in terms of details.
Lionel Messi Houses
We all know that shelter is one of the most important things in the world today.
There is hardly any superstar who doesn't own at least two or more houses.
Lionel Messi has a lot of real estate properties which are spread across the world.
However, only a few of his Mansions are well known to fans.
So without wasting time, let us take a look at these two mansions.
Messi's Zero Eco Mansion
The Zero Eco mansion is the most famous mansion owned by Lionel Messi.
This mansion is actually famous as a result of its unique design.
From a top view, this house is made to form a number 10.
This actually represents the number on the jersey which Messi wears at Barcelona and Argentina.
The mansion also has a design that looks like a football pitch with the number 10 written on it.
Truth be told, this mansion is one of the most unique Mansions owned by a celebrity.
The design concept was actually materialized by Lionel Messi and an architect called Luis Garrido from Spain.
It is said that the total worth of this mansion is about $15 Million Dollars.
Castelldefels Mansion
Aside from his Zero Eco mansion, Lionel Messi also has another huge mansion which overlooks the Mediterranean coast.
This mansion is actually located in Castelldefels which is actually a suburb of Barcelona FC.
Even planes are prohibited from flying over this region of Barcelona due to some environmental reasons.
The total worth of purchasing this Castelldefels mansion was about $2 Million Dollars+.
However, Lionel Messi carried out some heavy renovations which amounted to millions of dollars.
As a result, the total worth of this house is way higher than the purchase value.
There are the two major Mansions owned by Lionel Messi.
Aside from these two mansions, Messi also carries out a couple of real estate projects in other parts of the world.
Recently, it was also all over the news that Lionel Messi had acquired a new mansion in the United States of America.
We do not know how true this is, so we will come up with updates when something reliable comes up.
Messi Private Jet
Does Messi have a private jet?
So what do you think is the answer to that?
Of course he does!
Just like every other billionaire superstar, Lionel Messi owns his own private jet.
Messi's jet is a Gulfstream V Model (2004 Edition).
This luxury jet features 16 seats (foldable to eight beds), two bathrooms, one kitchen, and many other mind blowing facilities.
What is Lionel Messi's net worth?
So what is the net worth of the highest paid footballer in history?
Don't know?
With all his mighty endorsement deals, huge football salaries and more, the net worth of Messi is indeed huge.
As of 2021, Lionel Messi is already estimated to worth well over $420 Million Dollars.
This also makes him the second richest football player in the world.
Summary on The Highest Paid Footballer In History
From this simple article, I believe you have discovered the football player with the highest salary.
He is Lionel Messi, and he is also one of the most famous players in the history of football.
Today, a lot of people say he is the greatest footballer who ever played the sport.
With so many trophies to his name, he is currently one of the most honored footballers on earth.
Sincerely speaking, one can hardly discuss football for even two minutes without mentioning the name of this icon.
That should tell you how far he has gone in the game.
So far, that will be all we have on this football legend.
Remember to drop your comments.
Source: thingstoknow.com.ng