Wanna apply for a non-collateral loan in Nigeria but don't know the right platform for it. Follow this article to explore different moneylending platforms you can choose from.
As the amount of online financial lending platforms are increasing in Nigeria, getting a loan has become even easier and quicker. Gone are the days you'll keep wandering around different banks in a tiresome attempt to secure a minor loan in Nigeria, and still, no success. Either you're presented with a huge interest fee, or told to provide collateral.
With these online platforms, whether you're self-employed, a student, or a salary earner. You can apply and receive a fitting loan right from the comfort of your home without having to sign any paperwork, go through any complex transactional process, or provide collateral. All you do is sign up on their website or app, follow some simple process, and you're done.
But it doesn't always come easy as it sounds. Since it an online business, they're a lot of them out there. You can face technical issues on your way without any support from the community, or you may fail to get eligible for the loan. Just what do you have to know before you badge in? This article has conducted that research for you.
Who are online moneylenders and how are they different from banks?
Online moneylending or peer-to-peer(P2P) lending is the practice of lending money to individuals or businesses through online services that match lenders with borrowers. Peer-to-peer lending companies often offer their services online and attempt to provide their loans more cheaply than banks or other financial institutions that typically provide such loans.
In Nigeria, online moneylenders offer small personal or business loans to individuals. They play an active role in lending to people with less access to banking activities, such as unbanked or underbanked or in situations where borrowers do not have good credit history or collateral.
Nature of online moneylending in Nigeria
Loans from moneylenders are designed to be short term loans of N10,000 to N500,000 that are designed to tide you over to the next payday. They're usually used to meet emergency costs, that you otherwise couldn't meet from your monthly salary or savings. Generally, you will need to agree that the company can take its payment from your account on the day your next salary payment falls due, though some lenders will allow you to pay a longer period – often up to six months.
Questions to ask before taking a loan in Nigeria
What is the objective of taking the loan?
What is the cost of the loan?
What interest am I going to pay?
Can I afford to make the monthly payments?
How soon will I be able to pay it off?
Top 5 legit platforms to apply for a loan in Nigeria
1. Okash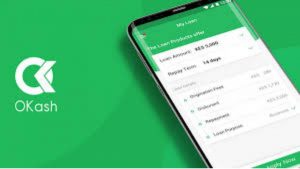 Okash is Opay's owned online money lending platform which makes it easy for financially underserved individuals in Nigeria to access credit anytime anywhere.
The loan amount can be as small as NGN 3,000 and go high as much as NGN 500,000 with an interest rate ranging from 0.1% to 1%. But usually, newcomers can only burrow up to NGN 10,000.
Okash is a Convenient Personal Loan Platform for Nigeria mobile users. In partnership with Blue Ridge Microfinance Bank Limited. OKash fulfils customers' financial needs 7*24 completely online. The application process takes just a few steps with minimal documentation and the approved loan amount is transferred to the applicant's bank account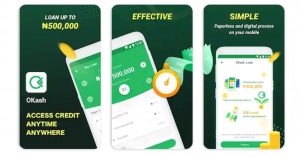 Pros
Fast loan approval process within minutes

You can apply for a loan by your credit. Don't need any deposits or guarantees.

No collateral
No guarantor
Cons
Low maximum loan
Age restrictions
ELIGIBILITY
Must be a Nigerian resident
Valid bank details
Source of monthly income
Valid national ID card
Smartphone with the Okash app
The age range of 20-55 years old
2. Carbon

Carbon is an online banking app that offers access to a variety of banking services, including investing money to earn high-interest returns as well as getting instant short-term loans for your urgent needs.
Carbon loans range from ₦1,500 to over ₦1,000 000. Their interest rate comes from 1.75% to 30% with an equivalent monthly interest rate of 1 – 21%.
The Annual Percentage Rate (APR) is from 23% – 60.8%.
Example: For a 3-month loan of ₦50,000, Carbon charges 2% a month. With an APR of 24.3%, the total repayment amount after 90 days is ₦53,000.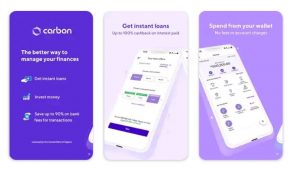 Pros
Speedy online transaction
Minimal requirements
Got loans no matter your class.
Cons
ELIGIBILITY
Valid bank details
BVN number
Valid ID
Android Phone
Complete Carbon application
3. QuickCheck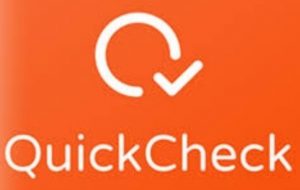 QuickCheck is a Nigerian fintech company that offers digital financial services to help you get closer to your personal and business goals. With just your smartphone and the QuickCheck app, you gain access to quick cash loans and get credited straight into your bank account.
QuickCheck can allow loans up from ₦1,500 to ₦500k. The interest rates start from as low as 5% monthly for the first loan. Loans range from ₦1,500 to ₦500 with terms from 91 days – 1 year. Interest ranges from 2% – 30%, with an equivalent monthly interest rate of 1 – 21%.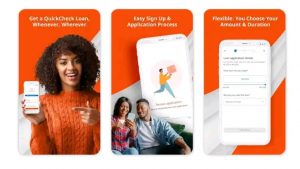 Pros
Fast access to loans in less than 1min after approval.
No collateral
No guarantor
Cons
ELIGIBILITY
Valid bank details
Android phone
BVN number
Complete application
4. Fairmoney

Fairmoney is an online financial platform provided by MyCredit Investments Ltd, a licensed lender. Fair money app provides instant loans within minutes without any collateral or guarantor.
Fairmoney loans amount from ₦1,500 to ₦500,000 with monthly interest rates ranging from 2.5% to 30% and repayment periods from 61 days to 1 year.
The APR goes from 30% to 260% per year.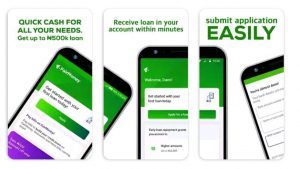 Pros
Fast loan approval process within minutes
Convenient repayment plan
No collateral
No guarantor
Cons
ELIGIBILITY
Valid bank details
BVN number
Android Phone
Complete application
5. Renmoney

Renmoney is another fintech lending company operating under a Microfinance Bank license. They offer personal and business loans from ₦6,000 to ₦6,000,000 to employed and self-employed individuals as well as high-interest savings and fixed deposits.
With the Renmoney app, you can apply for a loan of ₦6,000 – ₦6,000,000 without collateral and repay in 3 -24 months. Monthly interest rates range from 2.4% – 9.33% and the maximum Annual Percentage Rate (APR) is 35.76%. No other fees are charged.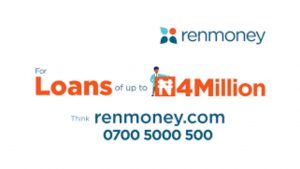 Pros
Fast and convenient loans from ₦6k to ₦6m
Flexible repayment plan, (from 3 – 24 months)
No collateral
No guarantor
No paperwork
Cons
low chances of eligibility
ELIGIBILITY
Be between ages 22 – 59 years.
Have a steady source of income that is verifiable.
Must be confirmed staff in present employment.
Have a functional current or savings bank account.
You must not have a history of returned cheques in your account.
Applicant must live and or work in Lagos State.
identification – International Passport, Driver's License, National ID Card.
You must have a clean Credit Bureau Report.
Smartphone and the Renmoney app
Salary bank statement for the last 6 months (must be stamped by the bank).