Is the university of Uyo a good institution for you?
In a few minutes, you're going to know the answer to your question.
This article will cover all information you need to know about the University of Uyo.
Some important questions are also going to answer directly without visiting more websites for it.
However, we will inform you about all the courses offered by the University of Uyo including school fees, and more.
But before I forget, we'll also tell you 10 important things about the university of Uyo.
If you're ready, let get started.
The History
The University of Uyo was established on October 1, 1991, as a Federal University for Cross River State.
It was named the University of Cross River State (UNICROSS) until it was later changed.
The changes occur during the founding of Akwa Ibom State in 1987.
However, the institution has twelve accredited faculties, a postgraduate school, and a school of continuing education.
In addition to that, the University of Uyo also has good investments in its name.
Currently, there are four campuses spread across the state with a permanent campus in Uyo.
But before we move further, let get to understand the list of courses offered by the University of Uyo.
List of Faculties at the University of Uyo
Here is the full list of approved faculties at the University of Uyo
Agriculture
Arts
Basic Medical Science
Business Administration
Clinical Science
Education
Engineering
Environmental Studies
Law
Pharmacy
Science
Campuses in Uniuyo
The University of Uyo (Uniuyo) has four campuses, which are;
1. Permanent Site/Main Campus
When you enter the permanent site of Uniuyo, it has a big entrance gate with a wide lawn around it.
Some part of the Uniuyo central administration is located in the Main Campus.
The institution has also been moving some faculties to the permanent campus.
Here are the faculties you'll find at the Main Campus;
Engineering
Natural and Applied Sciences
Agriculture
International Centre for Energy and Environmental Sustainability Research (ICEESR), and the Postgraduate School
The International Centre for Energy and Environmental Sustainability Research (ICEESR) is located on the Main Campus.
However, Postgraduate schools are operated from the Main campus including PGD, Masters, and Ph.D.
The University of Uyo filling Station is located close to the gate, as you enter the school premises, by your left is also the Uniuyo FM radio.
2. Town Campus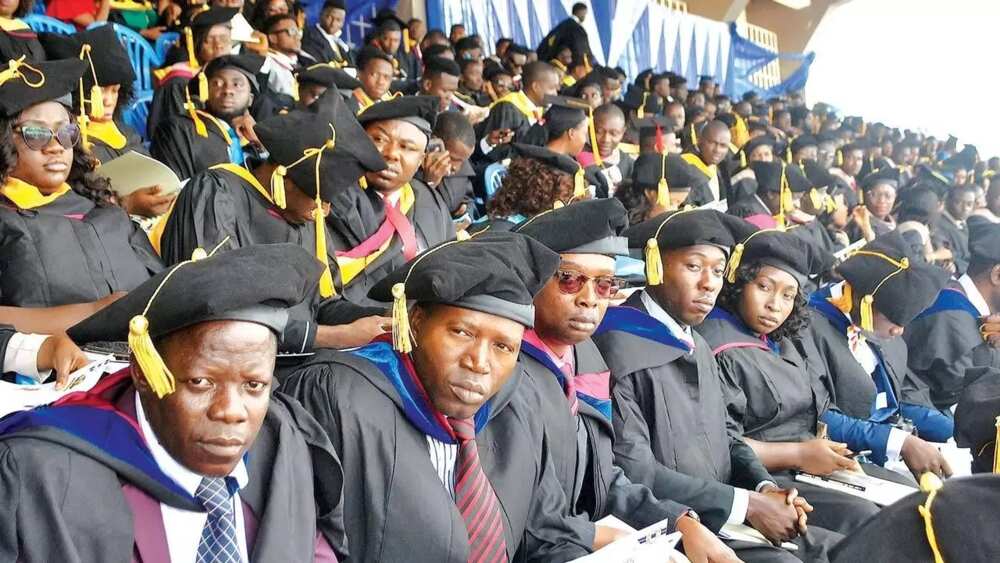 The town campus in located in Ikpa Road, Uyo with the following Faculties;
Arts
Education
Social Sciences
Pharmacy
As a student or staff of the University of Uyo, you'll have access to free medical treatment at the University Health Centre which is located on the Town campus.
However, the Uniuyo Microfinance bank is located on the town campus towards the main gate.
You can find banks like Zenith, UBA, Access, and more still close to the Uniuyo microfinance bank.
3. Annex Campus
The Annex Campus of Uniuyo is still located along Ikpa road, opposite to town campus.
However, the premises accommodate the female hostels and the male hostel with other four faculties.
You'll find some faculties like; Business Administration, Law, Environmental Studies, and General Studies located in the Annex campus.
Some administration office is also found in this area but mostly for their departmental issues.
The Annex campus also has the Uniuyo Nursury School, Student Cafeteria, Bread bakery, and event hall.
4. Ime Umana Campus
The Ime Umana Campus is located in Ediene Abak, Abak Local Government Area of Akwa Ibom State.
A student who enrolls for Pre-Degree, JUPEB, and other special courses are obtaining lectures at this campus
Approved List of Courses offered by the University of Uyo (Uniuyo)
Here is the approved list of courses offered in Uniuyo.
Accountancy/Accounting
Agricultural Economics and extension
Agricultural Economics and Farm Management
Animal Science
Architecture
Agriculture
Agricultural Science and Education
Banking and Finance
Biochemistry
Botany and Ecological Studies
Building
Business Education
Chemical Engineering
Chemistry
Civil Engineering
Communication Arts
Education/Economics
Computer Education
Education/Biology
Computer Engineering
Curriculum Studies
Education/Chemistryibio
Computer Science
Economics
Education/Fine Arts
Education and Efik/Ibibio
Edu./English Language
Education/French
Education/Geography
Education/Integrated Science
Education and Mathematics
Education and Music
Education and Physics
Education and Political Science
Education and Religious Studies
Education and Science
Education and Social Science
Education and Social Studies
Education Arts
Efik/Ibibio
Electrical/Electronic Engineering
English Language
Estate Management
Fine and Industrial Arts
Fisheries and Aquaculture
Fisheries and Aquatic Environment Management
Food Science and Technology
Food Engineering
Forestry and Wildlife
French
Geography and Regional Planning
Guidance and Counseling
Health Education
History and International Studies
Home Economics
Home Economics and Education
Human Anatomy
Insurance
Insurance and Actuarial Science
Land Surveying And Geo-Informatics
Law
Library and Information Science
Library Science
Linguistics
Marketing
Mass Communication
Mathematics
Mechanical Engineering
Medicine and SurgeryMicrobiology
Music
Petroleum Engineering
Pharmacy
physical Education
Physics
Physiology
Political Science
Pre-primary and Primary Education
Psychology
Quantity Surveying
Religious and cultural studies
Sociology and Anthropology
Soil Science
Special Education
Statistics
Special Education
Theatre Arts
Urban and Regional Planning
Vocational Education
Zoology
The University of Uyo Health Centre
The University Health Centre provides free health services to students, staff, and staff family members.
It is open to the public. Routine Services provided include:
Consultation
Medical certification
Ante-natal care
Family planning
General surgery
Medical and laboratory services
Out-patient and in-patient care
Environmental and preventive health services
However, the University of Uyo teaching hospital is not located close to the health center.
It's located along Abak Road, which is about 4.8 km from the Uniuyo Town Campus and about 9.6 km from the main campus.
The University of Uyo Affiliate Institutions
Here is the list of affiliate institutions of the University of Uyo, approved by the National Universities Commission (NUC).
St. Joseph Major Seminary, Ikot Ekpene
Assemblies of God Divinity School, Old Umuahia
The Apostolic Church Theological Seminary, Amumara
The Samuel Bill Theological College, Abak
Osun State College Of Education, Ila-Orangun (Regular)
The University of Uyo School Fees
Now the main question comes in, is the University of Uyo school fees affordable?
And, is it the best university for me?
The truth about those questions is yes.
Uniuyo is one of the best Universities in Nigeria according to NUC based on teaching, student life, and researching.
However, the institution offers free tuition fees to all freshers and returning students but that those not mean you'll not pay anything.
They're some other charges that every student of the university needs to pay.
You'll be required to pay for a development fee, library, hostels, and many more.
Don't worry! I will show you how much is the University of Uyo school fees.
The information on this page covers both freshers and returning student school fees.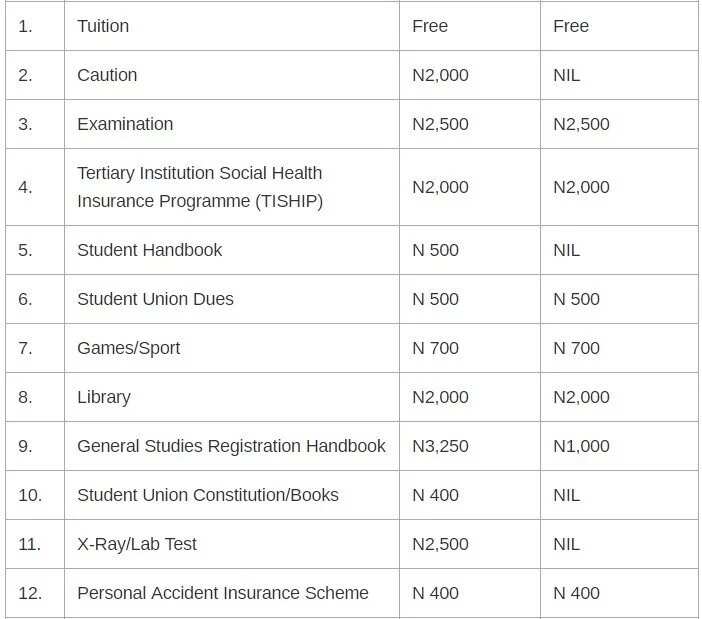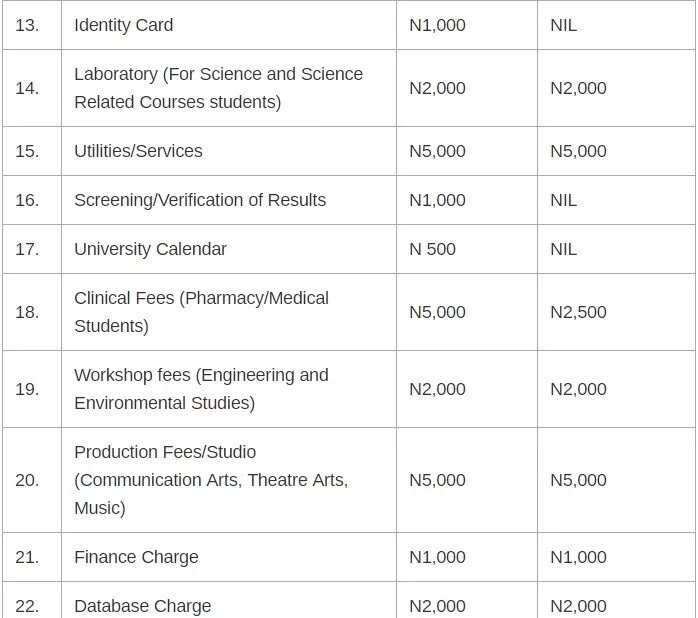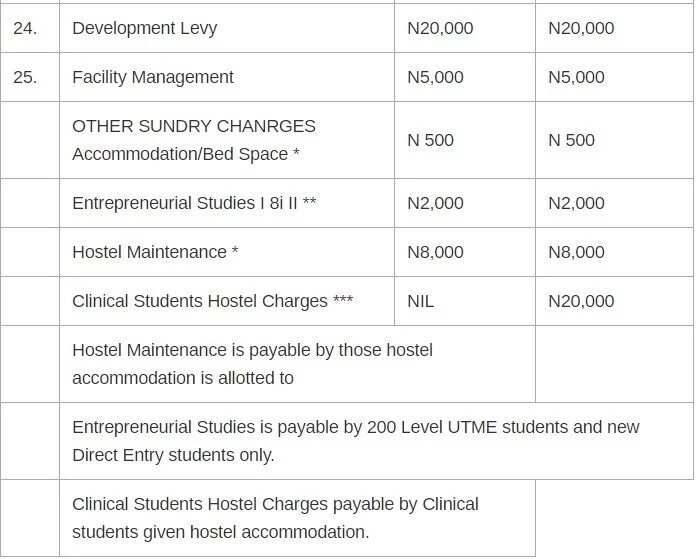 10 Thing to Know about Uniuyo
We have compiled 10 important things you need to know about the University of Uyo before applying for admission.
Is Uniuyo a good university?
Uniuyo is one of the best universities in Nigeria with good teaching, learning environment, and researching.
In addition to that, their facilities are one of the best with affordable school fees.
Does the University of Uyo offer medicine and surgery?
Yes! 
Uniuyo department of Medicine is competitive and students are awarded admission based on merit.
To enroll in the medicine department, you must have 6 credit pass in WEAC/Neco/GCE and score more than 250 in Jamb.
However, the institution does not accept direct entry students into the department.

Does the University of Uyo write post Utme?
No! Uniuyo stops writing of post-utme in 2014 but will conduct screening before offering you admission.
Screening that will be conducted is checking and validating your documents including validating your SSCE result, Origin certificate, Jamb original result, passport, and more.
The screening form is sell online at the cost of N2,500.
Note: The price can change at any time and the decision to either start writing post-utme again.
Does Uniuyo accept the second choice?
No!
The University of Uyo is not among the selected schools that JAMB Choice as second choice universities. 
This means that no matter the JAMB Score you have (Be it 300 or above), UNIUYO will not consider you for admission if you apply them as 2nd choice.

How can I check my Uniuyo result online?
Log on to the school's portal. Click on Semester Result. 
Enter your Registration Number as your username and password. Select Session.

Does the University of Uyo offer nursing science?
No. Uniuyo does not offer nursing science.
Does Uniuyo offer computer science?
Yes! Uniuyo offers computer science as a five years course.
Does Uniuyo accept lower credit for direct entry?
UNIUYO does not accept lower credit for direct entry admission into all its programmes.
Does Uniuyo offer pharmacy?
Yes! Uniuyo department of pharmacy is a five years programme
Official Uniuyo website is uniuyo.edu.ng
Source: ThingsToKnow.com.ng