Senator Daniel Dino Melaye is best known for cars and other automobile models.
The Nigerian Politician, Dino Melaye has lived an extravagant lifestyle on cars.
If you want to talk about his collections of cars.
Then you need to know that the senator always bought the most updated car models.
When discussing cars in Nigeria, he is the first person to be mention.
The same implies to car lovers in Nigeria.
If you are a car lover, or it might be your relative as well as your parents.
You might have had them talking about Dino Melaye most of the time living an expensive lifestyle with cars and automobile models.
However, you might be wondering.
How many cars does Dino Melaye have?
You are not the only person that is asking this question.
I even had to think about this before I embark on this research.
The truth is;
Dino Melaye have 25 Cars but yet still, he keeps on increasing the number ever year.
But that by the way.
Today, I have the full story about the Dino Melaye cars all written in this post.
Dino Melaye Cars
Here are most of the collections of Dino Melaye Cars and automobile models are;
1. Bugatti Veyron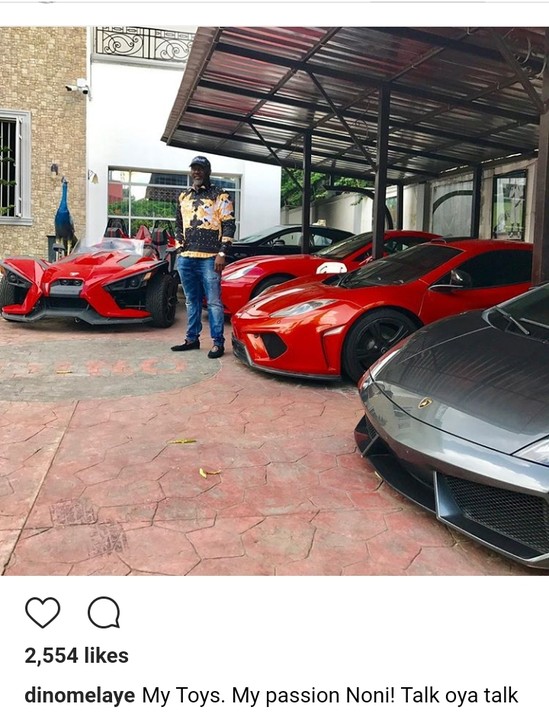 Dino Melaye Bugatti Veyron is estimated to be a car worth about ₦616 million.
He added this to his garage which is one of his most expensive cars.
He announced the purchase of this car on his Instagram account.
2. Lamborghini Gallardo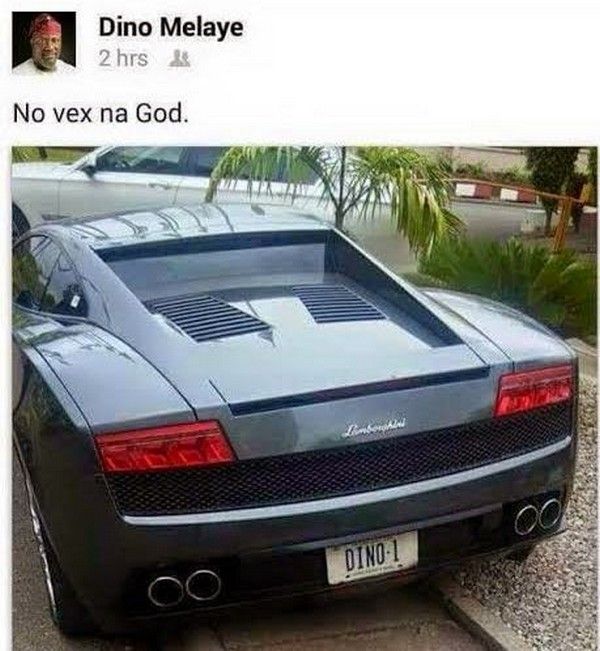 When he chooses to purchase this car, it was said to worth about ₦73 million.
However, the car model was launched back in 2003 by the company.
Since then, it is reported to have produced only 10,000 pieces of Lamborghini Gallardo in 2019.
Besides, this simply means that Dino Melaye is lavish lifestyle mankind to had purchased this car.
3. Rolls-Royce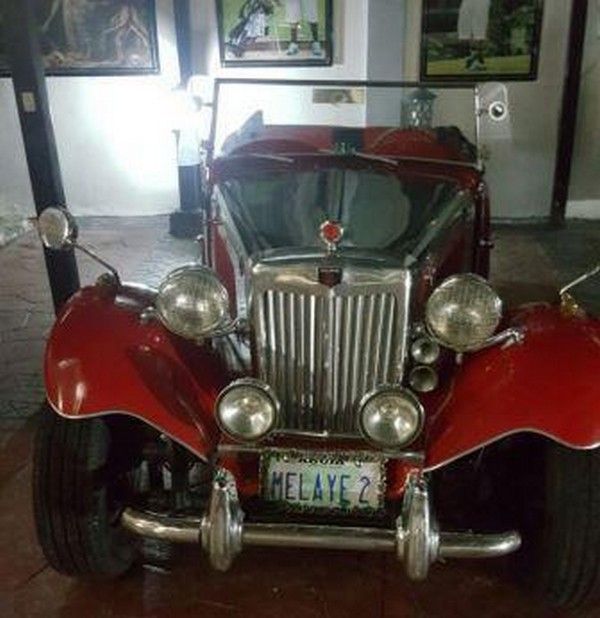 Dino Melaye Rolls-Royce is an estimated car worth about ₦145 million.
However, he is one of the personalities who drive the classic Rolls-Royce in Nigeria.
4. Polaris Slingshot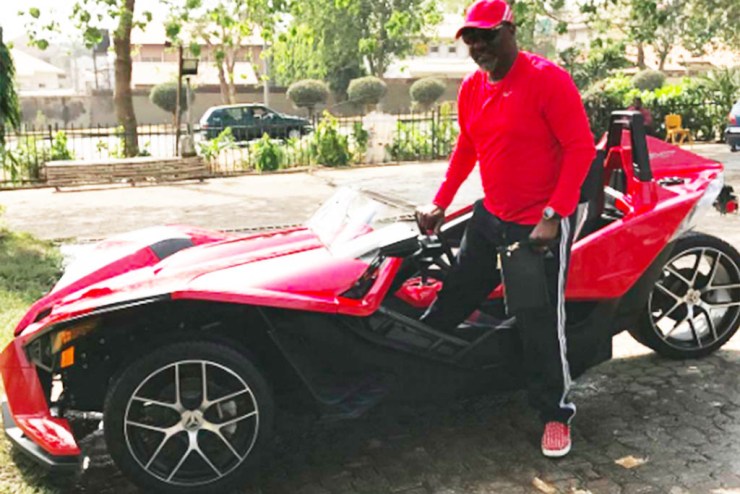 Senator Dino Melaye Polaris Slingshot is estimated to worth about ₦8.7 million.
However, Polaris Slingshot is not a car brand but a sporting Automobile model with just three-wheels.
In fact, he actually acquired the automobile in 2016 and it was the 2015 brand model.
5. Porsche Panamera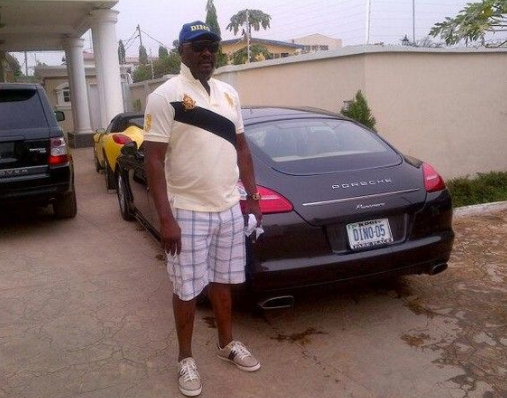 Dino Melaye Porsche is an estimated car worth about ₦29 million.
Nevertheless, this is still one of Dino Melaye's cars which cost very expensive compared to what you do with N29 million.
This Dino Melaye car is many people's dream and one of the top quality car in the world.
6. Range Rover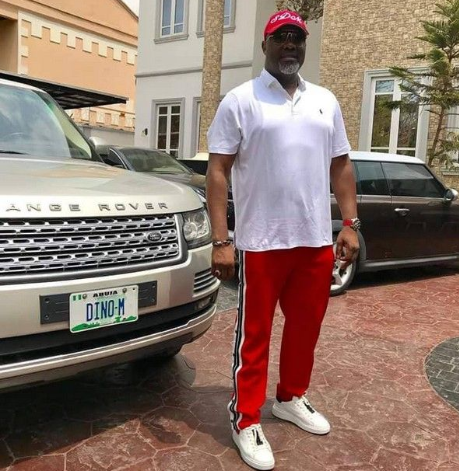 Dino Melaye Range rover is an estimated car worth about ₦55 million.
Besides. when he acquired this car, it was serious talk of the town both on social media and on the News site.
7. Mercedes G-Wagon (3 customized ones)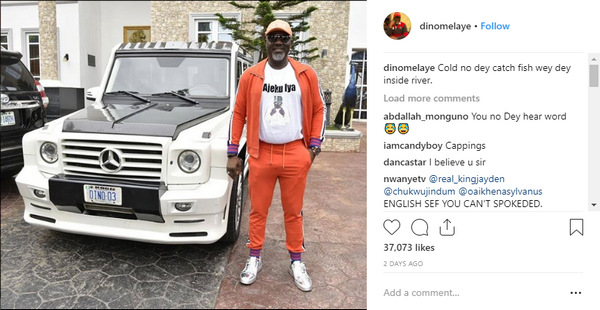 Dino Melaye G-Wagon is a customized one.
However, he does not even own one of these Mercedes G-wagon but three.
Each of the Dino Melaye Mercedes G-Wagon is estimated to be a car worth about ₦70 million.
So, if you multiply it by three.
The car worth for those three will be N210 million.
Besides, the G-Wagon are 2 blacks in color and one white.
8. Bentley Continental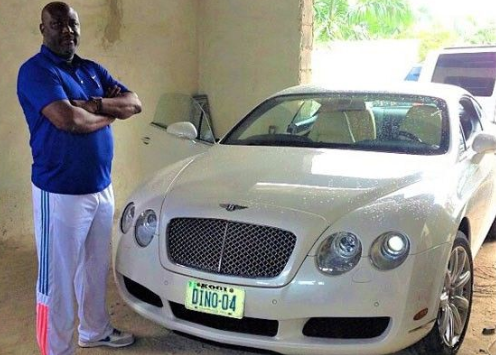 Dino Melaye Bentley Continental is estimated to cost about ₦90 million.
9. Chevrolet Corvette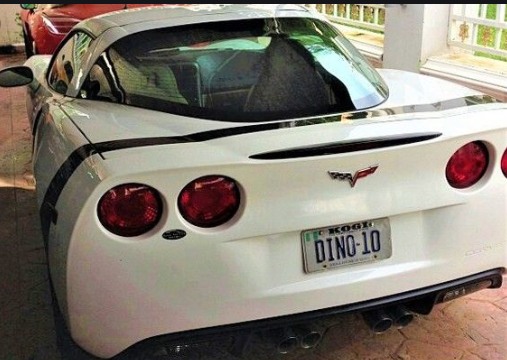 Dino Melaye Chevrolet Corvette is estimated to cost about ₦44 million
10. Ferrari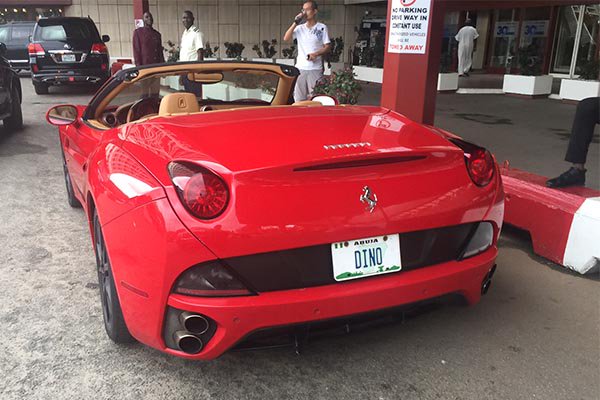 Dino Melaye Ferrari is estimated to cost about ₦100 million
11. Mercedes E Class (2 difference ones)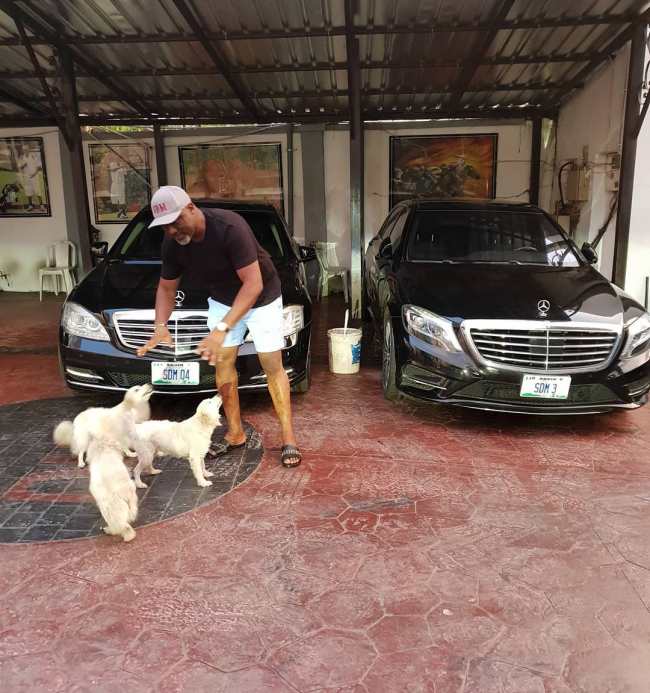 Dino Melaye Mercedes E Class is estimated to cost about ₦19.2 million
12. Mazda CX 3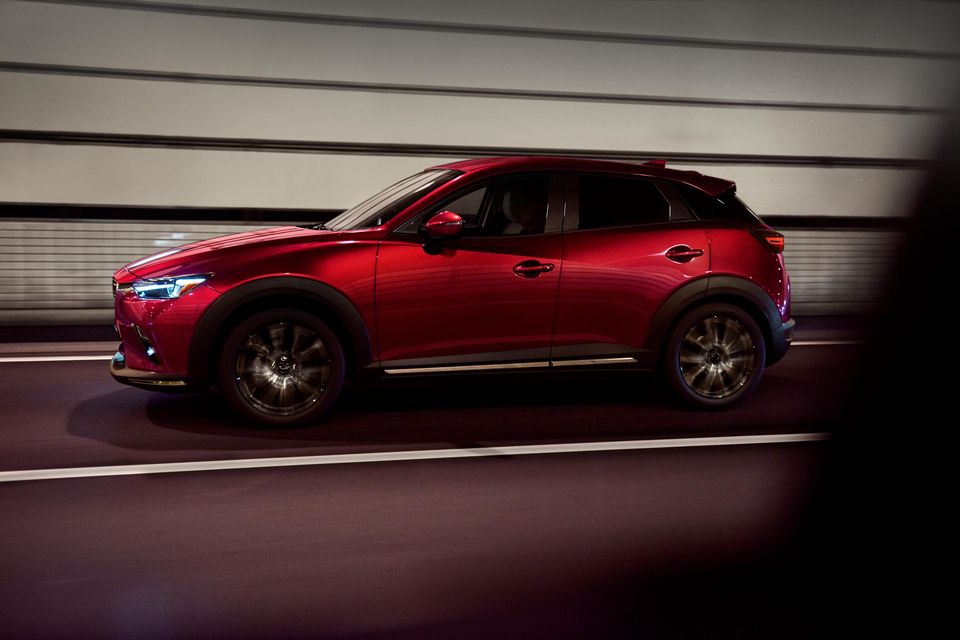 Dino Melaye Mazda CX 3 is estimated to cost about ₦8.6 million
13. Rolls-Royce Ghost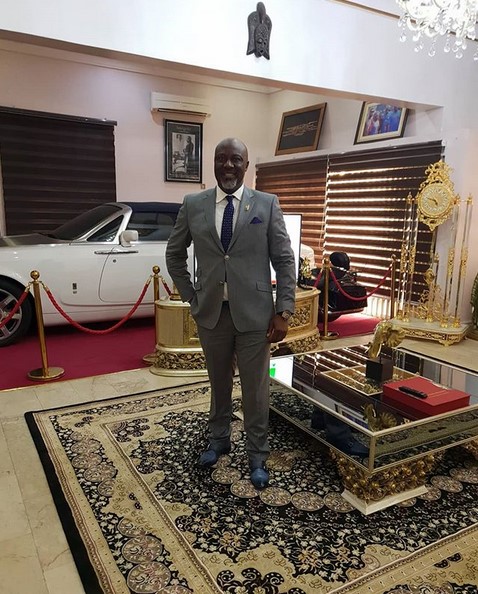 Dino Melaye Rolls-Royce Ghost is estimated to cost about ₦105.7 million
14. Porsche Carrera 911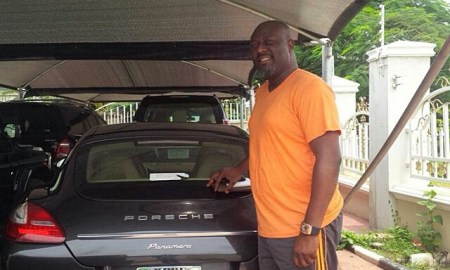 Dino Melaye Porsche Carrera is estimated to cost about ₦34.6 million
15. Harley Davidson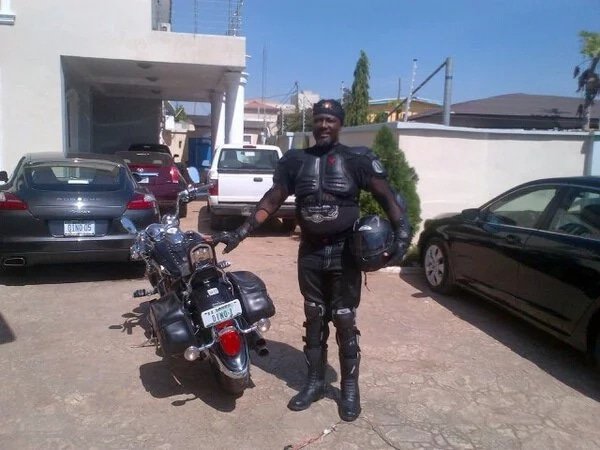 Harley Davidson is an expensive automobile will cost about ₦52.2 million
16. Lamborghini Huracan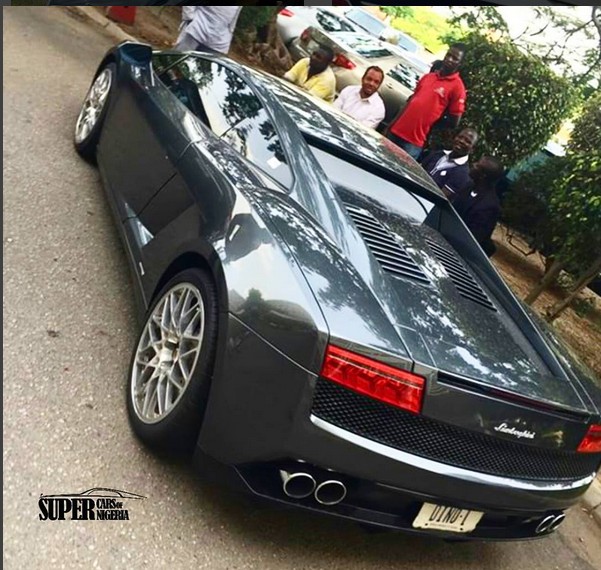 Dino Malaye Lamborghini Huracan will cost about ₦86.7 million
17. Rolls-Royce Phantom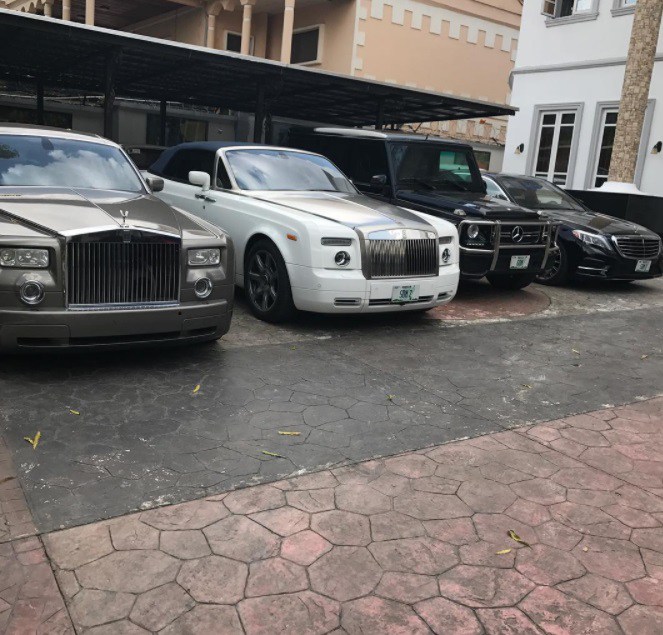 Dino Melaye Rolls-Royce Phantomcost will cost about ₦163.3 million.
Who is Dino Melaye? Does He Worth all these Cars?
Dino Melaye was born and grew up in Kano state but a citizen of Kogi State.
He was a student who graduated from Ahmadu Bello College, Zaria, but some people are still it as unbelievable.
Moreover, he also claims to have obtained a degree at Harvest University.
But the institution strongly disagreed with him stated that he only participate in a seminar.
Besides, he was one time a House of Representatives in the 8th National Assembly under All Progressive Congress (APC).
In 2015, he decamps to the People's Democracy Party (PDP) and was re-elected for the Senate seat representing Kogi West in the 9th National Assembly.
He has also faced so many conspiracies and corruption acts in the country.
And he has to continue causing problems around the country and more of his dance and song.
In July 2018, Dino Melaye with his armed ruffians prevails in attacked police officers.
Moreover, they battle with guns shot as well as created severe injuries to Sgt. Danjuma Saliu.
They even went along to attack other 37 police personnel along Mopa road in Kogi.
Notwithstanding, this Nigerian Politician is unmarried to its former wife which he married for 10 years.
Besides, one of the reasons is the act of maltreating his wife.
He has also been beating his wife with serval injuries that landed her in the hospital.
Currently, Dino Melaye is the father of five children.
In fact, three are from his former wife, while the other two are from separate baby mama including a Nollywood celebrity.
Do you know any Dino Melaye cars that I have not listed here?
Leave it in the comment and consider sharing the post with friends. Cheer!