How do you feel if you discover someone's attempting to invade your privacy? Maybe someone just picked up your phone without a permission, tries to read your text messages, or open your room door without knocking. At each cases, you may turn furious isn't it.
Now what if I may tell you that some hotels in an extreme attempt to secure criminal evidence, go as far as installing secret spy cameras on their rooms. How does this one make you feel. More furious right.
Well, It no longer just a rumour that some hotels do have CCTVs or some other tiny spy cameras installed inside their bedrooms. And what's more terrifying, this cameras are often tiny, disguised and hidden in a secret location making them undetectable. While most people like myself have argued about such actions, stating facts like "no hotel service should have access to spy on their customer's privacy".
To start with, no hotel "rooms" are allowed to have hidden camera and record any individual's privacy except unless it's "authorised surveillance operations" for the sake of some sort of top security operations.
Hotels only place CCTV in the hallways, reception, clubs, bar, and other places except for the bedrooms and restrooms. Well, even though such rumours haven't been confirmed by any of the hotel services in Nigeria. I have researched some ways that you can check if there is any CCTV placed in your hotel room.
However, at any instance. One of the most trusted ways to check for hidden cameras in places including hotel rooms requires you to have special gadgets like a frequency reader, lens detector or hire experts to help you check if there is any hidden camera.
But lucky for you reading this article, we going to be explaining some of the easiest ways you can check for a hidden camera in your hotel room.
Simple ways to find hidden cameras in hotel rooms or anywhere
1. Do a physical inspection of the premises
Technology has advanced that the spy camera can be made to be tiny, sleek and with a clever design that can be disguised as an object. There are different unusual places a spy camera can be hidden in a room. You can barely observe it, but depending on the nature of the camera and the object used as a disguise one can physically detect a hidden spy camera if carefully searched.
Doing a physical search of the premises involves a slow, meticulous sweep of the room or building you suspect is wired.
STEPS
Look around for anything that seems different or out of place, such as flower arrangements, pictures on the wall out of level or in unusual areas, or lampshades that don't look normal. Check for smoke detectors you didn't add, look for a speaker that might have a camera in it.
Look inside flower pots, light fixtures, and other places where a microphone transmitter can easily be hidden.
Look under couch cushions, table tops, and shelves. Underneath shelves and table tops are excellent places for miniature cameras.
Look for wires that do not seem to go anywhere, such as an appliance or other familiar device. "Hardwired" (that is, not wireless) spy equipment is less common with modern technology, but is still used for permanent surveillance in commercial businesses for loss prevention.
Listen as you walk the entire room quietly. Many small, motion-sensitive cameras make an almost inaudible click or buzz when they operate.
Method 2: SEARCH IN DARKNESS
STEPS
Turn off the lights and look around for tiny red or green LED lights. Some microphones have "power on" indicator lights, and if the person who sets it up is careless they may fail to cover or deactivate this feature.
While the lights are off, grab a flashlight and carefully examine all mirrors.These can be made transparent from one side so that a camera can see through, but they rely on the observer's side being darker than the area observed in order to keep the other side of the mirror reflective.
Search for pinhole cameras in the dark. A pinhole camera might have a charge-coupled device (CCD) sitting behind a tiny opening in a wall or object. Get an empty toilet paper tube and a flashlight. Put the tube over one eye like a telescope and close your other eye. As you sweep the flashlight over the room, pay attention to any small glimmers that reflect back at you.
Use your smartphone as detector
Method 1: Using smartphone to detect red and infrared beams
STEPS
Well, you should know that most surveillance cameras have a red LED light that glows at night and here is an example of what I'm talking about.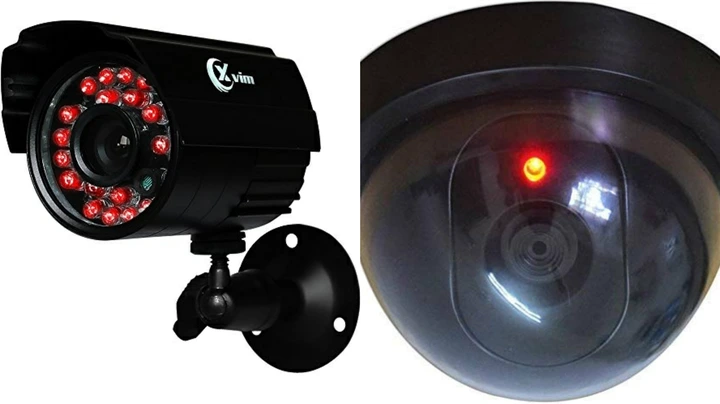 So the trick here is to first of all switch off all the lights in your hotel room, then turn on your smartphone camera and using it to scan your hotel room.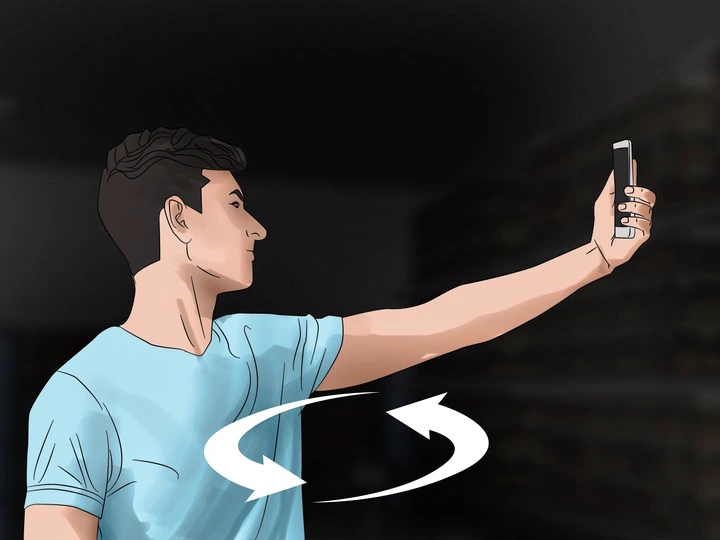 You may be wondering why but you should this amazing fact. Unlike the human eyes, the camera of a smartphone has the ability to spot any red or infrared light in a dark place or room.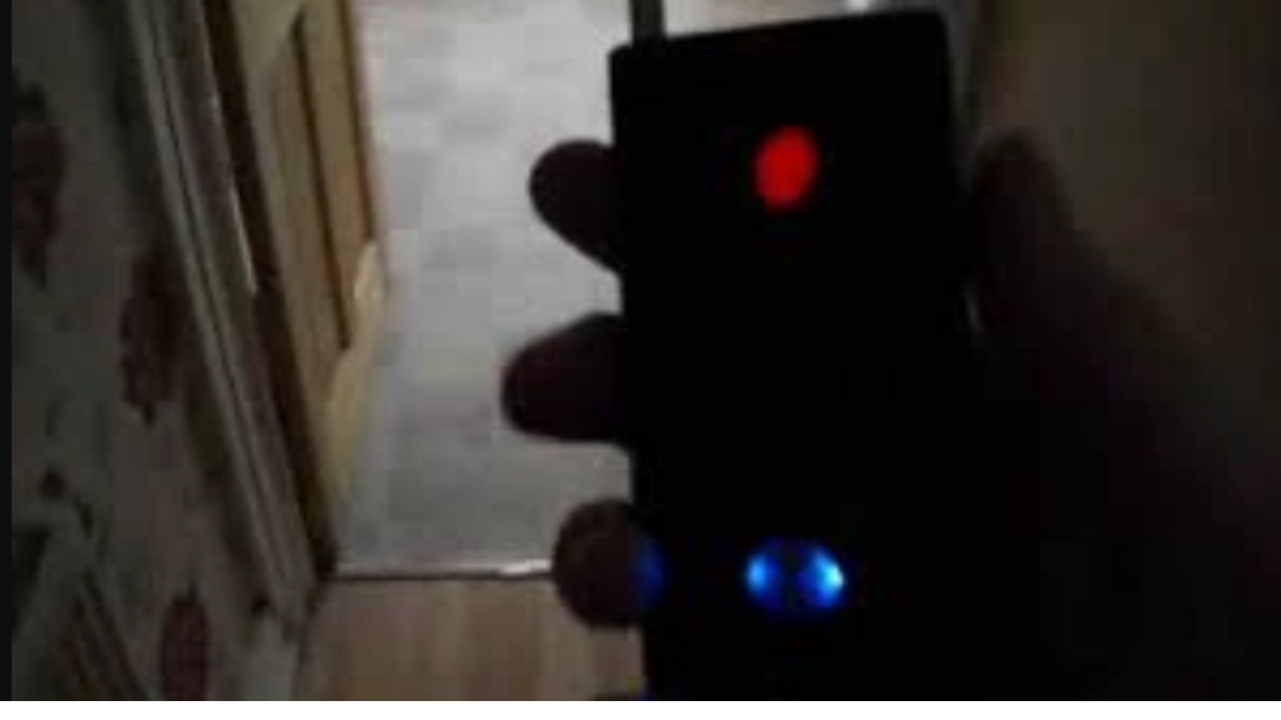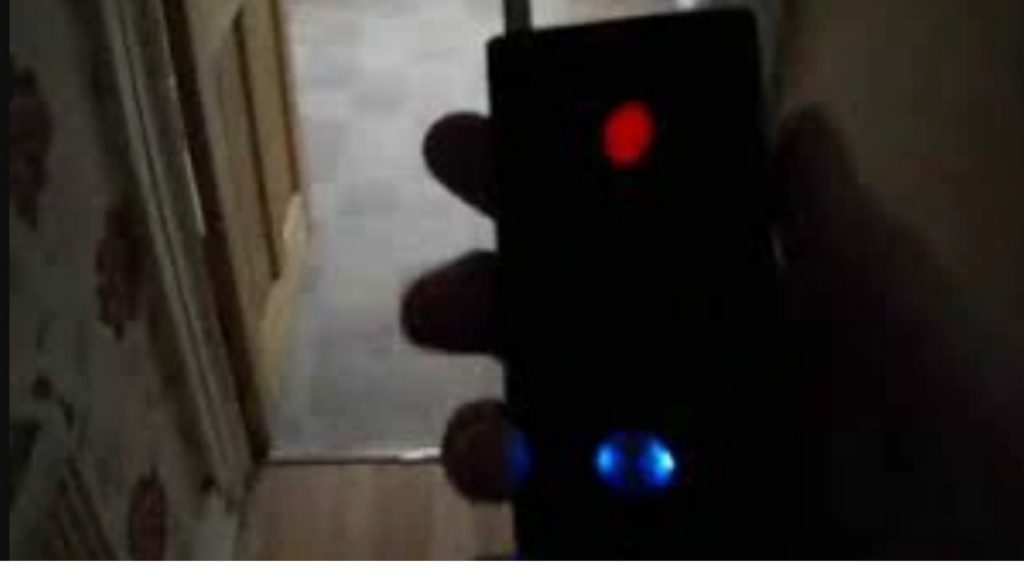 So if you should view a red light or blinking light through your phone camera while scanning your hotel room, it could be a hidden camera.
Method 2: Use your cell phone to pick up an electromagnetic field.
Enter the suspicious room with your mobile phone and ensure mobile signal to make calls.
Try to make a call inside the private room, then wave the device around where you think there might be a camera or microphone. If you can hear a clicking noise on the call, it means your phone might be interfering with an electromagnetic field during signal transfer which blocks mobile callls. This signal interference might come from the hidden camera.
Making calls without any interference is the sign of Camera free room.
Note: There exist some problem with the above test in low signal areas – Entering closed cabin with low mobile signal will further vanish the meagre signal earlier available, hence result in out of coverage.
In case if any of the tricks don't work for you, this could mean that you don't have a hidden camera in your hotel room or you could simply ask the hotel manager if they have hidden cameras in their bedrooms.