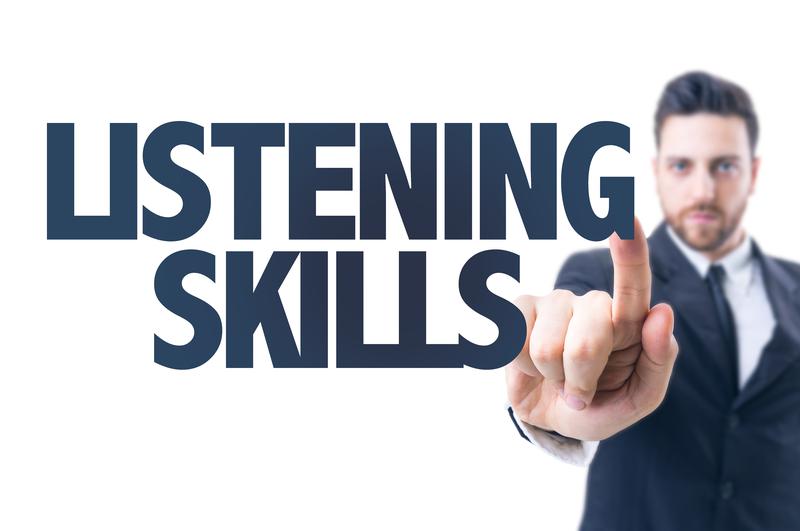 Listening skills are essential skills for anyone who has a desire to connect with others. It's not just about hearing what people are saying, it's about understanding the message they're trying to convey and responding appropriately.
Effective listeners have many benefits that help them succeed in their relationships, careers, and personal lives. In this article, we'll take a look at ten steps you can take to develop effective listening skills so you can be more connected!
What is Listening
Listening is the ability to accurately receive and interpret messages in the communication process.
Listening is also very important, this is because it is the key to all effective communication. Without the ability to listen effectively, messages are easily misunderstood. As a result, communication breaks down and the sender of the message can easily become frustrated.
Listening is different from Hearing
The hearing has to do with sounds that enter your ears. It is a physical process, provided you do not have any hearing problems. It happens automatically.
Listening, however, requires more than hearing. It requires focus and concentrated effort, both mental and physical.
It also means being aware of both verbal and non-verbal messages. Your ability to listen effectively depends on the degree to which you perceive and understand these messages.
Here are the 10 Tips for effective listening skills
1. Be a good listener
To be a good listener, you need to focus on the speaker. That means following what they say closely and making them feel comfortable. To be a good listener it demands concentration.
That is to concentrate on what is being said, even if it bores you. If your thoughts start to wander, immediately force yourself to refocus.
2. Ask questions
The most important thing for a listener is to ask questions. Ask more questions than you answer, and resist the temptation to give advice or interject your opinion too often. Also, make notes on what is being said, or take a break to think about it.
Ask the speaker if they've got anything else that needs saying before you move on. The most important aspect of asking questions is to ensure understanding.
3. Show empathy
To show empathy, let the speaker know that you understand their feelings and needs. You have to put yourself in the other person's position and allow yourself to feel what it is like to be him or her at that moment.
Put simply, you have to feel sad if the person talking to you expresses sadness, be joyful when he or she expresses joy.
Although it is not an easy thing to do. It takes energy and concentration. But it is a generous and helpful thing to do, and it facilitates communication as nothing else does. However, Empathy is the heart and soul of good listening.
4. Pay attention to non-verbal cues
They are communication between people that do not have a direct verbal translation." They are "body movements, body orientation, nuances of the voice, facial expressions, details of dress, and choice and movement of objects that communicate."
These provide additional clues about how best to respond.
5 Avoid interrupting
A good listener does not interrupt. Avoid it as much as possible, but if you must do so because the person has gone off on a long tangent or is dodging your questions and trying to deflect them onto another topic entirely. Then go ahead and interrupt politely with an apology like: "I just want to check in for a moment and see if we're still on the same page before you go any further."
If you ever find yourself in a conversation with someone who is talking way too much and never listens to anything that anyone says (including themselves). Then just be aware of this behavior pattern and don't allow them to interrupt when they have gone off on a tangent. Just speak on something that they have said to get them back on track.
6. Make sure your body language is open and welcoming
You do this by sitting up straight, lean forward, nod your head in agreement when appropriate. Don't cross your arms defensively or slouch in your seat.
7.Use eye contact appropriately
Use your eye contact appropriately and maintain it throughout the conversation but don't stare at someone uncomfortably. If you are listening remotely (via phone or video chat), try to look like you are engaged with the other person by smiling and nodding as they speak.
8 Allow yourself time to process
This simply means that what was said after the conversation has ended. This can be done by writing down thoughts on paper. Or simply taking some deep breaths before responding with something else.
Don't feel obligated to have an immediate response if there's nothing coming out of your mouth right away. It's okay not to know how you feel about something right after hearing it!
9.Try practicing active listening skills
You should do this with friends and family members first before trying them out on strangers who may be more guarded around people they don't know well yet.
10.Give the speaker regular feedback
Since you were listening to them, it would be fair for the speaker to know what they did well, and what can be improved. Give feedback that is specific about why something was good or bad.
Forgive yourself if words don't come out right away. It's not always easy to articulate your feelings in this way, but it is worth the effort.
Give feedback in a way that will be heard
When you give feedback to someone else about something they said or did, consider how this person might feel and try not to make them defensive by criticizing their point of view outright.
Tell them what impression you got from what they said so that your feedback can help them to understand what they might want to change in order to make the most of their speech.
Barriers of Effective Listening Skills
–You may get distracted by the speaker's personal appearance
–The clarity of what the speaker is saying can also affect how well we listen. For example, someone who speaks very fast and quietly when conveying complex information makes it difficult for the listener to understand.
–The average speech rate and average processing rate. The Average speech rates are between 125 and 175 words a minute whereas we can process on average between 400 and 800 words a minute. So when this rate exceeds the recommended rate it becomes a barrier.
Conclusion
In summary, we hope you've found this article informative and helpful. Listening is an essential skill for any person or business professional. The ability to listen effectively can help you be more effective in your work.
It will also improve the quality of others' interactions with you. We want to leave you with one last message about listening skills: don't forget that the key is genuinely caring about people not just what they have to say but who they are as a person.
The more time you spend developing your empathy for others, the better listener you will become! Please if you find this article informative leave us a comment.