In this article, we are going to inform you about how to track a stolen Android or Apple phone.
A mobile phone or smartphone is a portable device used by billions of people today to make, receive calls, text, stay connected and even perform other actions.
Smart phones of recent, have turned into a sense of attachment to humans because it contains personal information like numbers, social media, pictures for memories etc.
The importance of smartphones is very significant because it has become very difficult for us to last a day without our mobile phones which makes it very aggravating and heart breaking when the phone gets stolen.
Stealing, although a vice and sin is a very rampant thing that has been going on since the beginning of time.
Stealing is the act of taking another person's property without that person's permission or consent in order to deprive the rightful owner of it and with the intent of not returning it.
Of recent, people do not even really steal money again, they steal properties like watches, phones and even wigs.
Being in a situation where you just got stolen from can be pretty annoying and sad at the same time. At that point, it gets you thinking of different things like what better things you would have done with what was stolen from you or even what you would have done to prevent the theft.
Phones; Android and Apple phones which are really valuable and costly are the things people steal the most. Some of those who steal these phones are just kleptomaniacs who just have the intent of selling the phones to earn money.
Luckily, due to the high level/rate of missing or stolen smartphones, technology has made it possible for us to find them. Phones (Android and Apple) have been equipped with tools that can help the owners to track their stolen phones.
If unfortunately, your Android phone gets stolen, what you have to do is to download Find My Device app from Google play store or log in to it on your google account.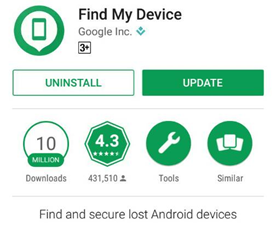 This application is one that lets android users easily lets you remotely locate, lock, and erase the data on their stolen or lost smartphones as well as enabling you to see the battery life remaining on your phone and the Wi-Fi network it is connected to, provided your phone has the Find My Device service enabled as hygiene check, be signed into a google account and remain powered on with mobile data/Wi-Fi and location turned on.
How this app works exactly is that;
You have to go to  https://android.com/find and sign in to your google account. That is, the google account on the main profile.
Wait for the lost phone to get a notification which will definitely happen if you successfully signed into your google account.
You will get an information on the map about where the phone is or where it was last found. Note: the results may be inaccurate.
If everything goes as intended, all you have to do now is to pick an option of what you want to do next.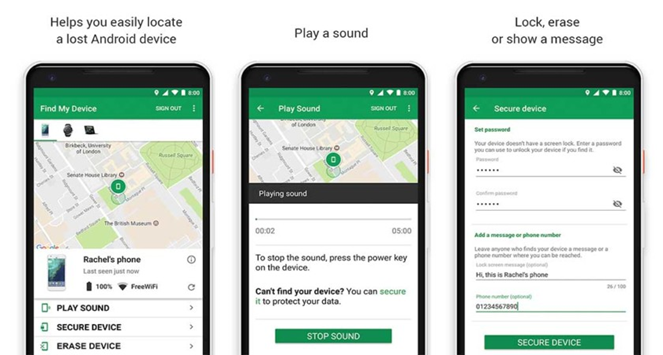 You could either play a sound which will enable the stolen device to ring out loud for about five minutes whether or not it is set on silent or vibration to alert passers-by. You can even choose to secure the device thereby locking it to restrict the thief from using it or erase permanently all the information and data on the smartphone.
Another way to track your missing android phone is through the phone's inbuilt tracking device which was provided by the manufacturer for times when the phone gets filched. But the thing with this option is that the services have to be separately set up to be able to remote control or track the device and its location.
Apple phones, generally known as iPhone is a line of smartphones designed by Apple Inc. which is one of the two largest smartphones platforms worldwide.
Recently, people being really greedy would always want to steal the really good stuff. iPhone which is practically the dream phone of many people tend to get stolen due to envy and like I said, greed.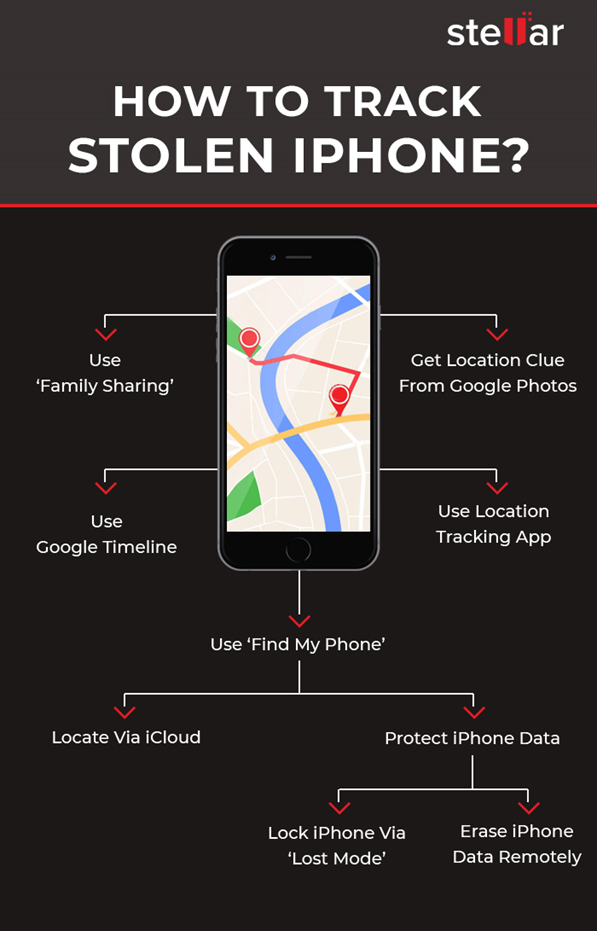 When your iPhone has gone missing or stolen, do not be sad because technology has made it possible for you to find them.
You can make use of Apple store to also make use of the Apple Find My network which also enables you track your device using other nearby Apple devices, display a message on the stolen device or to play a sound to alert you of who has your phone and perhaps passers-by in the case the thief is not around your vicinity. Just like the android phone, you could even erase or delete the data and personal information on your apple phone.
Additionally, you could find your iPhone using the iCloud Find My iPhone service. The steps you have to follow using the iCloud are;
Sign in to sign in to iCloud.com/find and look for your device on the map that will appear but, in a situation, where your device doesn't appear, it has to be because the Find My on your device was not turned on.
If you do manage to find your device on the map, always remember to mark your device as lost which will help you remotely lock your device keeping all your information secure.
You should also endeavour to report to a law enforcement agency like the police etc who would ask of your phone's serial number to be able to help you find it.
If your missing smart phone or device is an iPhone with cellular, report it to your wireless carrier to disable your account to prevent calls and texts. Also, if your missing smart phone is covered by AppleCare+ with Theft and Loss which is not available in all countries, you could always file a claim for an iPhone replacement and do not remove your lost iPhone from your account until your claim has been approved.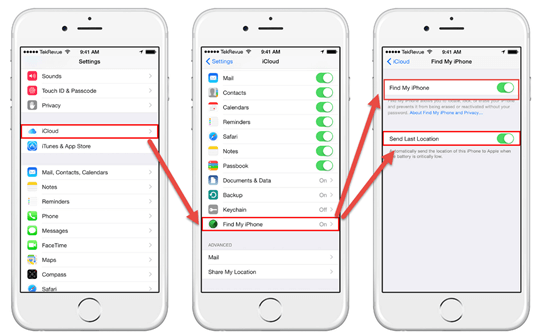 Whenever you get a new phone, always be sure to set up your Find My just in case of situations like this where the device gets stolen or lost. If your Find My isn't set up, when your device gets stolen, it leaves you with little or no chance of finding it.
To set up your Find My network which is an encrypted, anonymous network of millions of Apple devices that can help you locate your device in your smart phone, here are the few things you need to do;
Open your Settings.
Click on your name and then Find My and if you want others to know where you are; friends or family, all you have to do is to turn on Share My Location.
Click on Find My, turn it on also and if you need to see your device whether it's online or not, simply turn on your Find My network. If you even want to see the location of your phone when the battery is low, turn on Send Last Location.
You can also track your iPhone using your device's IMEI which is a fourteen-digit serial number. Tracking your mobile phone with IMEI is more like a plan B in phone tracking because it's only when you find your device turned off or at an unusual location using Find Me that you can now get to using the IMEI code.
You have to retrieve your IMEI and then head to any police station to report the stolen device. There you would be given an FIR to fill and, in this form, the IMEI is required.
After registering the report, you can now embark on tracking the device. To be able to track your device using IMEI number, you have to first go to your Apple ID account page on your web browser, sign into the account using the Apple ID that you make use of on the device and finally when the page opens all you have to do now is to scroll down to the section where several devices are listed and find the device with matching IMEI numbers.
It is very important to note that it is against the rules and regulations to start tracking a device with IMEI without clearance from a law enforcement agency because sometimes they information might not be precise or it could allow leakage of personal information and data.
Final thoughts on how to track a stolen Android or Apple Phone.
I hope you were able to achieve your aim of choosing this article just by reading it.
Even though people around us loose their mobile phones; friends or family maybe, with the help and aid of this article you should know now how to track or locate those stolen or missing phones instead of panicking or even crying over the loss or worrying about needing to retrieve your sim card and all your personal/private information that were all stored in the stolen phone. With this you may not even need to go to professionals to pay money just to track your phone, you can always do it from home.
Personally, I feel like this article has been very helpful and beneficial. What do you think? Let me know in the comment section.