Hushpuppi Net Worth
Though Hushpuppi is currently in prison, what will Hushpuppi's net worth be in 2022? 
Ramon Olorunwa Abbas (aka Hushpuppi) is a Nigerian internet sensation and Instagram star.
He was born on the 11th of October 1982 in Lagos State, Nigeria.
This internet celebrity is well known across the nation for his extravagant spending style.
He is often spotted flaunting his assets on his Instagram time-line.
Although he spends so much money, much is not actually known about how he makes them.
Currently, he is facing heavy criminal allegations in the USA.
He is facing charges for being involved in different fraudulent acts and scams.
He was involved in the scheme which scammed a law firm in the United States of America.
They scammed the firm of about $1 Million dollars.
Moreover, they also transferred a whopping sum of $14.7 Million dollars from an International Financial institution.
Alongside his friend Mr. Woodberry, Hushpuppi even tried to steal a whopping $124 Million dollars from a club in the English Premier League.
Before he was arrested by the Dubai Police, he had a massive follower base on Instagram.
On his Instagram page, he often displays the luxury life he lives.
He often spends money on some notable luxury brands like Fendi, Gucci, Louis Vuitton, and more.
Before his arrest, Hushpuppi used to claim that he was actually a real estate developer.
Biography of Hushpuppi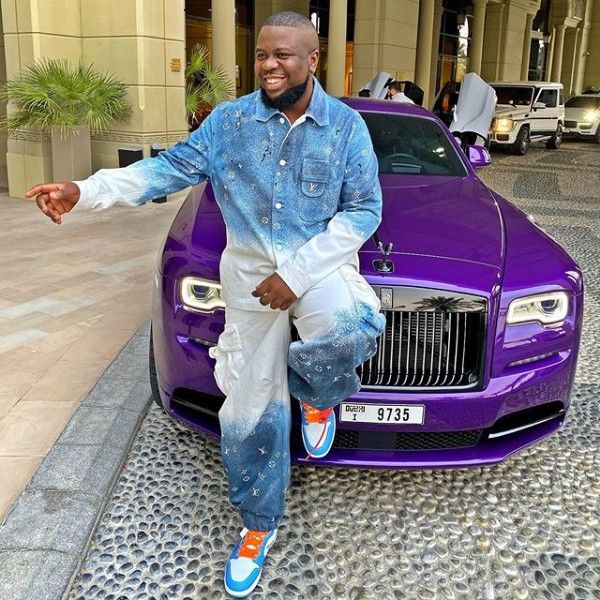 Hushpuppi was born and bred in Lagos State, Nigeria.
When he grew up, he then later migrated to Malaysia.
After a while in Malaysia, he moved to the United Arab Emirates.
This was where he remained until he was arrested.
Back in 2013, Hushpuppi admitted to fathering a child.
A few new sources online have revealed that Hushpuppi was once a clothes seller in Lagos State.
He often uses his humble beginning as a reference to his hard work.
However, after careful investigation through question and answer sessions with his old neighbors, something shocking was discovered.
It was discovered that he actually had a reputation as a scammer (aka Yahoo Boy).
This report and investigation were carried out by Thecable.ng.
It was also further discovered that his mother was not in support of the whole thing and that Hushpuppi has never really helped any of his old friends in the streets.
Despite several warnings, he has remained adamant about changing his way of life.
Hushpuppi & Nigerian Singers
Hushpuppi was the main subject of the 2017 hit song titled 'Telli Person'.
This is actually Timaya's song, but he featured the likes of Olamide and Phyno.
This song talks about how Hushpuppi spends the money he makes from frauding people.
It explained how he spends lavishly on luxury designer clothes instead of making good investments.
He was further given a warning that he would soon be caught.
Today, so many people look at this hit song as a prophecy. 
Hushpuppi Source of Wealth
Wealthy source
Hushpuppi's fortunes began to change after he moved from Nigeria to Malaysia. Since then, he has swiftly risen from rags to riches, prompting many to wonder the origins of his fortune. Some suspected that his success was due to a group of influential 'friends.'
When questioned about it, the tycoon stated that he made his fortune in the real estate industry. He also quipped that his whole income came from his work as a "professional beggar."
Hushpuppi Fraudulent Activities
While in the United States of America, Hushpuppi was accused of being part of a conspiracy to launder millions of dollars.
According to reports from the FBI, Hushpuppi and a few others scammed a client in New York.
It was said that they scammed this victim of a total of about $922,857.
They tricked one of the paralegals in the law firm into transferring money to an account that was controlled by them.
The money was actually meant for the real estate refinancing of a client.
They have also laundered over $300,000 dollars during the period when one of them was in LA, California.
Furthermore, Hushpuppi and his friend were accused of scamming a financial institution.
The total amount they actually stole was a whopping $14.7 Million Dollars.
Although the bank was never mentioned, Forbes revealed that the value and period of the attack matched the description of the attack on Bank Of Valletta in Malta.
In early 2019, funds were sent out of the bank through fake international transactions to different accounts in places like the Czech Republic, USA, UK, and Hong Kong.
This attack was so serious that the Prime Minister during this period had no other choice than to address the parliament.
Some major publications in Malta also further supported Forbes claims.
They also speculated that Hushpuppi and his co-conspirator must be behind the attack.
Hushpuppi made arrangements with a friend who had two European Bank Accounts where the money would be placed.
From tracked communications, it was discovered that Hushpuppi had discussed money laundering with his friend on several occasions.
They have discussed scamming people of thousands and millions of dollars.
Hushpuppi has been accused of perpetuating several fraudulent acts even here in Nigeria, and he is currently wanted by the authorities.
Hushpuppi Bail
A bail request was pleaded for, so as to allow Hushpuppi to stay with his girlfriend's Uncle in Illinois.
However, this was denied based on some risks presented.
At the hearing of Hushpuppi's detention, his attorney conveyed to the court that his client had no flight risk as a result of the damage it would render to his credibility online.
In addition, he said Hushpuppi is a loved and respected celebrity, so he wouldn't want to ruin his status.
His persecutors discovered that he had major financial assets in other countries, and lacked ties to the United States of America.
If he is convicted of conspiracy towards the engagement in money laundering, he would face a maximum jail sentence of 20 years.
After serving in prison, he would then be deported.
Hushpuppi Cars, Mansions & Assets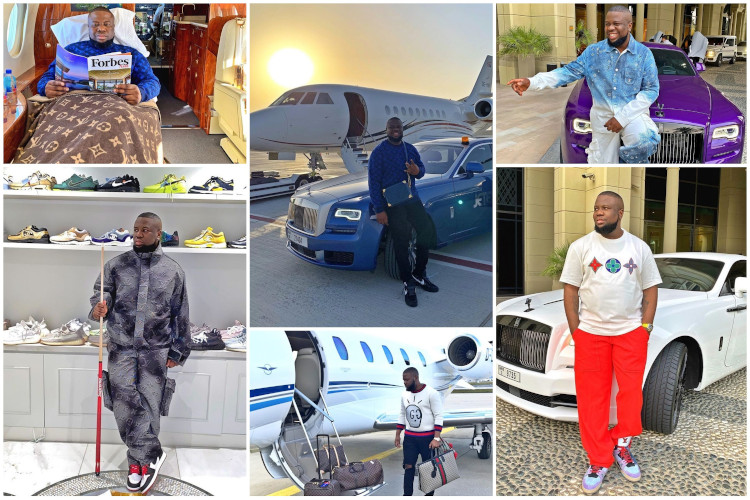 As you already know or have discovered through this article, Hushpuppi spends most of his money on luxury assets.
He owns a lot of luxury items which are worth millions of dollars.
Here, we are going to look at some of the major assets he owns.
Hushpuppi Cars
Here are a few known cars owned by Hushpuppi.
A Rolls Royce Cullinan
Rolls Royce Wraith
Bentley Bentayga
Mercedes Benz Maybach S650
Mercedes Benz G-Wagon
Ferrari 488 GTB
Ferrari 458 Italia
Lamborghini Aventador
And many other cars.
These are the major cars Hushpuppi owns.
They are all worth millions of dollars collectively.
He often posts photos of these cars on Instagram, and he often tags them as his rides.
We know that as someone who spends excessively, he might own several other cars that are not known.
Hushpuppi Mansions
Although Hushpuppi often displays photos of himself and his cars online, his house is still not known to the public.
The location of Hushpuppi's house is kept as a secret.
Photos of his house can not be easily found on the internet
However, little areas of his house have been revealed in his photos.
These can not be used as any reference, as they are actually close up shots in his rooms.
This singer always takes snapshots of his shopping bags and several other luxury items on Social media.
Perhaps he doesn't display his home as a result of the nature of his job.
So far, these are the major assets owned by Hushpuppi.
He is often hopping from one top class European hotel to the other.
Some of these places are said to worth millions of Naira per night.
Hushpuppi's case is still ongoing, so we do not know what will be the final outcome.
Extra Words on Hushpuppi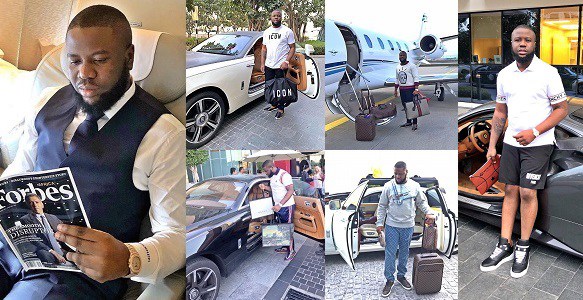 We can all clearly see that unlike other celebrities in the country, there is no valid reason for Hushpuppi's fame.
He actually gained fame for attacking Nigerian artists.
He often claims to be richer than so many Nigerian celebrities.
Hushpuppi actually comes online on Social media to make these pronouncements.
After coming to the spotlight with his extravagant spending style and attacks on celebrities, he continued to trend until his arrest.
What is Hushpuppi Net Worth?
So how much is Hushpuppi worth in terms of money?
According to reports from different sources, both online and offline, Hushpuppi is currently estimated to have a net worth of $20 Million Dollars+.
This is equivalent to over N7 Billion Naira when converted to the Nigerian currency using the latest exchange rate.
This net worth has not been verified.
However, it is safe to use this as a lot of estimates come up with close figures.
As a result of being a fraudster, he might even own way more than this.
However, they may happen to be hidden.
Final Thoughts on Hushpuppi Net Worth
From this article, we can all see some shocking facts about Hushpuppi an his net worth.
We can all see that his source of wealth is questionable.
With these recent allegations and evidence found against Hushpuppi, it sure looks difficult for him to come out of this.
Rising from the streets of Lagos as a clothes seller, he couldn't cope with the delay in success, so he ventured into fraud.
Today, he is facing the consequences of his wrong actions.
Here in Nigeria, there seem to be so many people in the scamming business.
Most of them blame it on the bad government, but this is just a sad excuse.
Today, there are so many successful people out there who make legit business transactions and earn real money online.
In all, we do hope you stay away from trouble and have a nice day.
Feel free to drop your comments in the comment session below.
Source: thingstoknow.com.ng