Kanye West's networth, divorce, businesses and career are widely sough-after subjects worldwide and we'll look at these in 2023. 
Kanye Omari West, popularly known as Kanye West, is a rapper, record producer, politician, and businessman.
Kanye's major genre of music is hip hop, popular music, and most recently, gospel music.
Before we talk about Kanye West's net worth, divorce, businesses, and career,
Let's talk about his early life
Kanye West was born on June 8, 1977. His early life was nothing short of interesting.
Kanye West was born in Atlanta but grew up in Chicago.
His Dad and Mom got separated when he was 3.
Quite early also, his affinity for arts was discovered.
He had already begun writing poetry at age 5.
At age thirteen, he wrote a rap song called 'Green Eggs Ham' and with some persuasion from him, Kanye's Mom paid for time for him in a recording studio, and accompanied him there.
He had a great deal of support, encouragement, and understanding from his Mom.
Kanye West's Career
Kanye West's career story first portrayed him as a producer of records. This was in the early 2000s, he produced a number of records for several mainstream artistes during this period.
He started his early career in production in the mid-1990s.
He actually began by creating beats for local artists.
West produced for local artists, worked as a ghost producer for Deric "D-Dot" Angelettie and became a member of the rap group Go-Getters that he formed in the late 90s. 
Kanye West got his first official production credit in 1996 when he co-produced Grav's Down to Earth album of which he produced eight tracks from the album.
West and his group recorded their first and only studio album in 1999. This album was titled "World Record Holders." I'm guessing that they looked into the future before picking that title because Kanye went ahead to hold some pretty good records in the music industry both locally and globally.
West set out on a solo career in 2004 and in that same year, released his debut album The College Dropout which recorded both commercial and critical success.
He has sold over 20 million albums and 140 million singles worldwide, making him to be among the world's best-selling music artists.
As of the time of this writing, Kanye has won a total of 22 Grammy Awards, towering above so many artists and also placing him among the most-awarded artists of all time.
Kanye West's Controversial Move to Gospel-Themed Music
Kanye West's controversial move to gospel-themed music provoked debates and caused divides among people of the Christian faith and the world at large. He is a man of Christian faith, but in 2018, he switched the theme of his music to gospel and released his first gospel album, "Jesus Is King," in 2019.
Jesus Is King was a successful album despite the mixed reactions it met with. West said the album was an 'expression of the gospel'. He went on to release another album 'Jesus Is Born' later that same year.
West formed his gospel group Sunday Service Choir in 2019.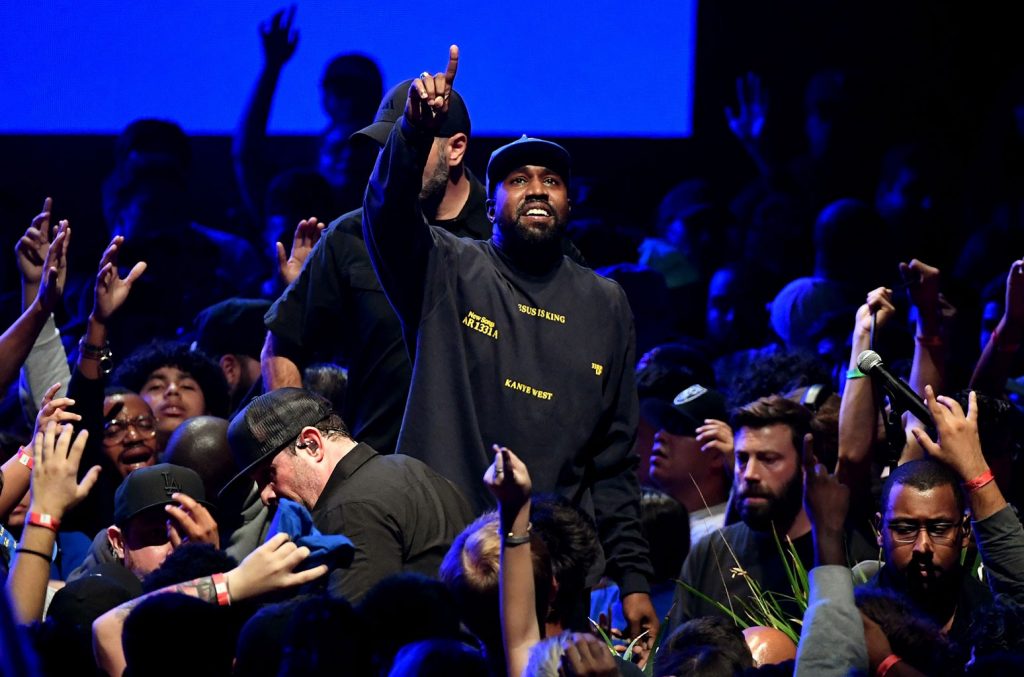 Kanye West's Relationships
We first had a peek into Kanye West's relationship life from 2002 when he had a relationship with designer Alexis Phifer. They got engaged in 2006 but later ended their relationship in 2008.
After separating from Alexis in 2008, that same year, Kanye West went on to date model Amber Rose and this relationship lasted till 2010.
It looks like West took a little break from relationships for about 2 years until April 2012 when he began dating Kim Kardashian who was a reality star and a long-time friend of West. In 2013, they got engaged and on May 24, 2014, they got married.
Their marriage was a subject of public scrutiny resulting in the heavy media coverage of their life together. They have four children together.
Kanye West's Networth and Divorce
Kanye West's Divorce
On February 19, 2021, Kim filed for divorce, and this was how they got separated, ending their marriage of over six years.
Before their separation, there were a lot of speculations about the two continuing together as Kanye's sudden inclination to his Christian faith began affecting his family down to the activities that go on at home and even the tv channels the children watched.
Kim would later go on to say that "irreconcilable differences" was the reason they separated.
Today, Kanye West's net worth and divorce are topics that can be talked about separately because the latter didn't affect the former.
Kanye West's Networth
West's net worth reportedly jumped from $1.7 billion in January 2021 to $6.6 billion in March 2021, but in the first half of 2022, Kanye West's net worth was $1.8 billion, according to Forbes, but it has since decreased to about $400 million as a result of his outspoken antisemitic verbal attacks and is still $400 million in 2023.
Kanye West Net Worth in 2023 is $400 million.
West makes most of his money from his footwear and apparel brand, Yeezy.
He was the highest-paid hip hop artiste in 2019.