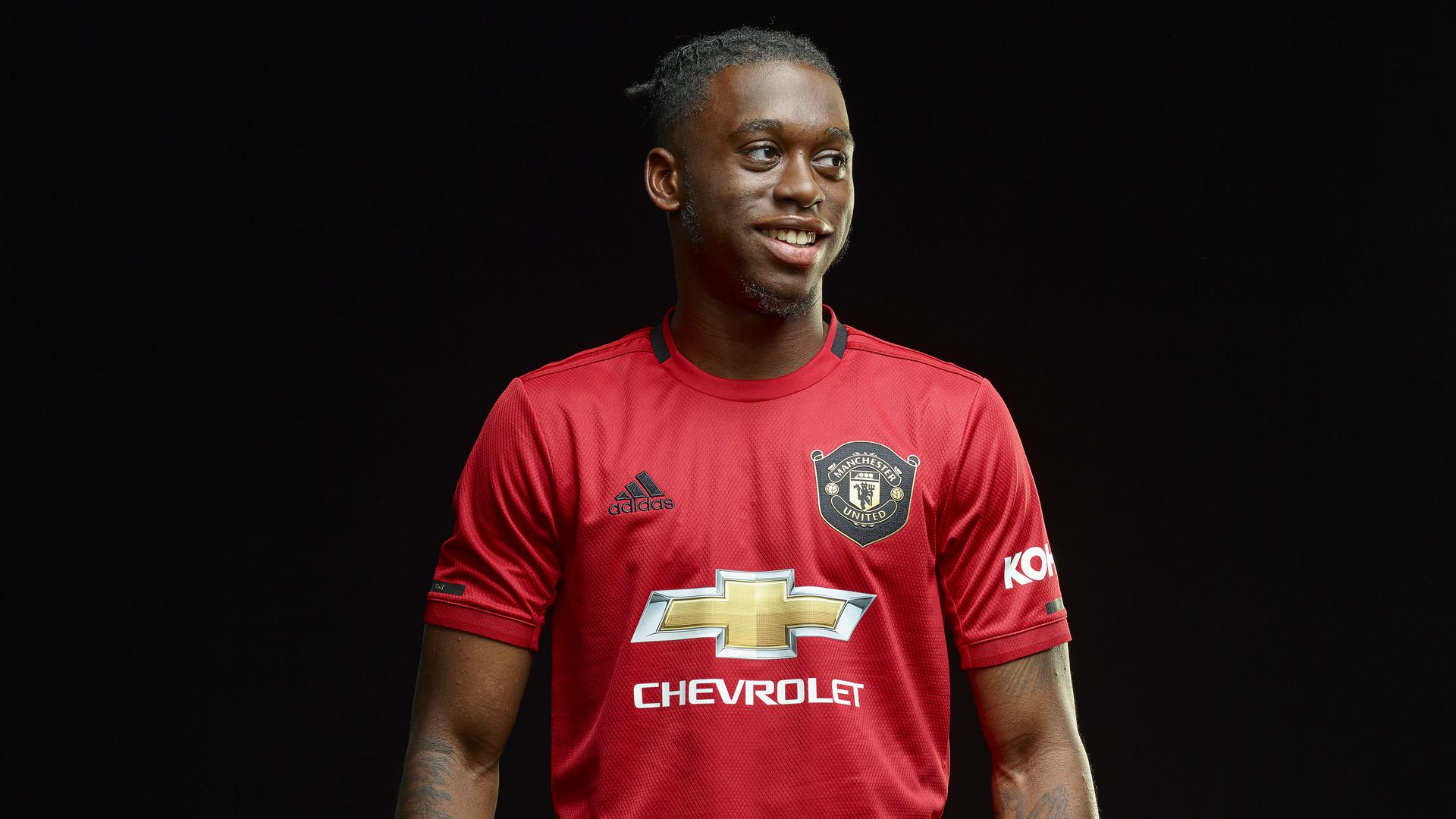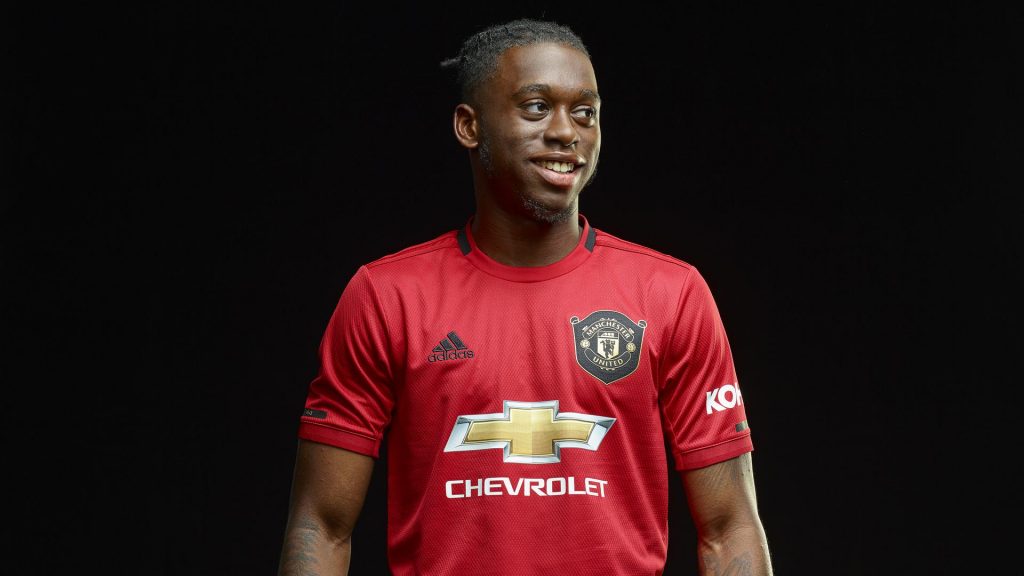 It is said that a good attacking football starts with the defence. Wan-Bisaka is a delight to watch and this is one of the reasons He is top of the European stats chart as the best full-back.
Fullbacks who play on either side of the defence have different roles, their main job is to stop opposing teams from attacking from dangerous areas. And whenever there is a sliding block from full-backs preventing a dangerous attack in wide areas, there will be a great sense of relief or better feelings for the manager and the rest of the team.
The modern day fullbacks also supports the attack by moving beyond the half way mark to supply crosses to the attackers and Wan-Bisaka has done exceedingly well in this area.
Wan-Bisaka
Wan-Bisaka was born 26 November 1997 in Croydon in England. Age 23, He is an English footballer who plays as a full back for the premier club Manchester United
Wan-Bisaka started his career at Crystal Palace, and he performed very well and was voted Player of the Year in 2018-2019 campaign . In 2019, he joined Manchester United for £45 million, with an additional £5 million in potential bonuses.
He is from Congo and has played for the DR Congo under-20s on one occasion in 2015. He has since gone on to represent his country of birth, England, at under-20 and under- 21 levels.
Early Life and family background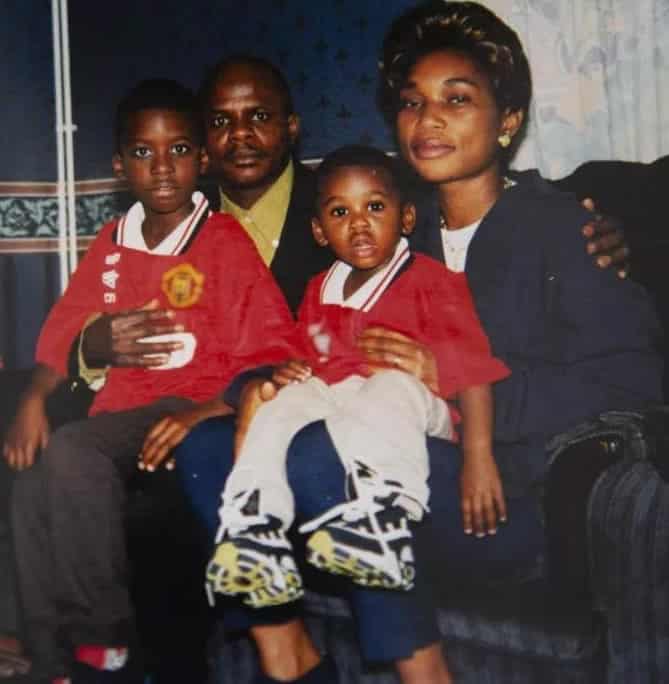 Wan- Bisaka started off at the London Borough of Croydon in England. He is the second child to his mother, Elizabeth and to his father, Ambroise . He was raised by both parents and also grew up along side his older brother Kevin.
At tender age, just like every other children who wants to a great football. Wan- Bisaka growing up at Addington was addicted to football. Because of this burning desire to play football young Wan-Bisaka broke glass cabinate by playing football in the living room.
Wan-Bisaka's  Education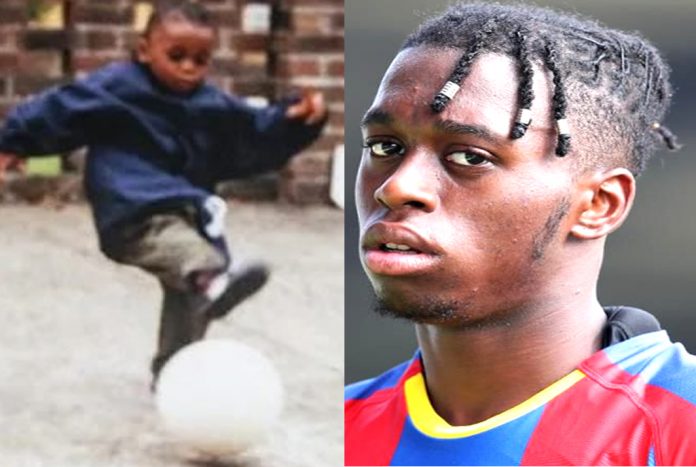 Wan-Bisaka attended Good Shepherd Catholic primary school in Addington, England. While at school He combined academics with playing both in streets and in parks.
Club Career
Crystal Palace:
At 11 years of age Wan-Bisaka talent was noticeable this made his parent to enrole him in Crystal Palace academy to kick start his football career
Crystal Palace tends to be be the club Wan-Bisaka spent his entire youth career. During the period of his development Wan-Bisaka attitude changes, he started missing trainings or arrived at training ground late. At 14 he secretly eats the wrong diet and looked so tired when he eventually comes to training. At the peak of his wrong doings the club wanted to release him, a meeting was held with his father and he was placed on probation. During the period of his probation there was a change of attitude and this was evident in his performance, and he continued in that spirit until he was promoted to the senior team. While at the senior team he made his debut on the 25th of february 2018 and won the player of the month in march and eventually won the player of the year in 2018/2019 season for his wonderful display.
Manchester United: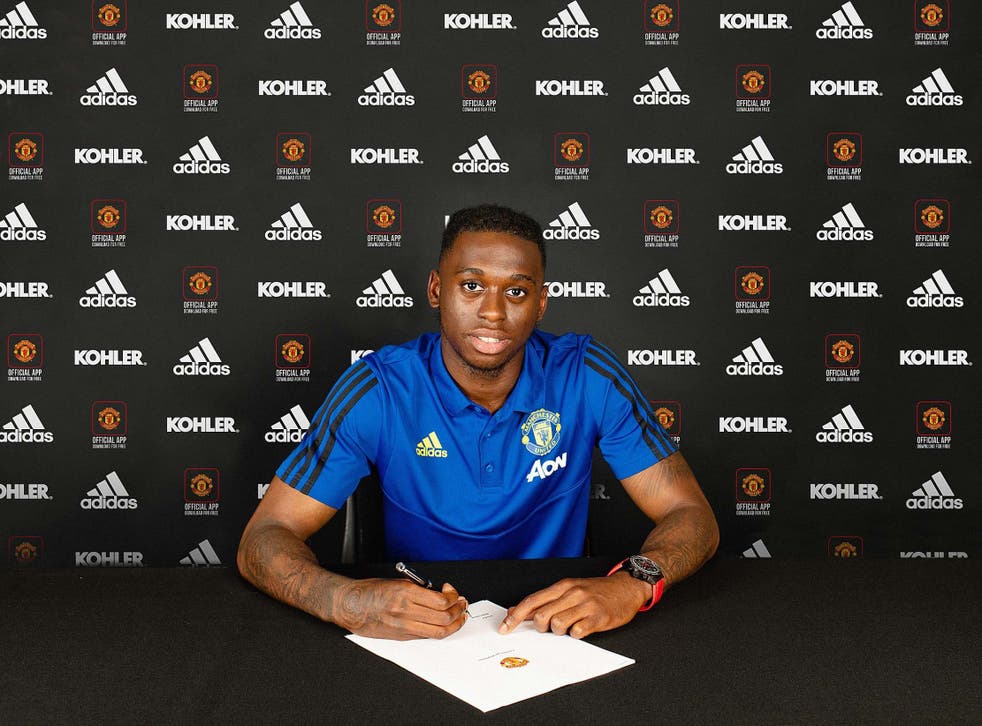 Wan-Bissaka signed a five-year contract with Premier League club Manchester United on June 29, 2019. Crystal Palace receive £45 million up front, with an additional £5 million in future bonuses. Wan-Bissaka became the sixth-most expensive defender of all time and the most expensive English player who had never played for his country when he joined Manchester United.
He made his Manchester United debut on August 11, 2019,   in a 4–0 league triumph over Chelsea.  He was ranked as the player with the most tackles in the 2019–20 Premier League season at the end of his first season with Manchester United. You will love his sliding tackles that is why he is called  " The Spider"    He wonderfully scored his first professional goal against Newcastle United on October 17, 2020, as United won 4–1. Wan-Bissaka scored the opening goal in United's Premier League record-tying 9–0 triumph over Southampton on February 2, 2021. It was great to see United score that number of goals in a single premier league game.
International career
Wan-Bisaka has not been capped by the England senior national team but on August 2019 he was invited by the three lions (England senior national team) ahead of the Euro2020 qualifiers against Kosovo and Bulgaria but he withdrew from the squad due to injury.
Style of Play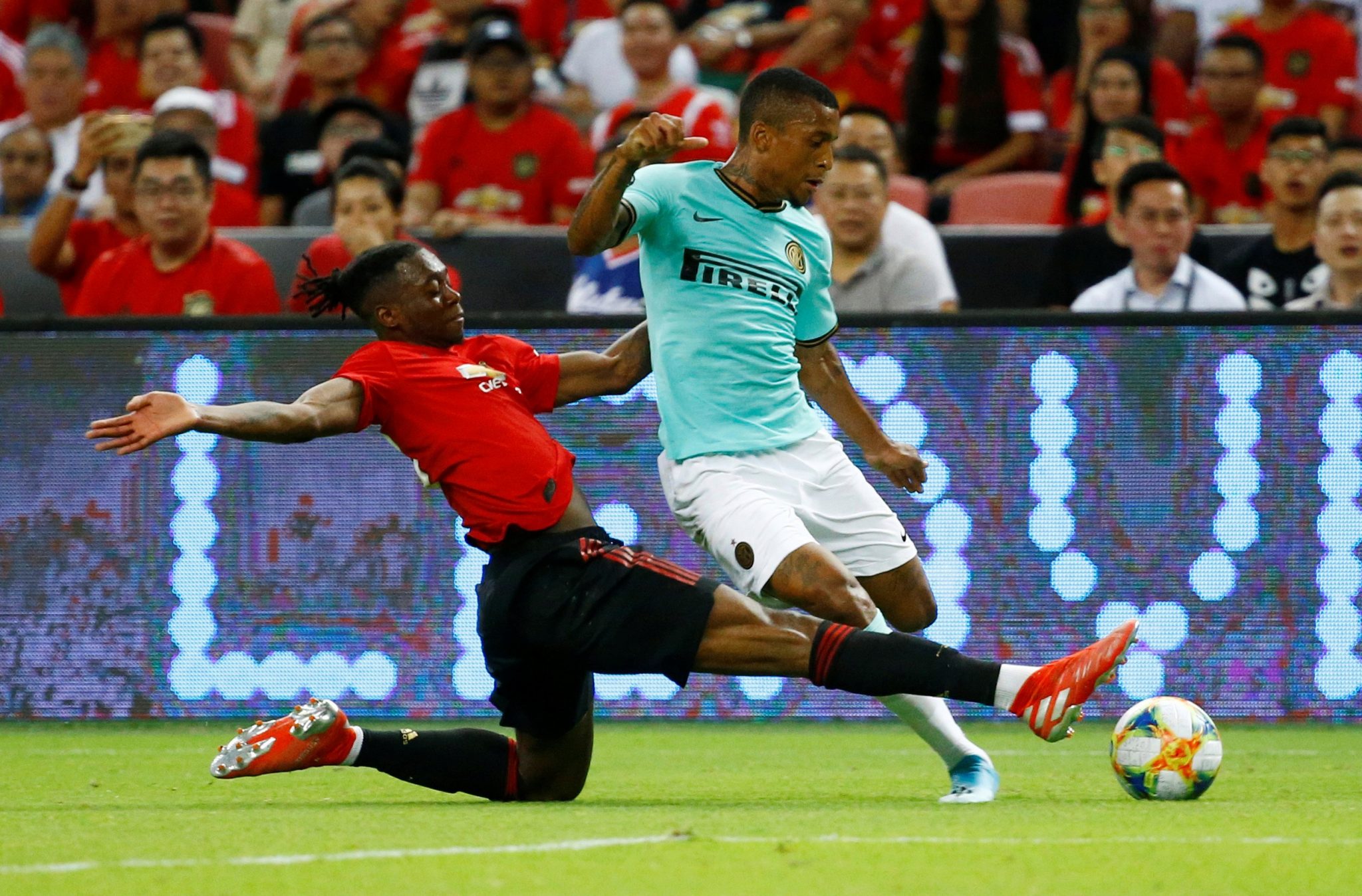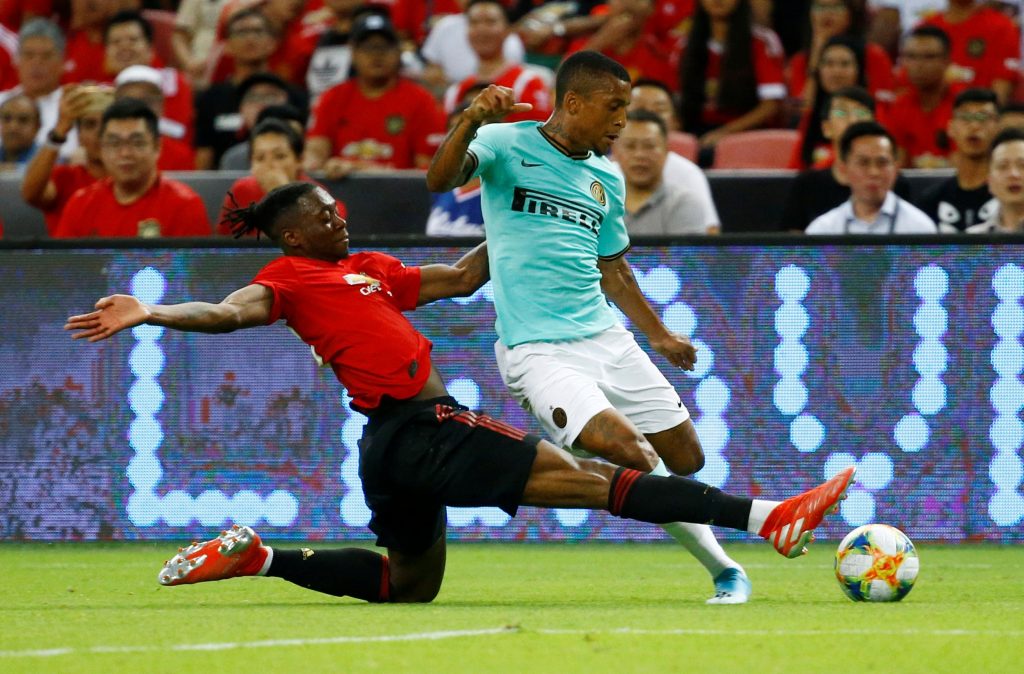 Wan-Bisaka style of play is has to with slide tackles, defensive ruggedness and defensive alertness.
Career Statistics
As of may 26 2021:
Wan-Bisaka made 46 total appearances in Crystal Palace had 0 goal. While at Manchester United he made a total of 100 appearances with 2 goals to his name. he cannot be penalise for his lack of goals, this is because his defensive qualities is top notch.
Manchester United full-back In 2020/21, Aaron Wan-Bissaka made the most starts of any player in Europe. The Man united full-back nicknamed "The Spider" was named to Ole Gunnar Solskjaer's starting XI 54 times in all competitions, three more than any other player from clubs in Europe especially the top five leagues, the Premier League, La Liga, Serie A, Bundesliga, and Ligue 1. His remarkable resilience puts him ahead of other full-backs in Europe.
United played 61 games in all, Wan-Bissaka missed out on only seven stats — what a remarkable feat of consistency,  considering  a compacted season of  which the Reds  devils  didn't pertook  in any pre-season matches before the commencement of the 2020/2021 season and as well as  no  free midweek until April, excluding international breaks. this lack of breaks affected the players in Man United and was evident in their five 6 games of the season.
Wan-Bisaka did not feature in the first game of the season against his former side Crystal Palace in order to get to full fitness after a shortened preseason. He also nursed a minor injury around Christmas that ruled him out of meetings with Everton and Leicester City. He was rested for the domestic cup games against Watford and Brighton. Wan-Bisaka was also rested in Premier games against the Foxes(Leicester City ).He also had six assists and completed a century of appearances for United by starting the Europa League final loss to Villarreal. When asked recently if he'd been happy with his performances this season, Wan-Bissaka replied, "Yes, I have. I can feel it in myself, the confidence and the excitement when every game comes up. His performance has ranked him as the best full- back in Europe stats chart.
Southgate mistakes not choosing Wan-Bisaka
The three lion boss not considering Wan-Bisaka when he named is Euro 2020 squad is a big loss to England national team . This is because he has a better defensive starts and better attacking stats than two of the full-backs included in England squad. It is still surprising to know that Wan-Bisaka has not be capped by England at the senior level despite being the best defensive option.
Although many have criticize Wan-Bisaka for is lack of going forward . But a critical look shows that this judgement is based on last season performance failing to recognize his improvement.
Garry Neville acknowledging Wan-Bisaka's improvement holds that "Teams used to say let Aaron Wan-Bissaka have it. It's getting to the point now where he's got to be dealt with, because he's starting to have an impact going forward."
Add in Wan-Bissaka's attacking improvement with his defensive strengths and United have one of the best all round right-backs in England, and there is still a lot of room for improvement.
Southgate Wan-Bisaka negligence his England's loss and Man United gain this is because he will have enough time to rest and prepare for next season.
Conclusion
However,   Wan-Bisaka's  remarkable improvement this season is all-around especially in the attacking areas is worth talking about as it is seen in European stats chart as the number one. With these statistics, this puts in ahead of other full-backs as the best full-back in Europe.