The young  Man Utd forward Greenwood has pull out of England squad for this summer's European Championship inorder to fully recover from an underlying injury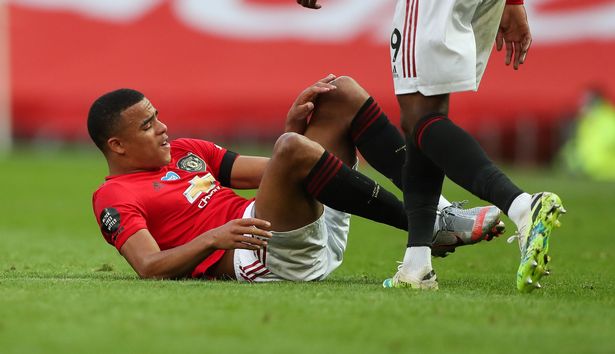 Mason Greenwood has withdrawn from England's provisional Euro 2020 squad due to an underlying injury.
Mason's club appearances were managed carefully to maintain his availability through the intensive 2020/21 Premier League and Europa League schedules.
The teenager was named in Gareth Southgate's provisional 33-man squad ahead of the tournament which begins next week but, ahead of the England manager making an announcement on his final 26-player squad on Tuesday, Greenwood pulled out.
The last season magic of Mason Greenwood
The young man utd forward who was firing in all cylinders in all competition last season
With 17 goals to his name and a year of experience United fans were expecting another outpouring of goals this season. But just over halfway through the campaign Greenwood has just a single goal in the Premier League and only four in all competitions.
What's happened to him? Is this a simple sophomore slump or has he been completely figured out?
Greenwood's season began with what should have been a highlight of his career, his first career England call up and first England cap. Instead it turned into a nightmare when he along with Phil Foden made a silly mistake that 19-20 year olds have been making for years and will continue making for years.
The English media jumped on this, slandering and vilifying Greenwood as they love to do with BAME and Manchester United players (Foden got away pretty unscathed from the media). Adding to the heavy media scrutiny was the lack of preseason and it was only natural for Greenwood to get off to a slow start this season.
Nevertheless a quick glance at the numbers suggests asking if there's something wrong with Greenwood this season is the wrong question entirely.
Greenwood is an exceptional finisher and his ability to shoot with both feet creates an uncertainty for defenders and goalkeepers that lead one to think the regression wouldn't have been this extreme. That's where a bit of the sophomore slump comes in.
Greenwood is a natural striker with great instincts for goal. When he gets the ball in or near the box his first and only instinct is shoot. Those are great instincts, but it also didn't take opponents long to figure that out and come up with a plan to defend it.
As soon as Greenwood got the ball in the box, defenses would simply collapse on him.
Greenwood Goals 2021
Greenwood's goals may be down this season but his all around has continued to develop at a nice and steady pace. Given that United aren't relying on Greenwood to handle the bulk of their scoring, that development is what's most important.
And as that all around game develops further, it's only a matter of time before the goals come roaring back.
With the present injury situation, he has pulled out of the European championship.
In a statement the club said: "Manchester United striker Mason Greenwood has withdrawn from the provisional England Euro 2020 squad, in order to recover fully from an underlying injury that also kept him out of the Under-21 European Championship in March.
"Mason's club appearances were managed carefully to maintain his availability through the intensive 2020-21 Premier League and Europa League schedules.
"But a further spell of tournament football would not be beneficial and Mason will remain at Manchester United to recuperate and prepare for pre-season training."
England's opening match on June 13th in the case of an injury before that date.
Greenwood England debut
Greenwood made his international debut in September last year in Iceland, but was sent home following the match after breaching covid19 protocols along with Manchester City midfielder Phil Foden, and his yet to make an appearance since the incident.
However, after selecting Greenwood in his provisional squad, Southgate had said the incident was "absolutely" in the past and that he had "moved on" from it.
Greenwood's withdrawal increases the chances of Aston Villa striker Ollie Watkins being selected as a third striker in Southgate's squad, behind captain Harry Kane and Everton forward Dominic Calvert-Lewin.
Greenwood returned to Southgate's squad having hit eight goals in his last 14 appearances for United at the end of the season, and played 100 minutes of his club's Europa League final defeat to Villarreal last week
England face Austria at Middlesbrough's Riverside Stadium on Wednesday night as preparations for the tournament proper.
According to Jessica Creighton: "The withdrawal of Mason Greenwood is big news. What a shame for Greenwood as he's been in such good form towards the latter stages of the season, scoring seven goals for Manchester United since April, more than any other forward in the Premier League in that time.
"Having been kicked out of the camp at the end of last year, he hadn't been called up since so this was a chance for redemption for Greenwood but he won't have that chance in this tournament. This surely gives a big boost for Ollie Watkins."
Mason Greenwood has left it too late to eclipse his first season tally of 17 goals for the club for 2020 season.
This has been a classic case of 'second season syndrome' for the talented youngster, who became United's most prolific teenage scorer last year since Wayne Rooney.
Greenwood's season this time around has been patchy. He has had to deal with off field issues including the England debacle, the death of a friend, and the lack of a summer break.
On the pitch he has seen his positioning vary, while also having to cope with defences knowing what to expect from him, challenging him to mix up his game.
There has been simple bad luck too, like his shot which hit the woodwork in the win over West Ham this season.
In spite of his poor run of form the young man united forward continue to improve his game. This can be seen in his good run of form at the end of the season.
The Three Lion squad announced
Mason Greenwood, Jesse Lingard, James Ward-Prowse, Ollie Watkins, Ben White, Aaron Ramsdale, Ben Godfrey have all missed out on the final list of which they were all included in the 33-man provisional squad released last week by head coach Southgate.
With Mason Greenwood ruled out as a result of injury on Tuesday, also with injury concerns for Harry Maguire, Kalvin Philips and Jordan Henderson, the trio have all made the final squad.
Southgate' 26 man squad for Euro 2020
England's 26-man squad for Euro 2020 is as shown below
Goalkeepers: Dean Henderson (Manchester United), Sam Johnstone (West Brom), Jordan Pickford (Everton).

Defenders: Trent Alexander-Arnold (Liverpool), Ben Chilwell (Chelsea), Conor Coady (Wolves), Reece James (Chelsea), Harry Maguire (Manchester United), Tyrone Mings (Aston Villa), Luke Shaw (Manchester United), John Stones (Manchester City), Kieran Trippier (Atletico Madrid), Kyle Walker (Manchester City).

Midfielders: Jude Bellingham (Borussia Dortmund), Jordan Henderson (Liverpool), Mason Mount (Chelsea), Kalvin Phillips (Leeds), Declan Rice (West Ham).

Forwards: Dominic Calvert-Lewin (Everton), Phil Foden (Man City), Jack Grealish (Aston Villa), Harry Kane (Tottenham), Marcus Rashford (Manchester United), Bukayo Saka (Arsenal), Jadon Sancho (Borussia Dortmund), Raheem Sterling (Man City).
However, despite Greenwood pulling out of the squad , Southgate is pleased with the final 26 man squad he has picked for the Euro 2020.