In this article you won't just only know how to check your name on the shortlisted Npower Batch C but will also know in details:
Shortlisted Batch C Npower names 2021
Npower Payment
Npower Duration
Next Deployment for 2021 and more. So lets dive in to the article.
Npower is a Nigerian empowerment scheme overseen by Ministry of Humanitarian and Disaster. On Saturday 29th May 2021the ministry announced they have shortlisted the first set of Batch C Npower.
The program which started in 2016 by the led Administration of President Muhammadu Buhari was first managed by the office of the Vice President Prof. Yemi Osinbanjo. Npower  has help so many Nigerian youths as the program taken out over 1Million Nigerians youth from 18 years to 35years off the street.
If you are looking for how to check your name on the shortlisted names of the Batch C Npower list then you have to follow the steps we are going to give you below.
How to check your Name of the List
How to check the list of the shortlisted Batch C Npower is quite simple.
1. Go to the website of nasims which you took your test. The website address is https://nasims.gov.ng.
2. Scroll down the website you will see where your login details is needed. Enter your registered  Email or Application ID.
Then Enter your Npower password.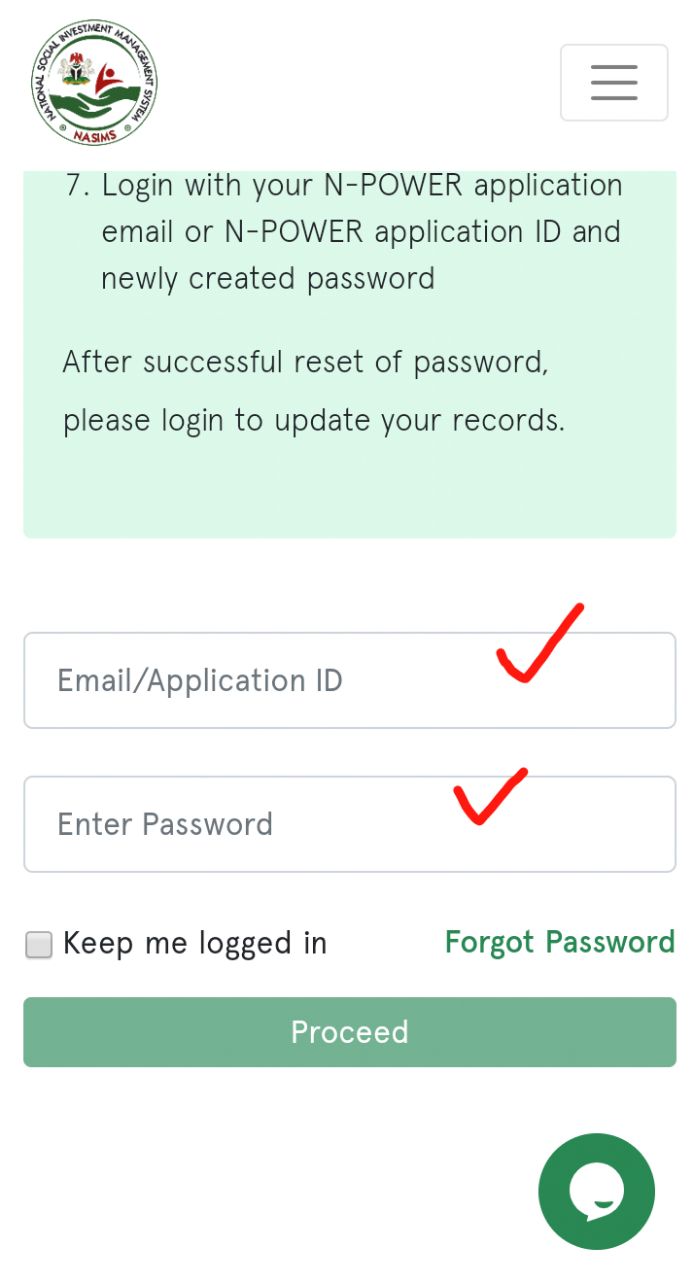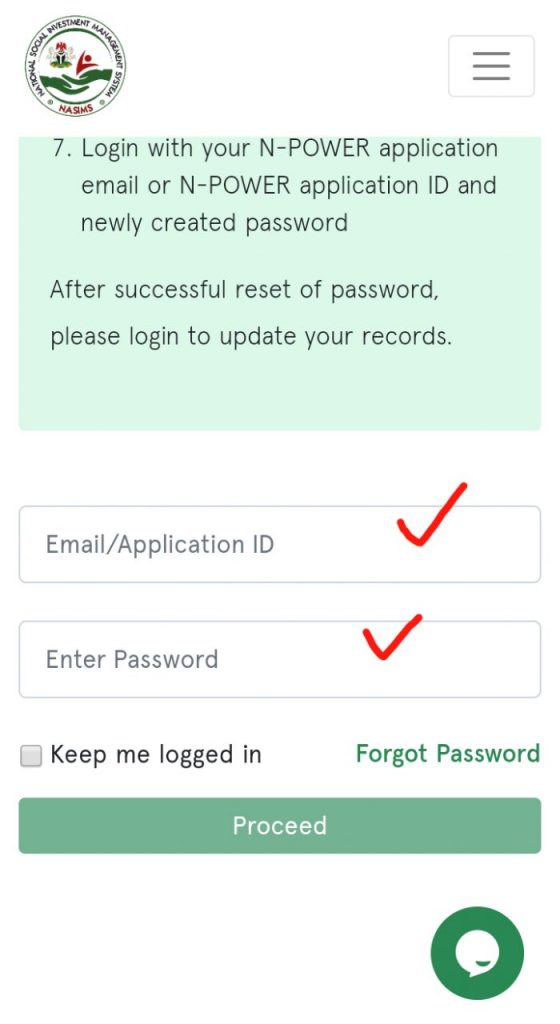 Note: The email you must enter must be the email you use during your Npower Batch C registeration.
3. Click on proceed and wait for it to load and login to your dashboard.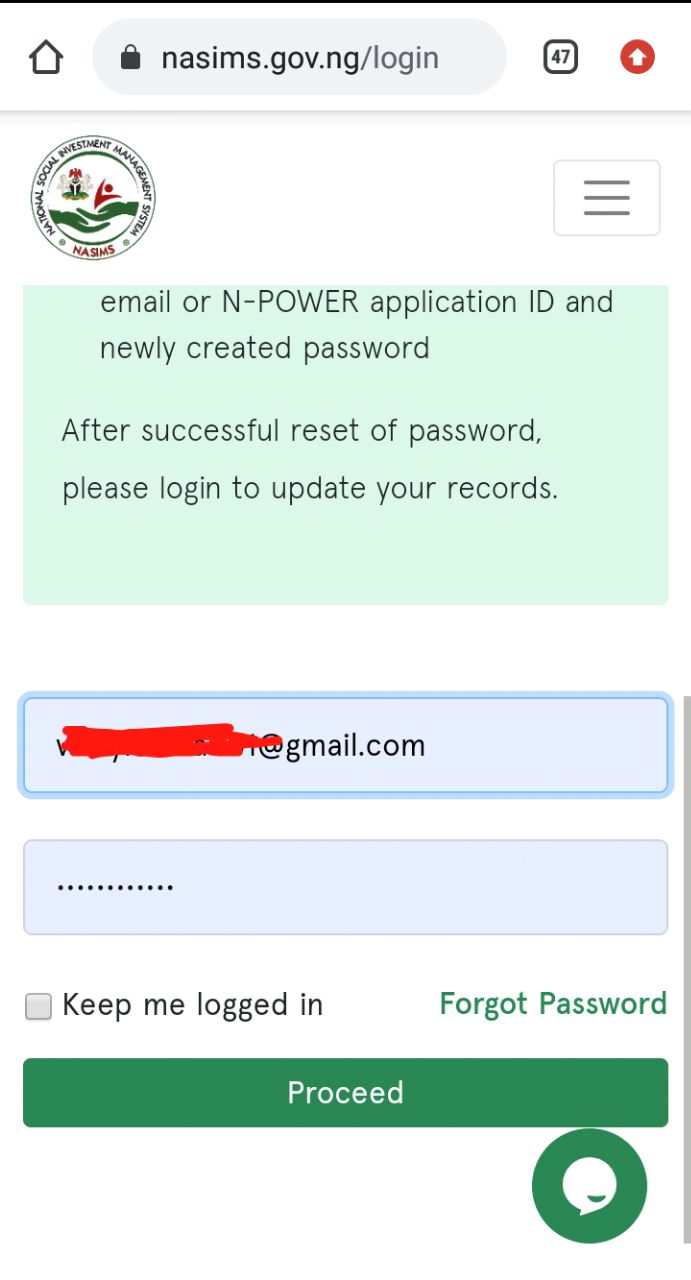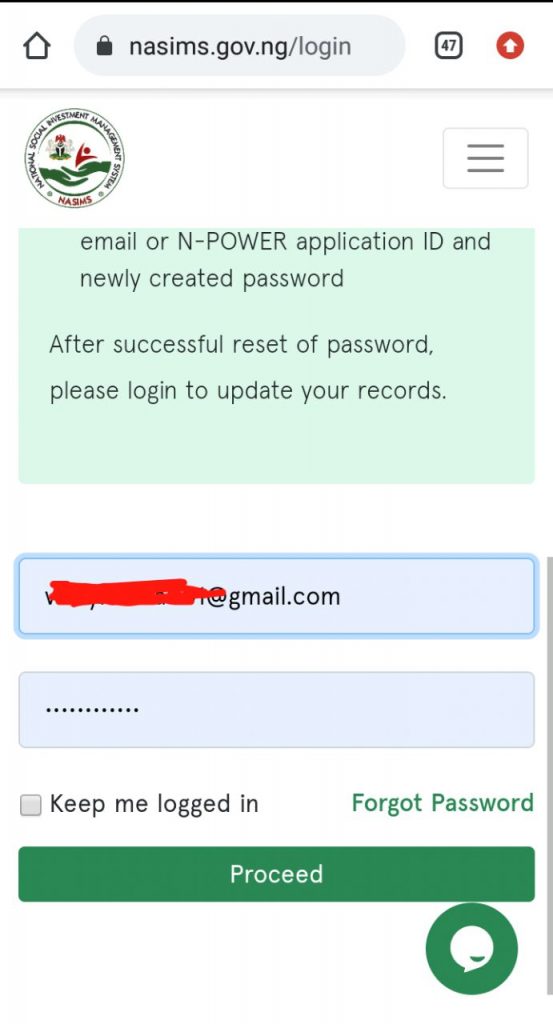 4. On you Dashboard you will see a 5 horizontal scroll menu. 1. Overview 2. Screening 3. Verification 4. Deployment and 5. View Test Result.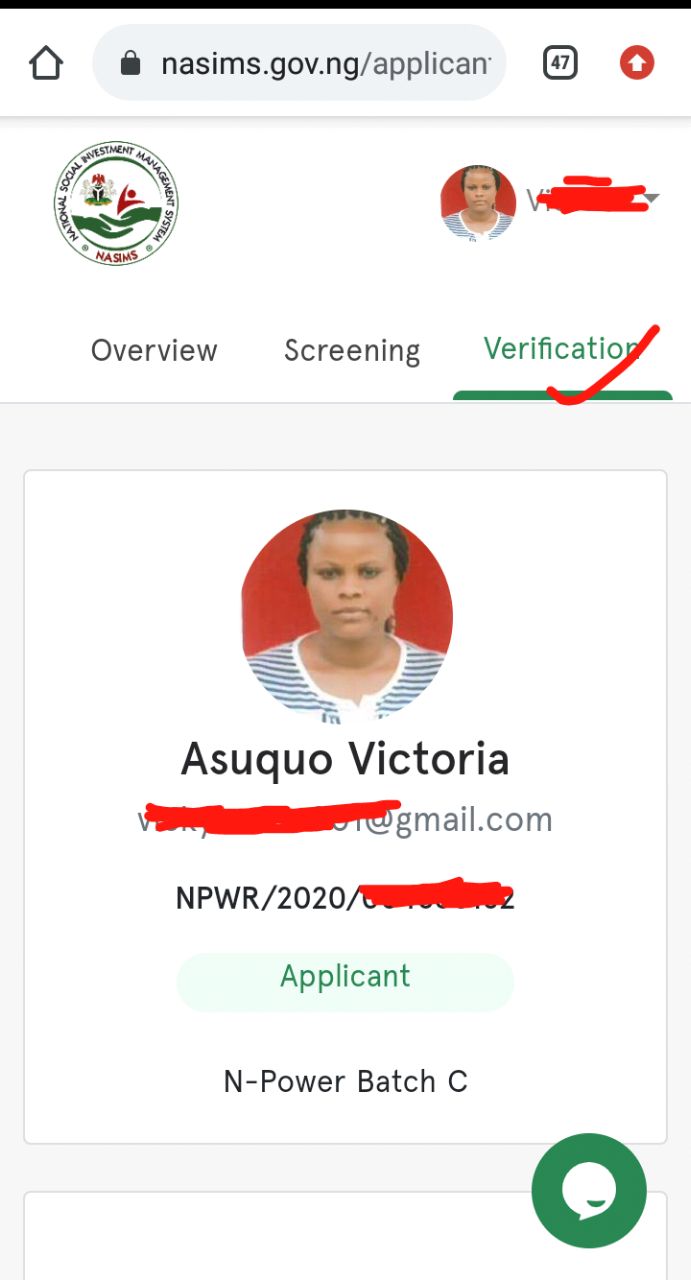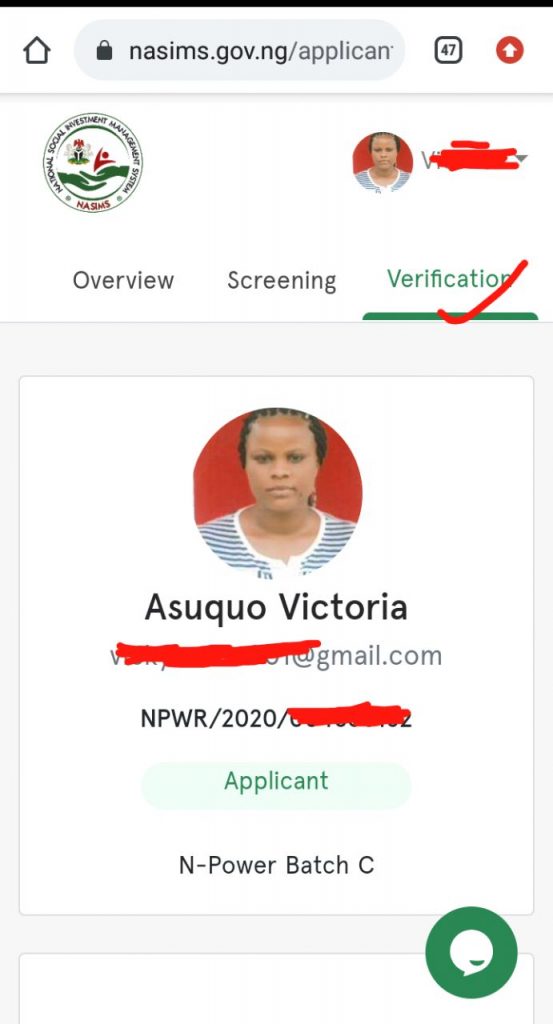 Then go to where you have Verification. When you click that and open you should expect 2 types of message. The first message reads.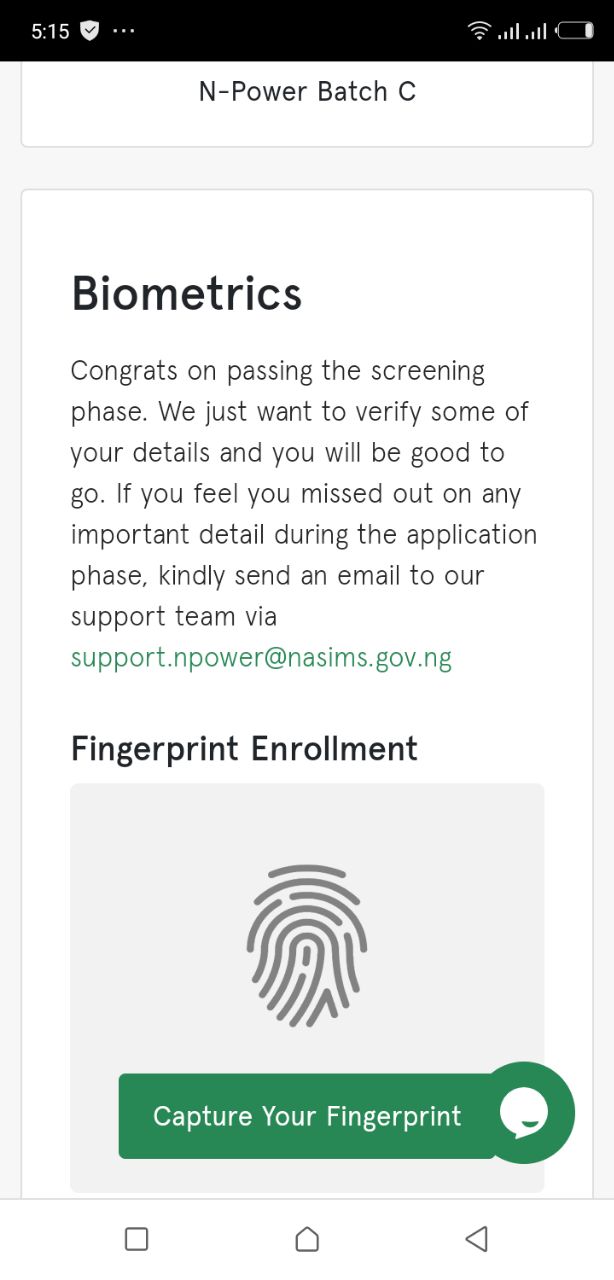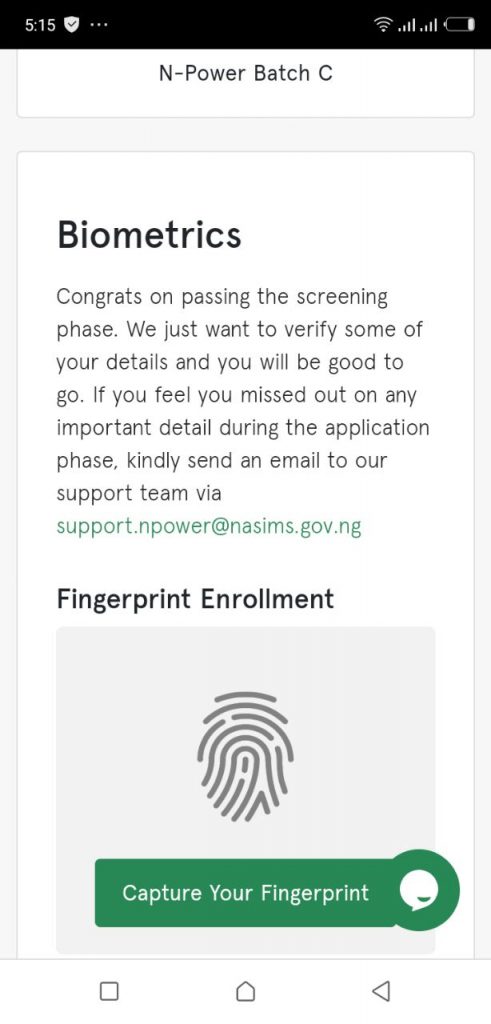 1. Biometrics
"Congrats on passing the screening phase. We just want to verify some of your details and you will be good to go. If you feel you missed out on any important detail during the application phase, kindly send an email to our support team via support.npower@nasims.gov.ng
Fingerprint Enrollment"
2. Not Yet Shortlisted
"Hello Solomon
"You have not yet been shortlisted for the verification stage, please check back later."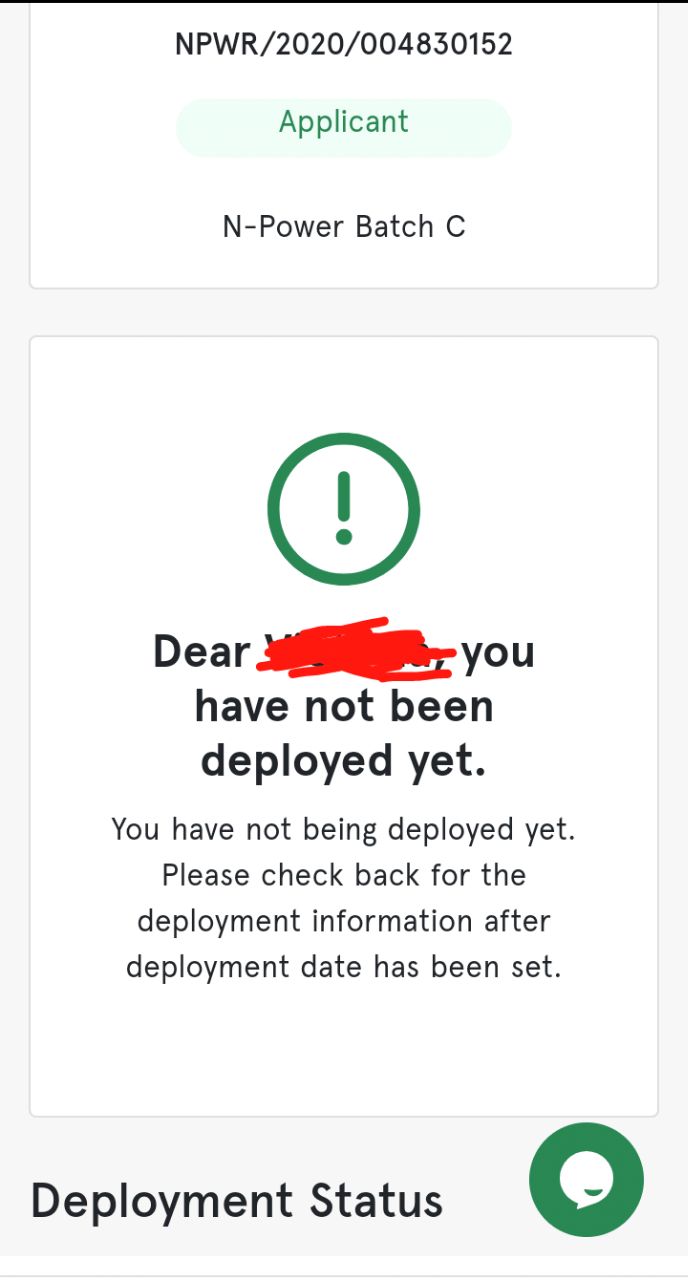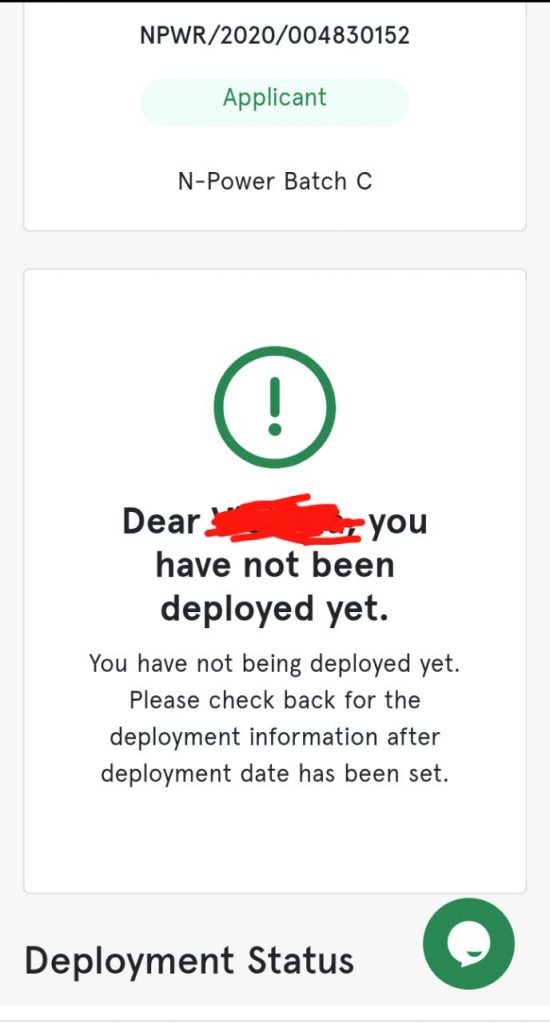 Now this two messages has different meaning. On your dashboard If you have been shortlisted in the Npower Batch C 2021 you will see the first message congratulations that means that you have been
However if you see the second message you don't have to panic. I know how badly some people need this Npower because it has help a lot of Nigerians youths.

A total number of 500,000 names which will be deployed for Npower Batch C so if the second message appears on your dashboard means that you may still be shortlisted because so far they list is not yet upto 500,000 so more list are coming, this is not the final list. You can be checking back this website thingstoknown.com.ng we will be updating you as soon as the second list of Npower Batch C is out. You can as well subscribe to our newsletter or allow our notification this will enable us send you relevant notifications and updates about Npower and if your name is shortlisted
You May Also Check: 6 HIGH-INCOME SKILLS YOU CAN LEARN FROM YOUTUBE FOR FREE
What You Must Do Next If Npower has Shortlisted your Name
If you have been shortlisted in the Npower Batch C there are couple of things you must do if actually you want to be deployed.
What you must do is carrying out Biometric. At the bottom page of your verify on your Dashboard you will see a finger print which show that you must carry out a biometric verification, now if you where checking your name through your phone then you won't be able to do biometric through your phone unless your phone has the ability of doing biometric capturing then you go ahead and install the biometric and put your finger print to carry out the verification.
However if you don't have means of carrying out the biometric verification through your phone simply go to any cyber cafe. Login your Npower account and then use the external biometric scan to thump print and get verified.
'Real Dark Boys' Threatens to Burn Down A'Ibom State if Demands Aren't Met Before Sept 1

After your biometric verification just wait for the next information from Npower and that will surely be deployment.
Also be rest assured that all those that has been shortlisted for the Npower Batch C and has carried out their Biometric verification will be surely deployed unless Npower found out that you where giving false information about yourself during registration or you were an Npower beneficiary already.
But as you wait get to know what is required of you as Npower beneficiary and how much is going to be your Npower payment for 2021 and when you are going to start.
How Much is Npower Payment for 2021

Actually Npower Payment is categories on two sections. The Graduate sections and the Non-Graduate section.
Npower Payment for Graduates
**Npower pay the Graduate category the sum of N30,000** plus a gadget  for those that are in teachings and Tax section. The graduate section has the following sections.
1. Nteach meaning Npower Teachers
2. NAgro meaning Npower Agriculture
3. NTax meaning Npower Tax
4. Nhealth meaning Npower health.
Those in Nteach and NTax are expected to collect a gadget like Samsung Galaxy iPad, and a monthly mobile data of about 2G. This to help them work comfortably and can carry out research on the internet but note the gadget has some site block and restricted this is because you are not expected to use the gadget to scam, or commit any internet fraud nor watch porn.
Those in NAgro are given agric products like seeds, chicks, ferterlizers etc this is usually done in a group with a supervisor.
Read Also: High Paying Jobs In Nigeria (2021)
Npower Payment for Non-Graduates
Any body without NYSC certificate or NYSC exception letter is considered as Non-Graduate by Npower scheme and their payment is N10,000 per month.
However Npower non graduate category have some lovely programs such that even those that are graduates opt for it not minding the little pay, the programs include.
1. Ncreative
2. NTech
3. NAgro
4. NBuild

Each of the Non Graduate Npower program is segmented into subsection

For Ncreative it was first register in 2016 but the first batch was trained on June 2018 at Edo State. A total of 1500 young Nigerians where empowered with the skills of
(a) 3D Animation
(b) 2D Animation
(c) Voice Acting
(d) Script Writing
(e) Post Production
The training was divided into two zones with south south, South East and South West Geo political Zone on Nigeria going to Edo State at Bensen Idohosa University while North East, North West and North Central Geo political Zone of Nigeria proposed to go to Plateau State.
The trainee of the Edo state where all furnished with a core i3 4gb ram, 500mb Hp laptop for those in 3D, 2D Animation and Post Production while others where given a mini hp laptops.
NTech is another powerful non graduate Npower program that teach beneficiaries tech skills like Web design, Mobile App Design, Software Development, Graphics Design.
NBuild is an Npower program that teach people skills and Craft work it is also subdivide into:
1. NBuild Carpentry
2. NBuild Catering
3. NBuild Automobile
4. NBuild Electrical
5. NBuild Hospitality
All this is to empowered young Nigerians to become self employed as work of this nature has fetch enough money to many people than some white collar jobs.
Those are the available non graduate Npower program. Recently the Ministry has added another package which Nigerians are expecting it to also be juicy, it is call Npower Stipend, untill it is unveil that is when we will know what it's all about we will keep you updated.
Business in Nigeria: 20 Most profitable Ones That Makes More Money
Duration of Npower Program

The duration of Npower was initially said to be 2 years when it was first launch out but along the line a romour speculated that the Government has promised to turn the Npower program to a permanent job that beneficiary will later be converted into permanent jobs in various ministries and government parastals,  this made so many beneficiaries took the program so serious that most of them rejected some mini jobs offer to focus on the Npower job. The first batch, Batch A whom started in 2016 and the 2nd Batch B who started in 2018 where all dismissed by 2020 while registeration of Batch C started just immediately after they where dismissed.

Though it causes some issues as beneficiaries began to protest both on social media and in government ministries requesting the President Muhammadu Buhari not to send them back to the streets, some of the hashtag created on Twitter started trending but nothing could be done since the program was initially bit to be for 2years.
The duration of the Non graduate is 1year for NTech, NAgro, NBuild and training materials given to beneficiaries while Ncreative is just for 6months though there was a 1 month on camp 2months on studio with a promise to further trained the best outside Nigeria though it never happened as thingstoknow speak with one of the beneficiary.
When will Npower Batch C be Deployed

After the verification Batch C is expected to start by July 2021. Though it is subjected to change. But hopefully Batch C will be deployed by July and as per your program it will get terminated by 2023 for those their program is for 2years.
17 Best Missionary Schools In Nigeria (2021)
Final Thought
From our post you know know how to check your name on Npower shortlisted names for Batch C, you also know that you are to go for a biometric verification if you have been shortlisted, you are now also aware of the various programs in Npower, it duration, Npower payment which is N30,000 monthly stipend for graduate category and N10,000 monthly stipend. You have also been hinted when Npower Batch C will be deployed to start work.
All the best good luck.
If you have found the article helpful, share it with friends and don't forget to subscribe and allow notification so you will be updated with the latest about Npower and other powerful contents.