What is Mikel Obi net worth in 2021?
When talking about former Nigerian super eagles stars, Mikel Obi isn't left out. He was one of the most iconic players of the Nigerian super eagles back then. This article will discuss about his net worth, age, and family.
Mikel Obi is a Nigerian born professional footballer who formerly plied his trade at Tianjin TEDA, a football club in the Chinese League. He left Chelsea Football Club in England Top Division side i.e the Barclay's Premier League to China recently in a £140,000 weekly salary.
However, in Nigeria, he is seen as one of the most decorated African footballers and he is also among the list of richest footballers in Nigeria.
Mikel Obi net worth 2021
Nigerian former super eagle star Mikel Obi has an estimated net worth of $60 millions as of 2021. However, during his stay at Chelsea FC, Mikel Obi earn a sum of $75 000 a week. After his migration to the Chinese club Tianjin TEDA his earnings increase to a whopping sum of $140 000 per week.
Playing for different clubs in the world has earned Mikel Obi a stunning net worth. Mikel Obi currently is the richest football player in Nigeria owing to his vast net worth.
His net worth made him the richest football player in Nigeria and the second richest footballer in Africa.
In line with his payment as a footballer, he also signed major endorsement deals with top brands in Nigeria and abroad. He signed a contract with Amstel Malt, which earned him over N800 million alongside Nollywood actress Genevieve Nnaji.
Mikel Obi Biography and net worth
Profile overview
| | |
| --- | --- |
| Real name | John Mikel Obinna |
| Date of birth | 22 April 1987 |
| Age | 34 years (as at 2021) |
| Height | 1.88m (6ft 2inches |
| Country of Origin | Federal Republic of Nigeria |
| State of origin | Anambra state |
| Source of Wealth | Football |
| Play position | Defensive midfielder |
| Jersey Number | 12 |
| Net worth | ₦21,8 billion ($60 million) |
| Salary | $6 million |
EARLY LIFE
Mikel was born in Jos, Plateau State. He Is the son of Michael Obi, who runs an inter-state transport company in Jos. His father was a member of the Igbo ethnic group.
CAREER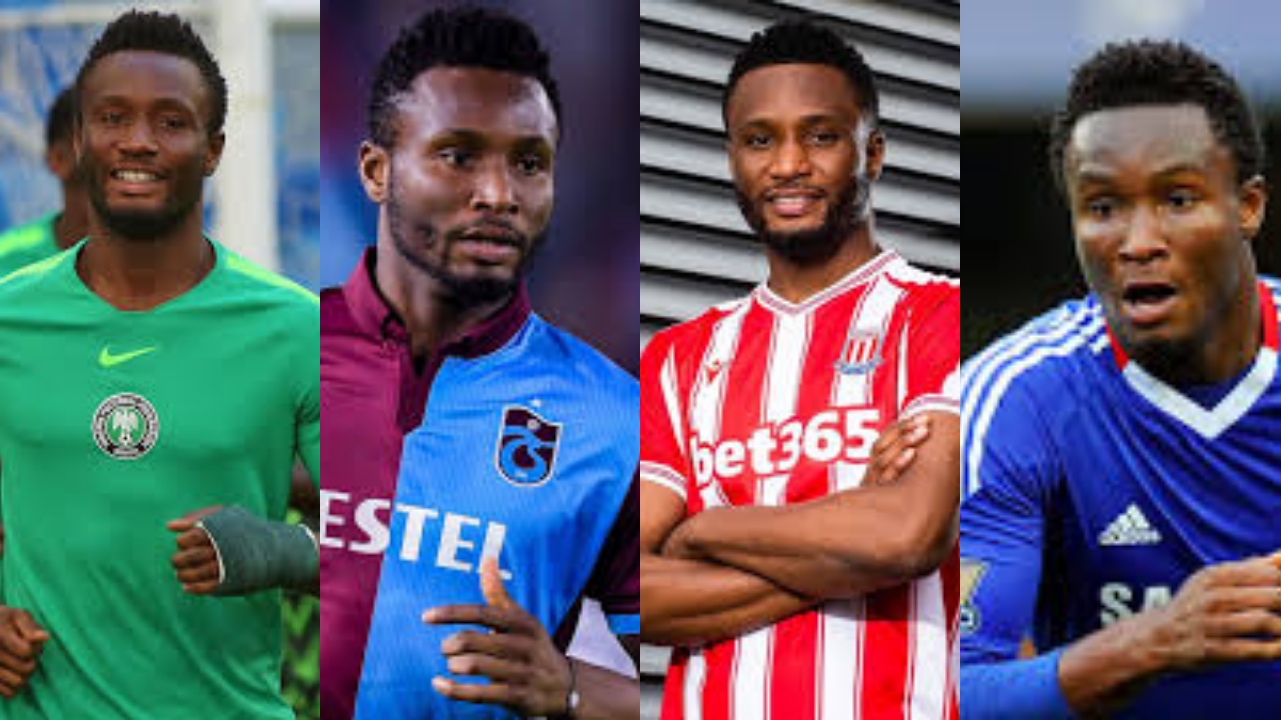 Mikel Obi football career started when he was about 12 years old. He was picked as a talented footballer among over 3, 000 others to play in Pepsi football academy. The academy was well known for mentoring and training young Nigerian footballers who aspire to make football their profession.
However, Mikel Obi stood out as an outstanding player with great potentials. He was later picked to play for Plateau untied.
He also played for his country, Nigeria in the FIFA under 17 world championship which was held in Finland. That was one of his notable matches in which he made news headlines for being named the second best player in the tournament.
In 2003, Mikel Obi was signed by Premier League club London United from Ebedei. He later moved to Lyn Oslo in Norway before returning home the following year, joining Enugu Rangers for £20,000 and played there until 2005.
Between 2007-2010 he won six trophies with Chelsea and helped them win their first Champions League title since 2008 as well as two FA Cups. In 2012 Mikel made a move overseas again this time signing with Turkish side Fenerbahçe on a €12 million transfer fee deal earning him about $17 million per season which is the highest salary of any African player ever recorded.
In 2013, Mikel had his most successful year winning three trophies that included an unprecedented third consecutive Super Lig championship as well as a Turkish Cup.
Mikel's most recent trophy was with Fenerbahçe in 2016 when they won the Istanbul League and he is currently receiving €12 million per year which makes him one of the highest earners in world football.
He has been part of Chelsea, Lyn Oslo, Enugu Rangers, London United and Werder Bremen but his two stints at these clubs have not resulted in any trophies being won by Mikel for himself or for that club-Chelsea excepted where he amassed six trophies over seven years.
In all competitions Obi has made twelve appearances with four goals scored (three penalties). His international career began on 11 February 2005 against Ghana scoring Nigeria's only goal from open
Mikel began his career with local club Plateau United, before joining Norwegian club Lyn at the age of 17 in 2004. In 2006, he made a controversial transfer to English club Chelsea after Manchester United claimed they had already signed him. He stayed with Chelsea for 11 years, before moving to China with Tianjin TEDA in 2017.
After two years in China, he returned to England on a short-term deal with Middlesbrough, before joining Trabzonspor on a free transfer in July 2019. Mikel moved back to England in August 2020 joining Stoke City. In a 14-year international career between 2005 and 2019, he played 91 times for Nigeria, scoring six goals.
Mikel Obi Endorsements
Aside from playing football, Mikel has signed deals with top brands where he earns a lot of money by being their brand ambassador. In 2014, He was reported to have signed a five year deal with Amstel Malta worth N800 million alongside top Nigerian actress Genevieve Nnaji. Mikel obi was said to be the only African celebrity to have ever signed the highest endorsement contract.
He also signed a deal worth N20 million for two years with Peak, a giant milk producing brand in Nigeria. As of writing this post, Mikel obi isn't married but Mikel Obi has a daughter from his Russian spouse, a model. Mikel Obi House is said be worth over £200,000. Mikel Obi cars includes Ran okge Rover Sport, a Bently Continetal GT, and a Mercedes G-Wagon worth the sum of £650,000.
Who is richer between davido and Mikel Obi?
Both Mikel Obi and davido are two very popular celebrities in Nigeria. While Mikel Obi is into football, David adeleke or popularly known as davido is a singer and record producer. It should be noted that the two of them are very popular in their art and thus, very rich.
But usually, there's this debate that always arise among fans in Nigeria. The debate is about who is richer between davido and Mikel Obi. Yes everyone know that both of them are indeed very rich but just who is the richest.
This article will address that issue by comparing their current net worth. Let start from that of davido.
DAVIDO NET WORTH: Davido as we all know is a Nigerian singer, songwriter and record producer. He is arguably the most popular music artist in Nigeria currently. Along with that, davido has made massive name in the industry by releasing a number of hit songs, made lots of top collaborations especially with world class artists, also got featured in classic movies.
However, davido is also a controversial celebrity. He is known to brag about his money and achievements on social media. This always gives people the impression that he is the richest among many. But is that true in the case of Mikel Obi? Keep on reading.
For his net worth, Davido's net worth is estimated to be close to $20 million dollars. That's about seven billion Nigeria currency or Naira.
From there we can all see that davido net worth is not to be compared to that of Mikel noObi. With a current net worth of $60 million dollars, Mikel Obi is like 3 times richer than davido.
Mikel Obi is also far richer than many other Nigerian celebrity including wizkid, don jazzy, dbanji, funke akindele etc.
But why is he so rich: Mikel Obi net worth secret
On average, footballers are richer than musicians mainly because of their salaries. Unlike other industries, footballers are paid weekly and in huge amount. The average weekly earnings of world class footballers can reach up to a hundred thousand dollars depending on the league and value of the player.
Mikel Obi has been in the industry for over 15 years. During his stay at Chelsea, he earned an annual salary of over 4 million dollars. In the Chinese club, he received a whopping sum of 7.8 million pounds sterling annually.
Mikel Obi cars
Mikel Obi's massive net worth has been stunning, something any individual will be praying to have. Anyone with such an amount of money would want to have one of the world's latest cars.
Over the years, his huge salaries have helped him acquire many fine cars, including the 2012 Mercedes Benz E-Class priced at $75,000 (N27.3 million), a Range Rover Sport worth $60,895 (N43.6 million).
His other cars include a 2010 Bentley Continental GT valued at $180,000 (N82 Million); Rolls Royce; Mercedes-Benz G500 valued at N43.6 Million.
Mikel Obi houses
The successful Nigerian footballer does not only own a huge mansion in London, he also has real estate in some most developed parts of Nigerian regions such as Jos, Abuja, and Lagos. In fact, his house in Lekki and Jos have become top news on the web.
Abuja is one of the most densely populated and picturesque cities in Nigeria. Having a home here brings not only benefits but also a great pleasure.
Mikel Obi trophies and achievements
Mikel has been capped for Nigeria in three FIFA World Cups, 2008 Olympics and as many Africa Cup of Nations. In total he's played 86 international matches.
He is the youngest Nigerian to play at a World Cup when he was 19 years old. He also represented his country at every level from U-17 to senior side during his career.
He has won several domestic titles in Europe and Asia, including the Dutch Eredivisie with Ajax Amsterdam and AFC Champions League as well as a Europa League title with Chelsea London. He's also been on four different clubs that have reached finals of major competitions such as KNVB Cup (Ajax), UEFA Champions League (Ajax and Chelsea), UEFA Europa League (Chelsea) and Supercopa de Espana (Atletico Madrid).
Mikel has won the English Premier League with Chelsea in his debut season.
He was also voted as Confederation of African Football's best player for 2008, 2009 and 2010. He is the first Nigerian to win this award.
He has won the IFFHS African Footballer of the Year award in 2008 and 2010, becoming one of only two players to win this prestigious honour more than once.
In 2009 Mikel was named as Nigerian Player of The Decade by Nigeria's Independent Television Authority (NITA).
With Chelsea, Mikel won 2 Premier Leagues, 3 FA Cups, one League Cup, one Europa League, one Champions League (and whisper it quietly, one Community Shield).
Mikel Obi all time career goals
View the chart below for Mikel Obi all time career goals with different clubs.
Club
Season
League
National Cup
League Cup
Europe
Other
Total
Division
Apps
Goals
Apps
Goals
Apps
Goals
Apps
Goals
Apps
Goals
Apps
Goals
Lyn
2004
Tippeligaen
4
0
0
0
—
—
—
4
0
2005
Tippeligaen
2
1
0
0
—
—
—
2
1
Total
6
1
0
0
—
—
—
6
1
Chelsea
2006–07
Premier League
22
0
6
2
4
0
9[a]
0
1[b]
0
42
2
2007–08
Premier League
29
0
2
0
3
0
4[a]
0
1[b]
0
39
0
2008–09
Premier League
34
0
5
0
1
0
9[a]
0
—
49
0
2009–10
Premier League
25
0
3
0
2
0
4[a]
0
1[b]
0
35
0
2010–11
Premier League
28
0
2
0
0
0
6[a]
0
1[b]
0
37
0
2011–12
Premier League
22
0
5
0
1
0
9[a]
0
—
37
0
2012–13
Premier League
22
0
3
0
1
0
9[c]
0
3[d]
0
38
0
2013–14
Premier League
24
1
2
1
2
0
7[a]
0
1[e]
0
36
2
2014–15
Premier League
18
0
2
0
4
0
2[a]
1
—
26
1
2015–16
Premier League
25
0
2
0
2
0
4[a]
1
0
0
33
1
2016–17
Premier League
0
0
0
0
0
0
—
—
0
0
Total
249
1
32
3
20
0
63
2
8
0
372
6
Tianjin TEDA
2017
Chinese Super League
13
1
0
0
—
—
—
13
1
2018
Chinese Super League
18
2
0
0
—
—
—
18
2
Total
31
3
0
0
—
—
—
31
3
Middlesbrough
2018–19
Championship
18
1
1
0
0
0
—
—
19
1
Trabzonspor
2019–20
Süper Lig
19
0
0
0
—
5[f]
0
—
24
0
Stoke City
2020–21
Championship
39
0
1
0
1
0
—
—
41
0
Career total
362
6
34
3
21
0
68
2
8
0
494
11
Table source: Wikipedia
Conclusion
Mikel Obi achievement and lifestyle net worth obviously shows us that he is one of the most renowned personality not only in Nigeria, but the whole Africa. He has perfectly represented the black race across the world with his outstanding talent and skills. Along with that, Mikel Obi has also be a source of inspiration for young Nigerians who aspire to be a world class footballer.