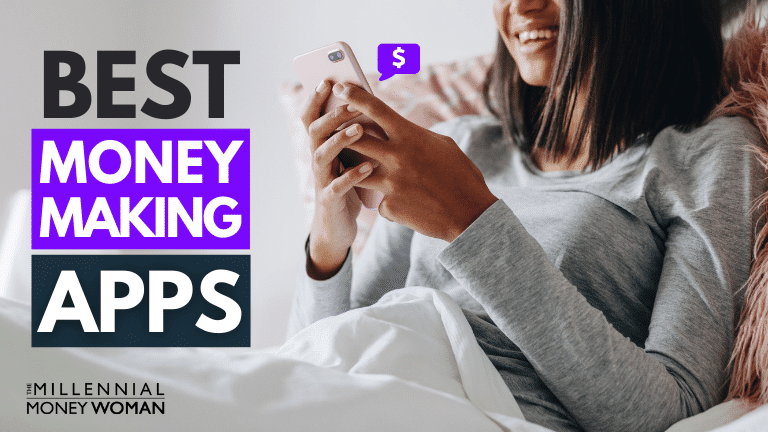 What are the best money-making apps to consider? Today, there is a variety of free apps to generate money to pay off debt, or to augment your income. The best money-making apps allow you to work on your own time through a simple sign-up process while receiving fast and easy payment.
When exploring the realm of money-making apps, one must consider the importance of keeping track of earnings.
Among the best money-making apps available, there are those that offer seamless receipt generation, allowing users to easily document their income.
These apps not only provide lucrative opportunities but also ensure transparency and organization in managing one's financial journey.
No matter what your money goals are, making some extra income can definitely be helpful. Luckily, you don't necessarily have to get another part-time job to make it happen. This is where money-making apps come in handy; they're an excellent method to hone your cash-making skills.
These money-making apps make it easy to increase your earnings. You can earn money for a variety of activities that you may not have considered. Things such as doing surveys, selling old stuff, and more. If you're searching for a side gig, several of these apps can help you find a job that fits your schedule and skills. Whether you're a pet whisperer or a sharp-eyed editor.
However, in this article, we will provide you with the best money-making apps based on aspects such as earning potential, payment speed, and app store ratings.
The Best Money Making Apps of 2021
Ibotta
Ibotta began as a grocery coupon app but has since evolved to include both retail and online cash-back opportunities. Clothing, entertainment, pet supplies, and other categories have been added. Offers can be particular to a product or a merchant, and some will be applied automatically.
Ibotta also offers one of the most significant sign-up bonuses for new members and referral bonuses and a variety of payment methods. With the following three steps, you can earn $20 in a matter of minutes:
Make your first in-store purchase ($10).
Use a $5 mobile shopping promotion
Redeem a $5 coupon for a second in-store or mobile shopping promotion.
The minimum withdrawal is $20 in cash via Venmo or PayPal. Ibotta is available on Android and iOS.
Rakuten
Rakuten formerly known as Ebates, Rakuten is the top money-making app for cashback, offering deals across numerous retailers along with inviting sign-up and referral incentives. With Rakuten, you can earn up to 40% cash-back when you shop at over 2,500 stores both in-store and online.
The app allows you to get some cashback on purchases that you would have made regardless. Users can also get cashback on travel, gift cards, and a variety of other purchases. It's straightforward: Create an account, tap on the deal you want in the app, then make the transaction through the portal.
To earn money on in-store purchases, you must first link your credit or debit card to the Rakuten app and then activate each cash-back offer. Then, just check out normally using your linked card. Rakuten will send you a check with your cash-back balance once a quarter. Cashback rates range from 1% to 40% depending on the retailer.
Directly through the app, you can browse available cashback deals by retailer, brand, and category. It also shows cashback opportunities in Google search results, as well as notifications about lower-cost options at other stores. Users receive payment through PayPal or a check every three months.
To qualify for a payout, you must accrue at least $5 in cash back. It is available on iOS and Android
Swagbucks
Swagbucks is a rewards and cash-back app. While it may not pay as well as other side hustles, it does provide a number of methods for customers to earn money, including cashback on qualified purchases. While you can earn money by taking surveys, there are many other simple tasks you can do to earn money, such as watching movies, playing games, and getting cashback when you shop online.
Swagbucks is a simple way for anyone with a smartphone to earn money by doing odd jobs or earning cash back, which is why it is the best app for odd jobs. This money-making app pays users by partnering with marketing companies.
This implies that you earn points while doing this task. You can redeem those points for gift cards or get cashback to your PayPal account. The total points awarded can vary by task. Surveys take from 5 to 60 minutes and generally award users between 40 to 200 SB. With 100 SB valued at $1.
The minimum balance necessary to redeem varies per payout choice, but some gift cards can be purchased for as little as 140 SB. By adding a credit card, you can receive cash back on in-store purchases. New users can get a $10 joining incentive after spending $25 on purchases through retail partners. Swagbucks also has a referral program.
By adding a credit card, you can also receive cashback on in-store purchases. New users can get a $10 joining incentive after spending $25 on purchases through retail partners. Swagbucks also has a referral program. Users receive payment through a Gift card or PayPal. It is available on iOS and Google
Upwork
Upwork connects freelancers to gigs in writing, design, marketing, and other categories on the marketplace. As a freelance marketplace driving the gig economy, Upwork is the best money-making app for skilled workers to connect with clients, while managing projects in one place.
For its broad range of available skill categories, profile-building features, and limitless earning potential, Upwork wins best overall. You'll start by creating a profile. It should include details such as your interest in the field, as well as your qualifications, availability, and desired fee. Then, you can submit proposals.
Freelancers can find work in hundreds of skill areas on Upwork, including digital marketing, coding, translation, admin work, and more. You can do it on Upwork if you can do it on a computer. If you appear to be a good fit, clients will review them and offer you projects.
You'll be paid a modest fee for each submission, but not when clients contact you. You might get paid by the hour or by the project. Payment can be made by direct deposit, PayPal, wire transfer, or other means. Unfortunately, freelancer fees can range anywhere from 5% to 20%. The smaller your fee percentage, the more money you make from a single client.
After the weekly billing cycle concludes, funds are not credited to your account for 10 days. Payment is made directly to your bank account, wire transfer, Instant Pay, PayPal, and Payoneer. This app is available on iOS and Android.
OfferUp
OfferUp, which acquired competitor Letgo, takes the stress out of selling online through its simple and easy-to-use marketplace. Because it has a streamlined listing process and gives users the choice to sell locally or nationwide, OfferUp wins as the best money-making app for selling old goods.
Create an account and upload a photo of your smartphone, car, sofa, or whatever you're trying to sell. You may submit your listing and chat with buyers immediately through the app to ask questions or express interest once you've included a title, description, and pricing.
Although OfferUp is mostly used for local transactions, users can also mail things. You can set an item to "purchase now" with a predefined delivery price rather than monitoring offers and notifications. If you choose to send your item, the buyer is responsible for the expense, and OfferUp will give the shipping label.
You're in charge of meeting local buyers and completing transactions. For shipping, sellers must pay a 12.9 percent service fee or a minimum of $1.99. Payment is through Cash or deposit to a debit card or bank account. This app is available on iOS and Android.
Conclusion
There are various money-making apps that can give you extra funds. There's no shortage of money-making apps to supplement or replace your full-time employment as the world moves closer to completely embracing the burgeoning gig economy.
As you can see from this post, there is a range of options to pick from depending on your aims and interests. Please leave a comment if you liked this article.