So who exactly is it that has the highest followers on Instagram?
Don't know?
Well, if you are looking for the answer to this question, then you are reading the perfect article.
In this article, you will discover the person with the highest Instagram followers, as well as his biography and Net worth.
Can't wait. Right?
We do not intend to waste your time either, so we'll just get down to business.
Who Has The highest Follower on Instagram?
So down to the big question.
Who is the person with the most followers on Instagram?
You will all agree that with the advent of social media platforms like Instagram, more people are becoming stars.
As long as you have something special to offer, there is always an audience for you.
Today, this platform is filled with several superstars from different industries like; Entertainment, Sports, e.t.c.
Although these stars are all active on social media, this article is going to focus on the star with the most followers on this platform.
So who exactly is the person with the highest followers on Instagram?
To cut the whole story short, here is the answer to your question.
The person with the highest followers on Instagram is none other than the famous 'Cristiano Ronaldo'.
With a total follower count of 370 million+, Cristiano Ronaldo sits on top of Instagram.
Aside from the official Instagram account, the most followed account on the platform is that of Cristiano Ronaldo.
Today, there is hardly anyone who hasn't, heard of this soccer player.
Cristiano Ronaldo is one of the most respected football players in the world today.
He is also ranked as one of the greatest players who ever played the game.
Now, if you are one of those who would like to know more about this talented football player, then I urge you to read on.
Without taking any more time, let us go through the biography of Cristiano Ronaldo.
Biography of Cristiano Ronaldo
Cristiano Ronaldo dos Santos Aveiro is a famous Portuguese soccer player who was born on the 5th of February 1985.
Currently, Ronaldo plays for the Italian side 'Juventus FC'.
He is also still active at the international level.
Cristiano is the captain and also one of the key players of the Portuguese National Football team.
As the recipient of whopping five Ballon d'Ors, Cristiano Ronaldo is said to be the best player who ever played the game.
However, he is the second highest recipient of this award in the history of football.
Early Life of Cristiano Ronaldo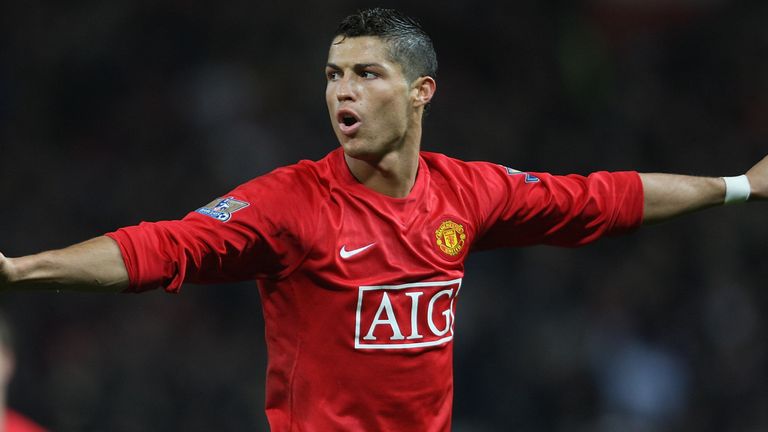 Cristiano Ronaldo was born and raised in Sao Pedro, Portugal.
He was born to Jose Dinis Aveiro (a municipal Gardner and part time kit man), and Maria Dolores dos Santos Viveirros de Aveiro (a cook).
He is the last child out of four children.
It was even disclosed that C.Ronaldo's mother thought of aborting him during her pregnancy.
She actually had this mindset because of the poverty in their family, and her husband's drinking habit.
However, she was saved by the doctor's refusal to carry out the abortion process.
Ronaldo actually grew up in a very poor neighborhood where he shared a single room with all his siblings.
While he was still a kid, he used to play for a local team called Andorinha.
This was where his father used to work as a kit man.
After playing for a while, he then spent another two years with Nacional FC.
Later on in 1997, he signed a three-day trial contract with Sporting CP.
As a result of his good performance on the pitch, he was signed to the team with a fee of £1,500.
Due to this, Cristiano relocated from Madeira to Alcochete which was actually closer to Lisbon.
While in Lisbon, Ronaldo joined the other players at the Academy.
As soon as he turned 14, he had already become sure of his football career.
In order to fully focus on his dreams, he boldly told his mother that he wanted to stop his education to focus on his sports career.
Prior to this, he already had a reputation for causing havoc at school.
A year after, Ronaldo was diagnosed with a disease called 'racing heart'.
This is a condition which could have discouraged him from playing football.
However, Cristiano continued the sport.
Later on, he had a heart surgery, and it turned out successful.
A short while after he was discharged from the hospital, Cristiano Ronaldo was already back on the field.
As a result of his fine performance, he soon began to attract managers.
How Cristiano Ronaldo Rose To Fame
The moment Sporting CP gave Manchester United a shocking 3-1 defeat at the inauguration of Estadio Jose Alvalade in 2003, Alex Ferguson picked interest in Ronaldo.
After watching the performance of Cristiano Ronaldo, Alex Ferguson made all moves possible in order to sign the young player.
The Manchester United Boss (Alex Ferguson) offered to pay Sporting CP the sum of £12.24 Million pounds for the young Cristiano Ronaldo.
When the deal was completed, it made Ronaldo the most expensive teenage football player in the world at that time.
Although Cristiano Ronaldo did not score any goal in his debut game, he soon started netting goals as he understood the team better.
Today, he is still celebrated in Manchester United.
Over the years, he has played for major leagues like the Premier League, Spanish League (La Liga), and now the Italian League (Serie A).
Cristiano was signed to Real Madrid for a whopping £80 Million pounds
After spending about a decade with the Spanish giants, Cristiano Ronaldo then signed an £88 Million-Pound deal (€100 Million) with Juventus FC.
Although he has been in different clubs, he won all his major trophies while at Real Madrid.
Due to his goal consistency, he is often nicknamed as the goal machine by many.
Cristiano Ronaldo Trophies
As an active footballer, Cristiano Ronaldo has managed to win a total of 30 major trophies.
These trophies include 5 UEFA Champions League titles, 1 UEFA Nations League titles, 1 European Championship, and many other trophies.
He is also the highest goal scorer in the UEFA Champions League.
As of now, C.Ronaldo has made a total of over 1,000 career appearances, and he has bagged a whopping 750+ Goals.
Having recently broke the record of the football King Pele, Cristiano Ronaldo is now the second highest goal scorer of all time.
Cristiano Ronaldo Endorsement Deals
As a very famous personality, Cristiano Ronaldo is one of the football players with the most sponsorship deals on the planet.
He is a famous brand ambassador for 'Lakers'.
Furthermore, Cristiano has also signed sponsorship deals with major companies like Castrol, Clear, Pokerstars, and more.
His most famous sponsorship deal is that which he signed with Nike.
This deal is a long-term deal which is said to be life long.
The deal is said to worth a whopping total of $1 Billion Dollars.
This is broken down into smaller payments.
What Charity Works Have Cristiano Ronaldo Carried Out?
Aside from being a famous footballer, Cristiano Ronaldo is also a Philanthropist.
He often helps the underprivileged with his wealth.
However, he never announces this openly for the world to see.
Ronaldo also uses his fame to promote the popularity of several welfare movements in the world.
Over the years, he has made several donations to several NGOs and underprivileged people.
He even once donated a whopping sum of $83,000 for the surgery of a 10-year-old boy who needed brain surgery.
Aside from this, he has also made a contribution of $165,000 to the cancer centre in Portugal where his mother was treated.
After winning the Champions League trophy back in 2016, it was also said that he donated his share of the win bonus to an NGO.
He often supports several world welfare initiatives, and he is often concerned about the needy.
What is Cristiano Ronaldo's Current Salary?
The contract which Cristiano Ronaldo signed with Juventus FC is said to have a value of about $34 Million Dollars per annum.
This actually makes him the highest paid player in Italy.
This actually means that he is expected to earn a total of over $130 Million Dollars from his four-year contract at Juventus.
Cristiano Ronaldo Cars, Houses, and Other Assets
Cars
Here are some of the major cars owned by Cristiano Ronaldo.
A Mercedes Benz GLE63s AMG
A Rolls Royce Phantom Drophead
And many more not mentioned here.
Houses
Portugal Mansion
Cristiano Ronaldo owns an expensive mansion which is located in his hometown in Portugal.
It was said that he bought this mansion for a whopping $8 MIllion Dollars.
New York Mansion
Aside from his mansion in Portugal, Cristiano also owns another mansion in New York which is estimated to be worth $14 Million dollars.
Holiday Mansion
Cristiano Ronaldo owns a holiday house in Marbella.
This house is said to have cost him a whopping $1 Million Dollars.
Madrid Mansion
Cristiano Ronaldo's mansion in Madrid is said to be worth a whopping $5 Million Dollars.
He may own other houses not mentioned here, but we do not know of them, so we can not list them here.
Private Jet
Ronaldo owns a Gulfstream G-200 twin engine private jet.
Out of the 250 made, Ronaldo is one of the owners of this rare jet.
It is said that the real worth of this jet is over $40 Million Dollars.
What is Cristiano Ronaldo Net Worth?
With so much fame, endorsement deals, huge salaries, and more, Cristiano is currently ranked as the richest footballer on earth.
As of today, he is estimated to be worth well over $470 Million Dollars.
Final Thoughts on Who Has The Highest Followers On Instagram
From this wonderful article, I believe you now know the person with the highest followers on Instagram.
He is none other than Cristiano Ronaldo, and you know him all.
Having gained so much fame in the football world, this player makes a lot of money from several deals.
With a total of about 230 Million+ followers on Instagram, he sits firmly as the king of the social media platform.
So far, that will be all for this article.
If you actually enjoyed reading this, then feel free to drop your comments below.
Source: thingstoknow.com.ng