The mystery behind T.B Joshua's death, his last days and what he lived for, is a must read as the world over continue to question the sudden death of the popular clergy.
Like they say, death is an evitable end. The end of road for all mortals who traverse planet earth. No matter your faith, death is the only fate that all mortals will embrace. For Christians, is it not only the end of the journey but the beginning of a life well spent on earth especially when one kept the precept and teachings of Jesus Christ.
According to Romans 14:8. "If we live, we live for the Lord, and if we die, we die for the Lord. Therefore, whether we live or die, we belong to God."
This portion of the scripture played out on Saturday, 5th June when the popular Nigerian clergy, Prophet Temitope Balogun Joshua passed through the unavoided phase of life (death), amidst shock and tremble.
T.B Joshua like he is better known all over the world was a controversial clergy born on June 12, 1963, in Arigidi-Akoko, Ondo state, Nigeria. His church, the Synagogue Church of all Nations, SCOAN had million network of followers from different countries of the world including presidents and high-profiled personalities.
Known and referred to as the leader of 'miracles' and 'resurrection', T.B Joshua via his digital online platform -Emmanuel TV performed jaw-dropping miracles that questioned the authenticity of science. This miracles ranging from cure of HIV/AIDS, turning SS partners to AA plus other strange illnesses attracted millions of followers who shared their testimonies on the platform.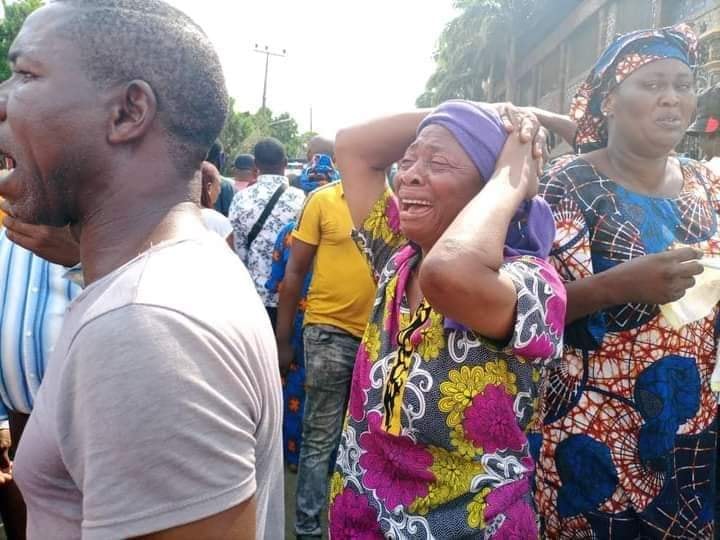 For a man who performed extraordinary miracles including raising the dead, no one ever imagined that the man of God will six days to his 58th birthday die. A tale that members of SCOAN are yet to come to terms with as the news of T.B Joshua's death floored all news platforms on Sunday, 6th June.
Members of the church on hearing the news, trooped in their hundreds to the church premises to confirm for themselves if actually their spiritual leader was dead as peddled.
In several videos online, the members were seen clustering around the church as the entrance was reportedly sealed off by the church authority; and there was no Sunday service held.
The members were seen sitting, some standing and looking perplexed and speechless while others especially the women were seen wailing uncontrollably over the incident.
Now, the question is, did T.B Joshua see his death coming? What's the mystery behind his sudden demise?
THE MYSTERY BEHIND T.B JOSHUA'S DEATH – DID HE SEE HIS DEATH COMING?
Like the scripture says in Ecclesiastes 3: 1-2, that to everything, there's a season; could it be believed that T.B Joshua's time had come? Did he see it coming? Many questions begging for answers.
On Saturday, 5th June, T.B Joshua was reported to have officiated the Emmanuel TV Partners Meeting where he admonished his members saying, "Watch and pray. "One life for Christ is all we have; one life for Christ is so dear." He was reported to have said the statement before leaving the hall.
Could this last statement from the man of God mean he was bowing out of his earth assignment? Why did he choose to leave the service with the last word? Guess, T.B Joshua knew his time on earth was up.
Well, a reliable source from the church had told the Nation, T.B Joshua walked out of the service which commenced since 6pm, midway when he complained of sudden discomfort. The clergy was reported to walked into his apartment to probably get some rest only for the church officials to discover about hours later that he had passed on.
Another version of the story has it that the clergy was sick and was receiving treatment for an undisclosed ailment rather than depend on his healing water or anointing oil his ministry sold to members for miracle.
An On-Air-Personality, Sandra Ezekwesili on her part said, "TB Joshua was reportedly ill and went to the hospital. Did he teach his numerous followers to try hospitals and not abandon their medication for his holy water and anointing oil? His ministry did a lot of damage. Any conversation that doesn't include that, is dishonest."
A close aide had said after they discovered the clergy was gone for too long, they went to check on him and found him in an uncomfortable and unusual position. The aide further disclosed T.B Joshua had asked them to work from home as a result of COVID-19 Pandemic.
He said, "Those who were left with him were mostly some Britons, a few personal aides, who lived in the premises.
"I got a call around 2am that Senior Prophet was dead. I had to quickly get in touch with his family and it was confirmed.
" We do not really have details now but I can tell you he was ministering when he suddenly took ill and left the church to rest."
Meanwhile, after the clergy's death the church premises was sealed off by the authority which has raised question of suspicion if he died of COVID-19, as the church source says that the entire place is to be "sanitized".
Well, the family is yet to confirmed the cause of death or the mystery behind the sudden demise of the preacher but the Lagos Police Commissioner (CP) Hakeem Odumosu in a statement said, T.B Joshua was officially pronounced dead by a hospital around 3am.
Odumosu said, "It is true he is dead. I do not know the cause of his death yet. But the information we have is that he was conducting service, along the line, he felt uncomfortable, walked to his apartment himself and never came back.
"His people thought he probably wanted to rest or refresh but when they didn't see him after a long while, they went in search of him and found him in an unusual position.
"The service started in the evening. But it was around 3am that he was pronounced dead by a hospital.
"The church said Joshua's last words to his members were "watch and pray. "He was said to have also reminded them there was time for everything before he left the church hall."
T.B JOSHUA'S LAST DAYS AND WHAT HE LIVED FOR
T.B Joshua who was rated by Forbes in 2011 as the third richest pastor in Nigeria, lived his life spreading largesse to people across board. He was estimated to have spent $20million on education, healthcare and rehabilitation programs for Niger Delta militants and offering help to communities in need not excluding repentant armed and commercial sex workers who came to his ministry for deliverance.
According to Wikipedia, in 2012 he sponsored a Nigerian student on scholarship for Ph.D studies in Oxford University and a young Motswana to study at Harvard Law School in America.
Other humanitarians services include: donation of relief materials to Haiti in offset the impact of the 2010 Haiti earthquake and establishing a field hospital called 'Clinique Emmanuel'.
He additionally sent support to nations such as Philippines, India and Ghana in the wake of varying natural disasters. The 'Emmanuel TV Team' also assisted victims of the earthquake that struck the nation of Ecuador in April 2016, providing over $500,000 worth of humanitarian aid.
In education, T.B Joshua funded the building and running of a school in Lahore, Pakistan named 'Emmanuel School'. He also rebuilt a school in a rural area destroyed by the 2016 Ecuador earthquake, travelling to Ecuador for the opening of the school in June 2017.
T.B Joshua though a clergy lived life his last days impacting into the lives of people, transforming lives and rehabilitating people to Christ through his humanitarian gestures.
Well, the statement from his ministry sums up everything, what he lived for and what he stood for while he lived on earth.
The statement reads full,
"Surely the Sovereign LORD does nothing without revealing his plan to his servants the prophets." – Amos 3:7. On Saturday 5th June 2021, Prophet TB Joshua spoke during the Emmanuel TV Partners Meeting:
WATCH VIDEO HERE:
"Time for everything – time to come here for prayer and time to return home after the service.
"God has taken His servant Prophet TB Joshua home – as it should be by divine will. His last moments on earth were spent in the service of God. This is what he was born for, lived for and died for.
As Prophet TB Joshua says, "The greatest way to use life is to spend it on something that will outlive it".
Prophet TB Joshua leaves a legacy of service and sacrifice to God's Kingdom that is living for generations yet unborn.
The Synagogue, Church Of All Nations and Emmanuel TV Family appreciate your love, prayers and concern at this time and request a time of privacy for the family.
Here are Prophet TB Joshua's last words: "Watch and pray. "One life for Christ is all we have; one life for Christ is so dear." SCOAN added.